Recover Deleted Meeting & Other Calendar Items in Microsoft Outlook
Are you looking for ways to recover deleted meeting in Outlook? Well, you have landed on right page. Read further to know the solutions.
If you are an active user of Microsoft Outlook. You must be knowing how efficient Outlook is as a personal manager. Especially if you are working in an organization and other business enterprises. Outlook acts as your personal information manager. Also, it provides efficient and effective connectivity to your people.
In this article, I am going to talk about a Calendar feature of Outlook. This amazing feature lets you pin meetings and various events onto it. You also have the option of adding appointments, scheduling meetings or organizing an event. But sometimes, accidentally or intentionally you deleted a meeting in your Outlook calendar. Now you want it back!
In this blog, I am going to share two manual methods and a software solution. You can try any of these methods to restore deleted meetings in Outlook 2021, 2019, 2016, 2013, 2010, 2007…
NOTE: I would like to advise you guys! Be careful while handling Outlook files. Because once your data gets overwritten, even god cannot recover any deleted items. So, if you have technical expertise go ahead! Or else use automated software to retrieve deleted meeting in Outlook.
#1 Recover Deleted Meeting In Outlook From 'Deleted Item' Or 'Trash'
If your meeting is soft deleted. Then you can easily get it back from 'Deleted Item' or 'Trash' folders. Follow the given steps:
Open Microsoft Outlook application
In folder list, click 'Deleted Item' or 'Trash'
Right click on deleted meeting
Choose Move option, select Other Folder option. You can also drag it to original calendar folder
#2 Restore Permanently Deleted Meeting From 'Recover Deleted Items From Server' Option
If you have Exchange server connected to your Outlook account. Then, you got the option 'Recover Deleted Items From Server. Its a folder, which keeps your hard deleted Outlook items for a certain retention period. Or whenever you empty your 'Deleted Item' or 'Trash' folder. Follow the below steps to restore meetings:
Select 'Deleted items' option in the folder list
Go to Home section & select 'Recover Deleted Items From Server'
Select the desired meeting then, click 'Restore Selected Item'
Then, click OK
Note: There is no way to uncancel a meeting in Outlook. Although you can restore the meeting from Trash using the #1 solution and recover the permanently deleted meeting using #2, it will still be shown as canceled. You have to create a new meeting and send out the invitations again as Microsoft provides no means to uncancel them.
Efficient Solution to Recover Deleted Meeting in Outlook
If your Outlook account does not have Exchange server support. And you failed to recover the appointment from Deleted Items folder. That means you now have to go for a software solution. And no software is better than Outlook Deleted Items Recovery.
This software is engineered to recover all permanently deleted Outlook items from files. The USP of this amazing product is that it performs RAW scan. That means it will search all Outlook files (.pst, .ost, .bak) bit-by-bit. The tool is integrated with high functionalities which are able to handle bulk files. It safely recovers deleted Outlook calendar events and other items. You also got the option to export your recovered data into various file formats.
Just to put it into perspective, this tool recovers deleted meetings, but it remains canceled if done so beforehand. So make sure to keep that in mind when purchasing the tool.
Top Features of Outlook Deleted Items Recovery Tool
The tool is having many amazing features. Also, it can recover deleted meetings in Outlook 2021, 2019, 2016, 2013, 2010, and 2007. Some top functionalities are listed here:
Recover all permanently deleted Outlook items (Mails, Calendars, Contacts, Tasks, Journals, Notes)
Recover deleted meetings, appointments, and other items
Easily transfer restored items directly to Office 365
Export recovered Outlook items into PST, PDF, MSG, EML, HTML
Maintains folder hierarchy in its original form
Restore deleted items from PST, OST, and BAK files
Steps To Restore Permanently Deleted Items in Outlook
Here are given 4 steps to recover deleted meeting in Outlook:
Download and run Outlook Deleted Items Recovery
Upload PST/ OST/ BAK file and run scan (Add File dialogue box will appear)
Choose Calendar option given on the left side of the panel
You can preview all deleted items including meetings in RED color
Hit Export button form menu bar and choose on export option from list and browse path to save Output.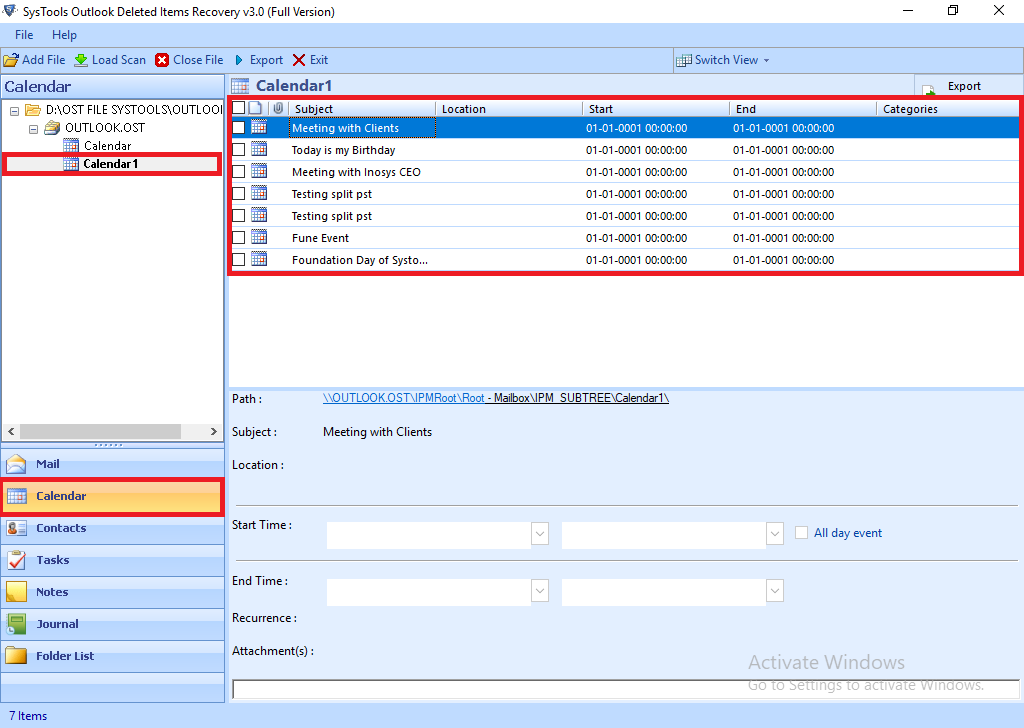 Things We Discussed in This Article
In this article, I have shared ways to recover deleted meeting in Outlook. In earlier sections, I have discussed two manual ways. Then, I provided a software solution to restore meetings. This software can easily recover hard deleted Outlook items and folders. A highly efficient software that performs the RAW scan. It is compatible with all versions of Microsoft Outlook (2019, 2016, 2013, 2010, 2007)
The download and purchase button has been provided in the upper section.