How to Protect PDF from Printing?[Easy Steps]
If you are worried about your confidential data and are looking for solutions to protect PDF from printing, then you have come to the right place. We will tell you how to prevent printing a PDF with less time and less effort.
In this article, we will share with you the best methods that are effective and reliable but you need to follow some simple steps.
Password protection is where you can protect your data and personal files with passwords and there are two types of passwords that we use to protect PDF files to print protect PDF file.
If someone steals your information and saves your data, it might be deleted and changed by unknown people and data security also will be at stake.
Everyone wants to copy or cheat someone else to succeed in their work because it does in no time but how you work hard to build it is why we are here to ensure the safety of your work with your dependents.
So let's deep dive and lock your PDF with the passwords and make it secure.
Protect PDF from Printing
With Which Password?(Types of Passwords)
Two types of passwords are there which is used to protect PDF from printing and users use it according to their needs these two types of passwords are-
Permission Password and Document Open Password
Document open password
User password or Document Open password requires a user to open a PDF it appears on while opening a document.
Permissions password
A master password or a permissions password is required for the recipient to change permission settings. And If a user uses a permissions password he can restrict printing, editing, and copying content in the PDF. because this is not a document open password so Recipients don't need a password to open the document in Reader or Acrobat.

But if the PDF is protected with both types of passwords, it can be opened with the document password even though only the permission password allows the user to change restricted features. But in improving security, setting up both types of passwords is often useful.

Permission password is required for editing, printing or merging, and splitting the PDF

When you open a file and if it's protected it will ask for the password and it's known as a Document password.

Prevent printing a PDF

with these two types of passwords and in the upcoming headline learn about how to apply it.
Protect PDF from printing
with 5 Methods
These methods are 100% working to protect PDF from printing , we have tested each and every method to make it work for you and just follow this guide with simple steps to restrict or lock the PDF
First Method: Make
Print protect PDF file
in Adobe Acrobat Pro DC
Adobe is an admired software program for editing and securing PDFs.
Just follow these steps:
Open your file in Adobe DC.

Select "File" then select "Protect Using Password."

Choose the type of password you want to restrict editing and printing or just restrict opening the document.

Now Enter a password, and confirm it.

And final, Save the document.
Second Method:
Prevent Printing A PDF
With Microsoft Word  
Word provides an option for you to convert a document to PDF format and also offers a password protection feature. Follow this guide to enable it
Select your document and open it in Microsoft Word

Now select the  "File" and select the "Save As" option.

Follow this step and Choose PDF from the dropdown menu.

Then one pop will open click  "More Options" and then select "Security Options."

Now select the box "Encrypt the document with a password"

And Enter a password, and confirm it.

Now Save the PDF.
Third Method: Lock A PDF In Macos
Apple Mac Preview is the default software for opening, editing, and securing PDF files on MacOS. To lock a PDF in macOS:
Select your file and Open the PDF file in Preview.

Now click on "File" and then "Export".

Just Choose "PDF" as the file format.

And Check the " Encrypt " box and enter a password in the "Password" field.

Then Re-enter the password to confirm it.

Here Choose the path to save the locked PDF and click "Save".

Finally, The PDF is now locked with a password.
Fourth Method:
Print Protect PDF File
  By Professional Method
You can use this Professional PDF Lock tool which  is recommended in the market for protect PDF from printing because it gives you amazing features to lock PDF like:-
Easily apply restriction for Printing, Copying, Editing, Extracting Pages

Restricts permissions for Filling and Commenting in PDF

Encrypts PDF file passwords with the latest encryption options including AES256 bit

"Add File" / "Add Folder" for batch processing(multiple files) to save time

Option to choose destination

Can generate a report in CSV format for future needs
Step 1: Download the software and then click Add File(s) or Add Folder option to add the PDF Files into the software.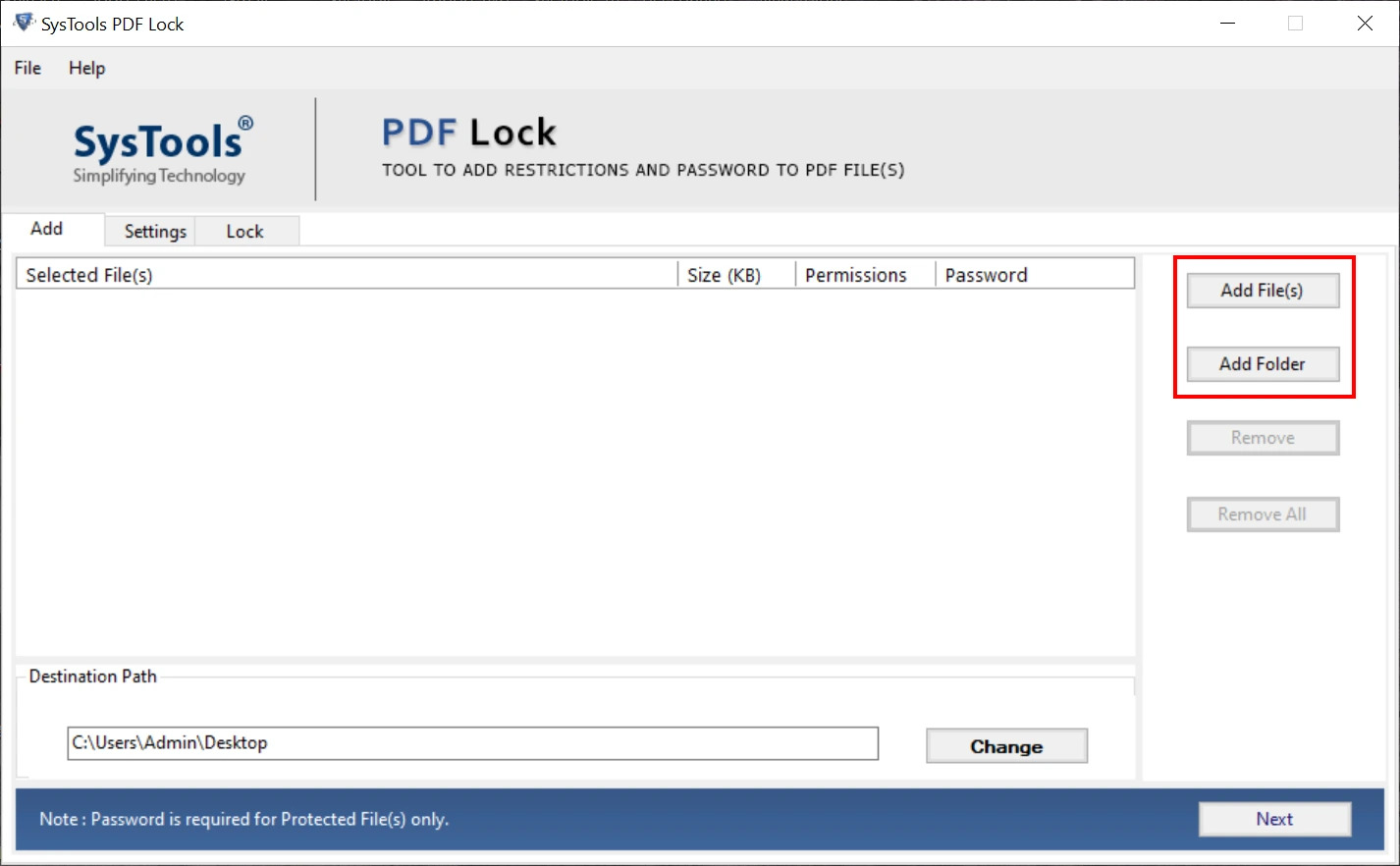 Step 2: After uploading the file click on the Destination button. Then select the destination location to save the password-protected PDF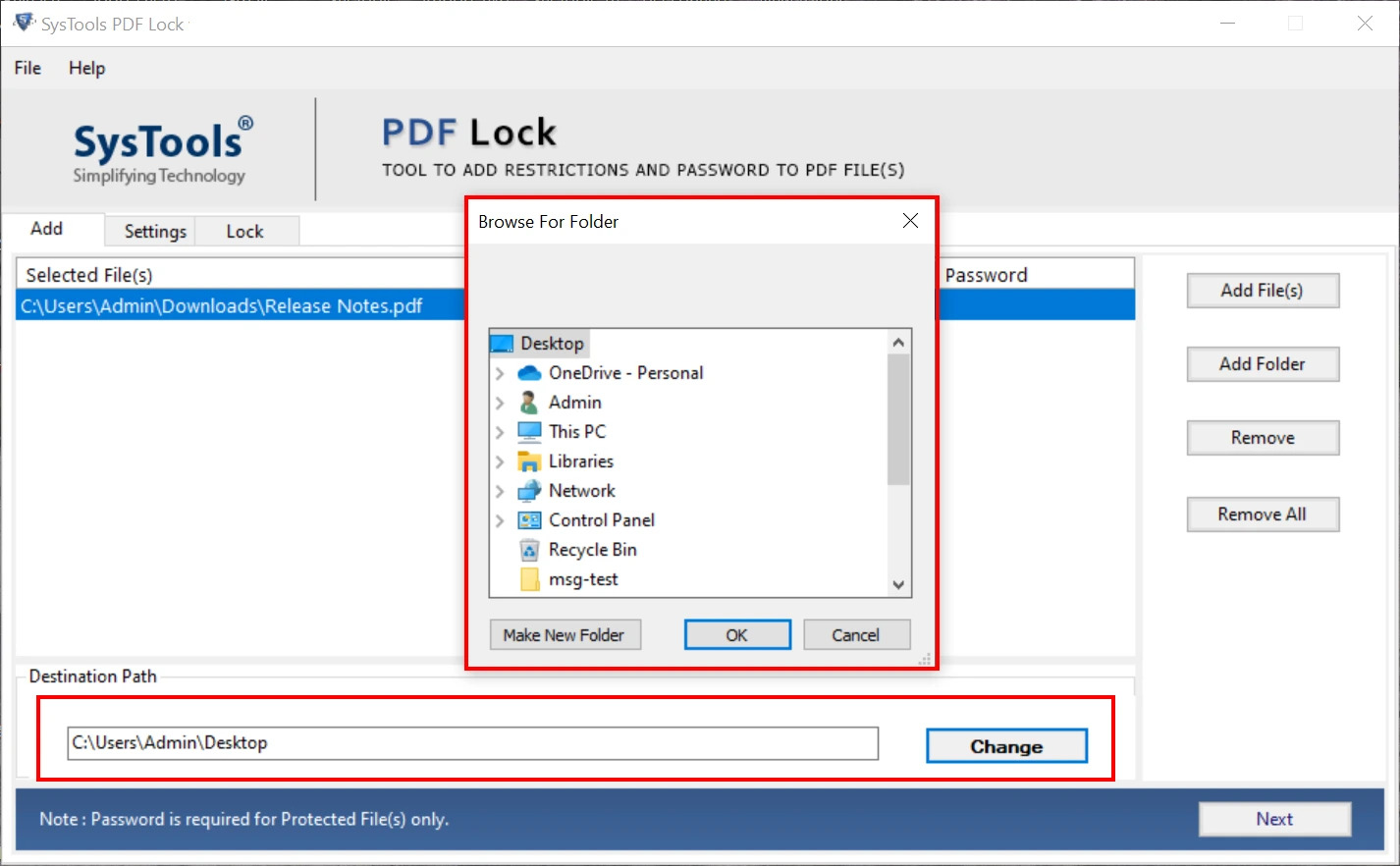 Step 3: After this, go to the Settings tab and choose the Apply Document Restriction option.  Printing you can change printing restriction settings by clicking the drop-down and selecting the printing restrictions as per your need.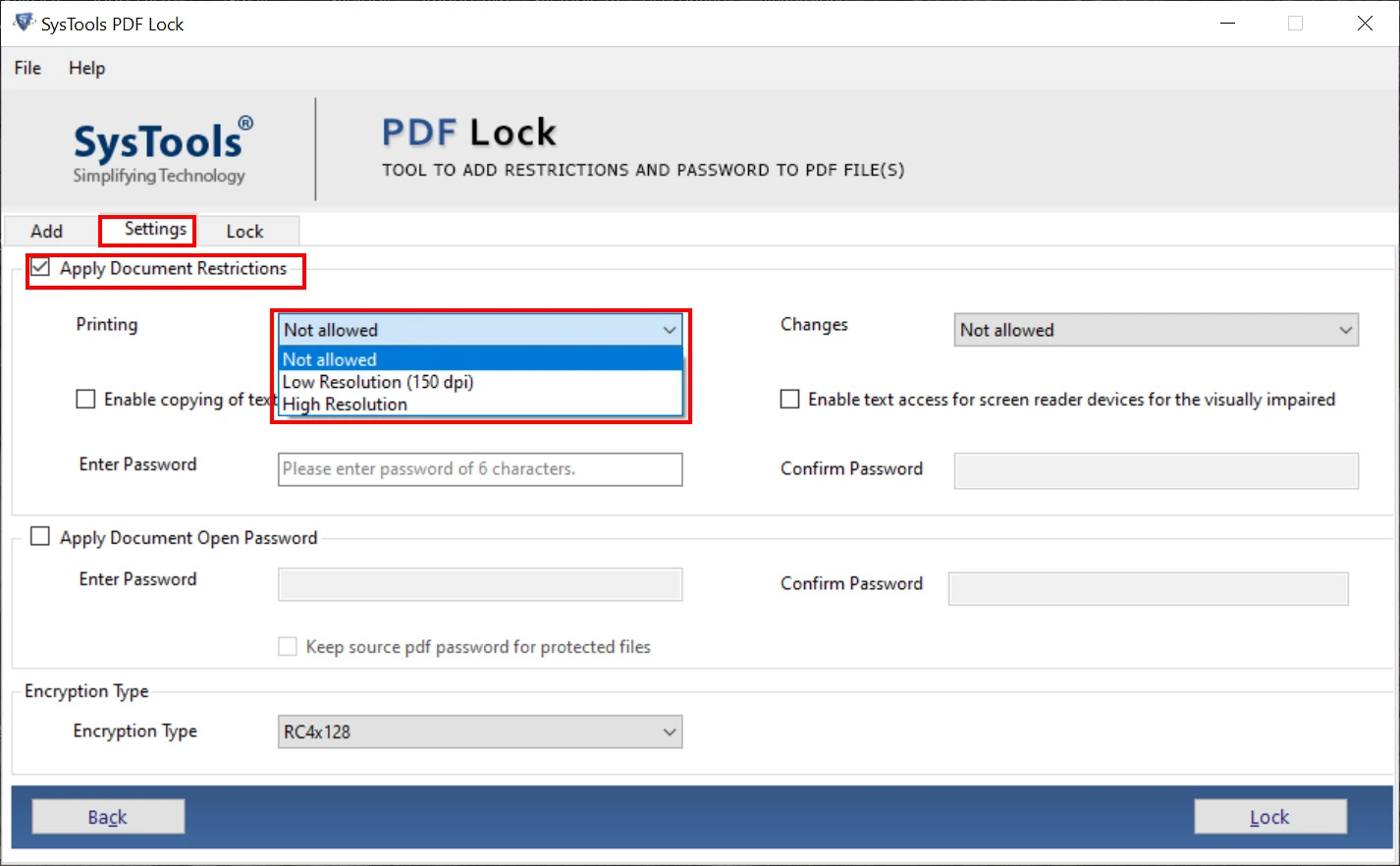 Step 4: Once all the restrictions are applied, enter the Password to lock the PDF and apply the restrictions.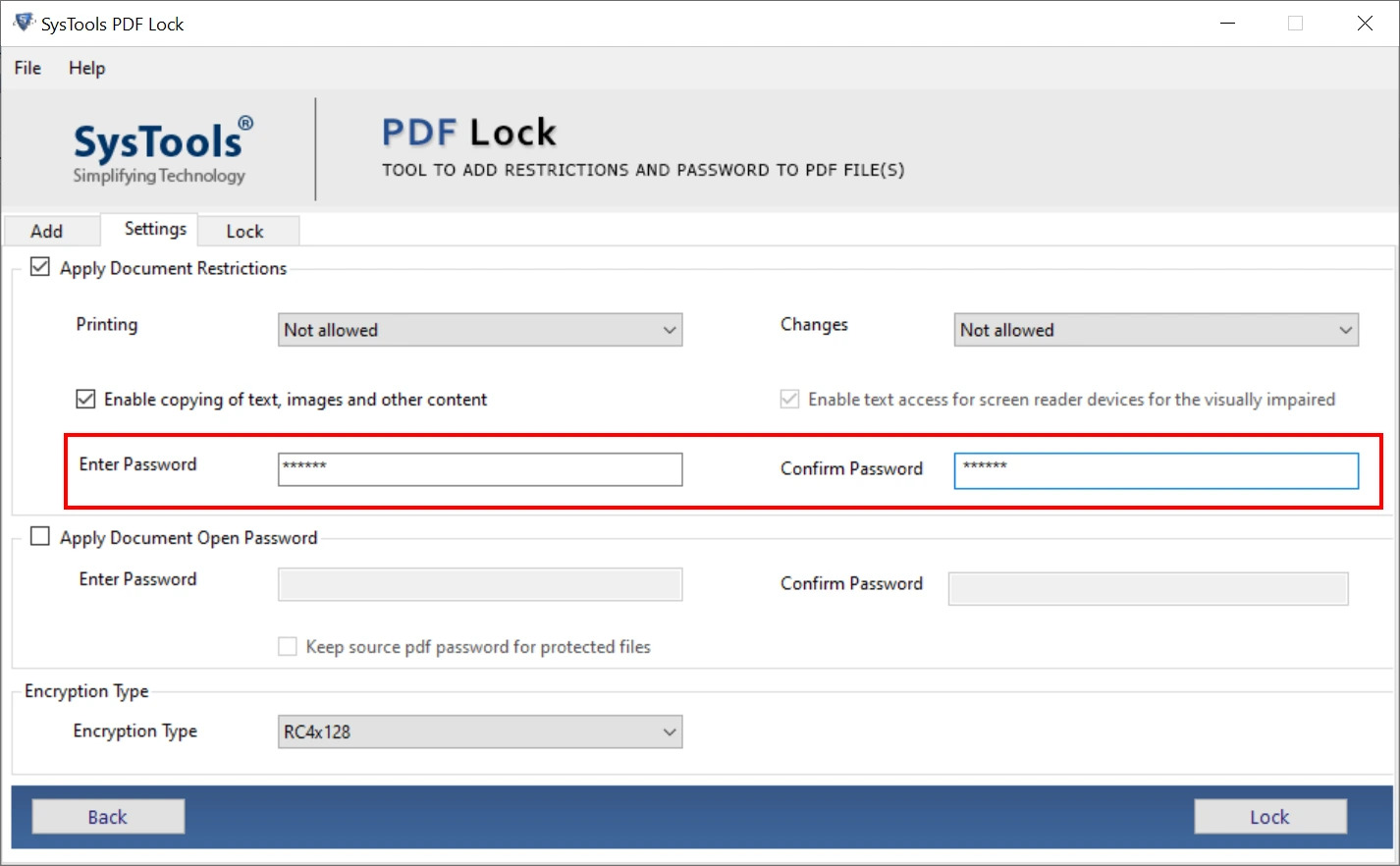 Step 5: Using this tool users can also add Password for opening the PDF. Just select the Apply Document Open Password option and Enter Password and also can select between security type.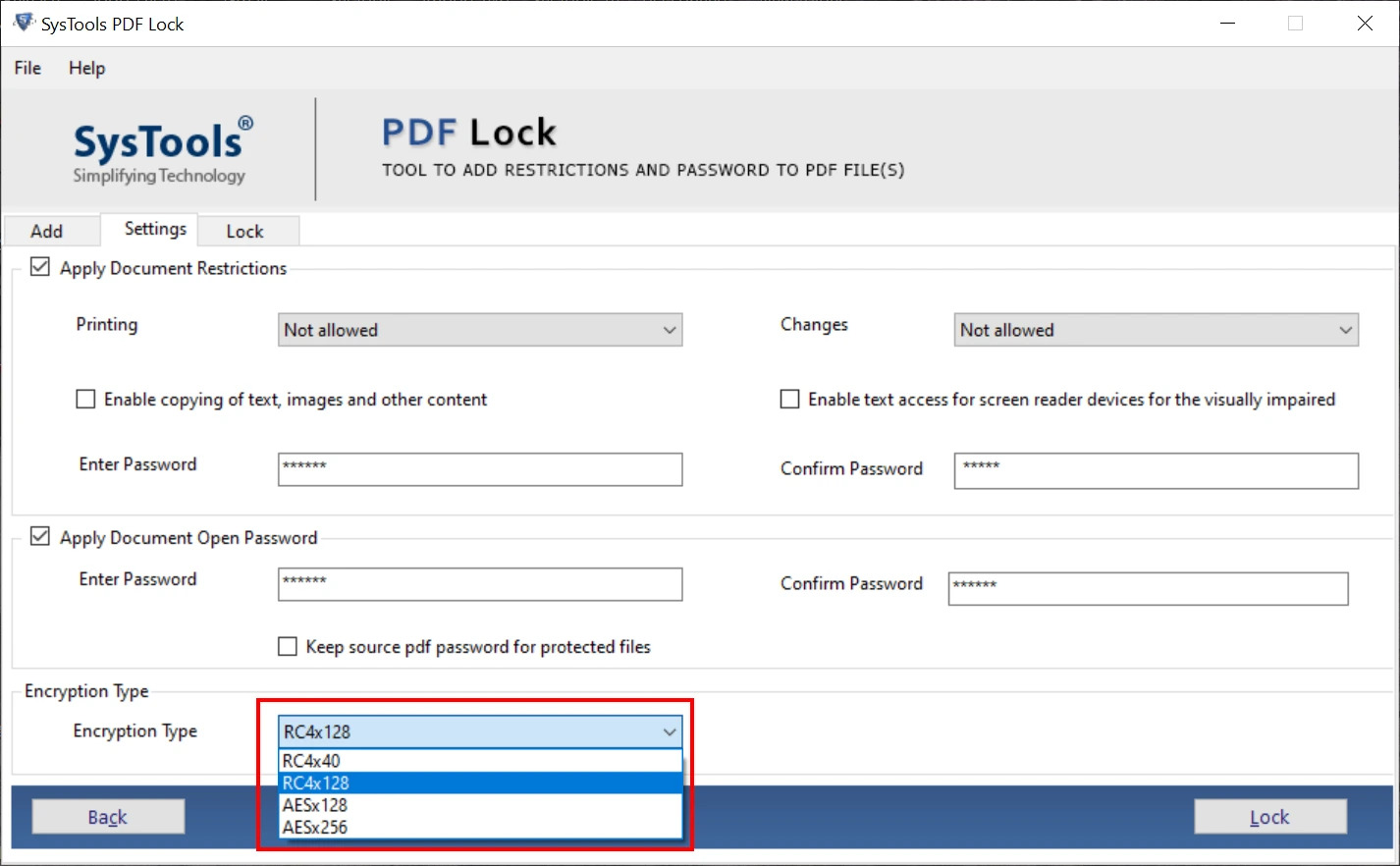 Step 6: Once all the settings are done, click on the Lock button to secure the PDF file.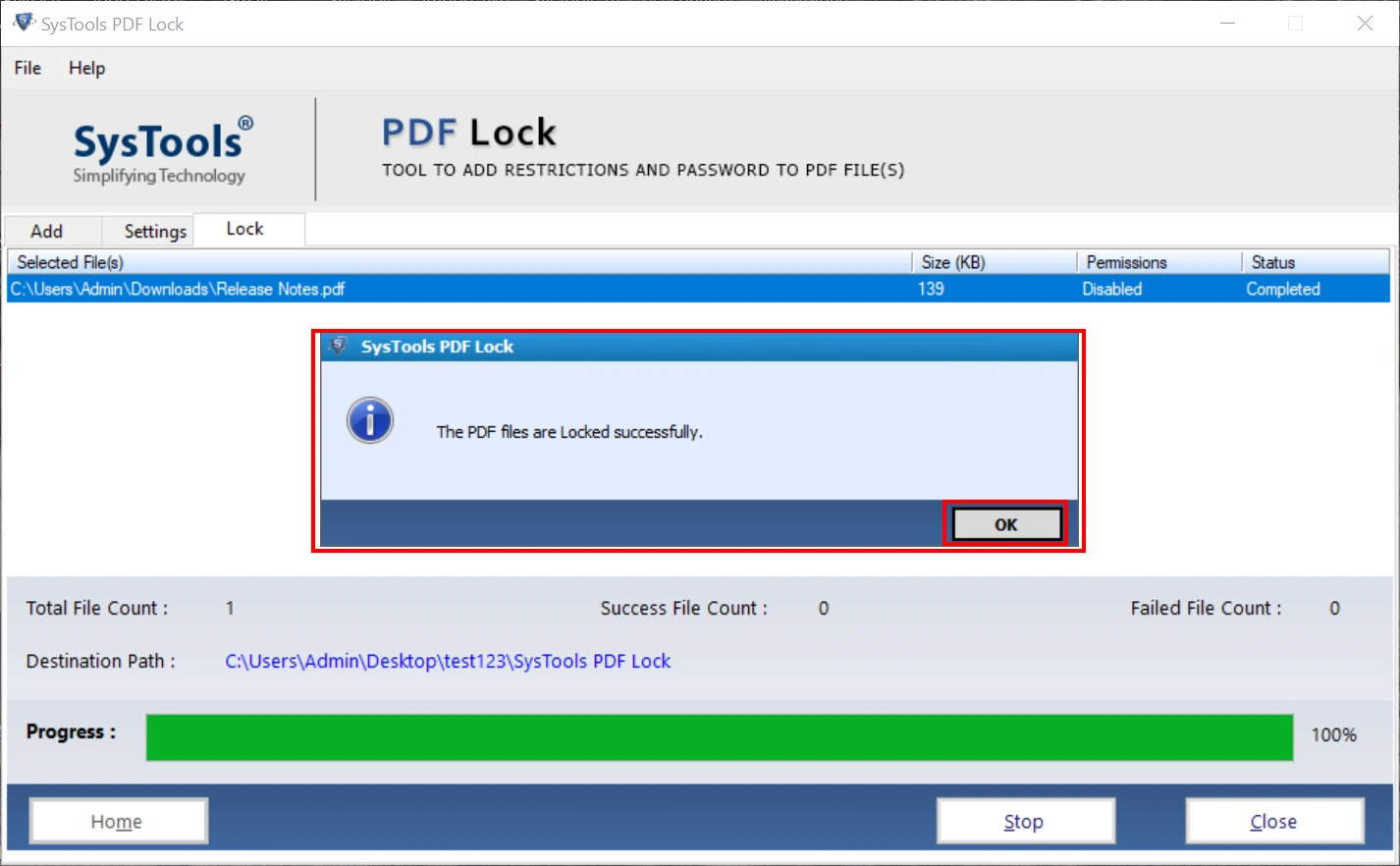 Fifth Method: Protect PDF From Printing By Online Tool
On the web Go to the PDF to JPG converter and drag and drop your PDF file

Find  the option  "Convert entire pages" then press the button and press "Choose the option"

Just Wait  to convert the document

Then Click "Continue in JPG to PDF"

Now just hit the "Convert"  button in the top bar and wait for the PDF to process again

Here Download the PDF and switch to "Protect PDF" via the "Tools" menu

After dragging and dropping your file into the box

And Enter a secure password and press "Encrypt PDF"

Just Press "Download" to retrieve your protected PDF file
Why Use Password on PDF File
Why users Protect PDF from printing let's see some reasons:
It ensures the security of the users' data. Users protect their files by setting passwords so that PDFs can be saved with unauthorized users.

PDF security is important for employers because sometimes there is confidential data with it because if the data gets leaked they can be in trouble due to the law.

The teachers just depend on the creator of the reason why he locked it because it is different in the work and the way they actually work but there are two reasons there.

Control who can access the document because the document can be modified.

It is important because of your business loyalty and if you send it to your customers if they change it can be a problem.

How you lock a PDF file depends on the creator and what kind of restrictions they want because if they want to open their document without permission they can use the password.

But if they want to allow them to read, the author of the data can specify the password with it so that no one can change it without the author.

Authors restrict PDF users from printing, editing, or changing data from it
Also Read :- Protect PDF from Copying?
Conclusion
In this article we have learned how to print and protect PDF files with 5 methods select one which fits your needs. We have learned the types of passwords to protect a PDF and how to protect them with it. We have shared the best methods to prevent PDF from printing. You just need to follow the guide of each method and it will done in minutes.