Find Different Fixtures to Resolve Outlook Error 0x800cccdd
Microsoft Outlook furnishes various quality features along with effortlessness of use & flexibility. It comes up with number of facilities such as emailing, task management, calendars, contact management, etc. All these things can be utilized without any complications. Its flexibility with SharePoint & Microsoft Exchange server makes it more popular email application among various other email applications that are available in the online market.
However, instead of all these features, sometimes mishandling and lack of knowledge may put users in problematic situations. In such circumstances, Outlook starts giving some unwanted errors making it difficult to access the files. One such error is Outlook error code 0x800cccdd. It occurs when users is accessing account of IMAP server. During this error, users cannot send or receive the emails and almost every function of MS Outlook becomes inaccessible. The error even hangs the Outlook when users attempt to add a new mail account. In upcoming part of the blog, we will learn the reason behind the Microsoft Outlook error code 0x800cccdd along with the resolutions.
Why Error 0x800cccdd in Outlook Occurs?
One of the basic reasons for Outlook error message 0x800cccdd is improper working of Microsoft Outlook with IMAP connection. The reason behind this is that when there is a connection between MS Outlook and IMAP account it does not require any other parameter to check the process of sending and receiving mail. It is because as long as IMAP is in active mode it coordinates to the server automatically. If user fixes a specific time to manage between sent and received emails it can lead to this error. This is how this error occurs in the system while you are trying to send or receive a message.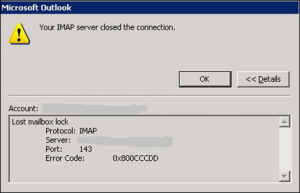 Now, we will discuss the method by, which we can rectify the error 0x800cccdd.
Rectification of MS Outlook Error Code 0x800cccdd
These are the three following method to fix the error 0x800cccdd in Outlook.
Solution 1: Removing and Re-adding of Account
This is the first suggested method to resolve this error. Just remove your current account from Outlook and then re-add it once again. Now, check if the issue has been resolved or not. If not, create a new profile on Outlook and re-add the account now. Again, check whether the error problem is still there or not.
Solution 2: Change in Microsoft Outlook Settings
If the issue is not resolved, yet follow these mentioned steps to fix error code 0x800cccdd.
Follow the Steps to Resolve Error in MS Outlook 2007 & 2003:
Step 1: Firstly, open Outlook application on your system and select the option of "Tool" in the main menu.
Step 2: Once you click on Tool option, a drop down list will be open, select the first option i.e. "Send/Receive." As soon as you select that option, a new list will appear, choose "Send/Receive Settings" there and then you can see three options, you need to click on "Define Send/Receive Groups…Ctrl+Alt+S."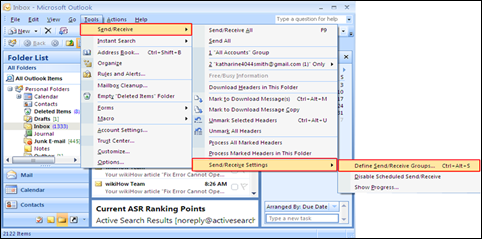 Step 3: Now, a window will open you need to uncheck the option "Schedule an automatic send/receive every_ minutes". When you unchecked it close the window. This can rectify this error.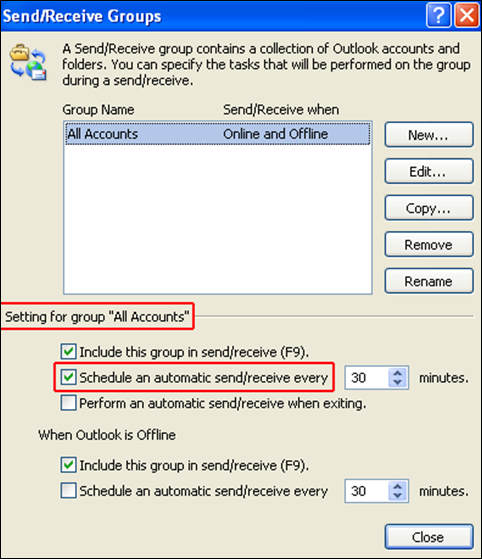 Follow these Steps to Fix this Error in MS Outlook 2010
Step 1: Firstly, click on "File" menu and select "Options" option there.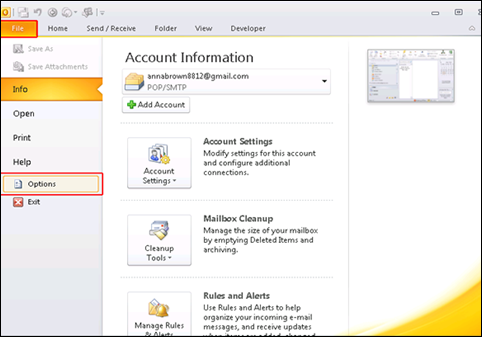 Step 2: Now, a new window will open click on "Advanced" option and then click on "Send/Receive" option.
Step 3: Once, you click on that, a window will open and unmark the option "Schedule an automatic send/receive every _ minutes" and close the window after that. This would fix the error 0x800cccdd.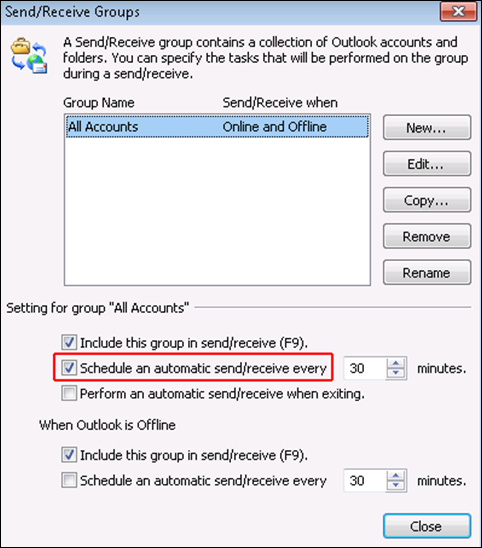 Solution 3: Automated Solution
Sometimes this error occurs due to some corrupted OST files and to fix these corrupted OST files we need to take help of a third party utility tool. One of the tools that can be used to repair corrupt OST files is OST recovery. This software can repair corrupted or damaged Outlook OST files very easily. Moreover, it can convert the repaired OST file into PST format.
Final Words
Nowadays, when Outlook popularity is increasing day-by-day among the users due to lack of knowledge and improper handling some unwanted errors can occur. In the following section, we have discussed the reasons and the solution to fix Microsoft Outlook error code 0x800cccdd without any need of technical expertise. It is recommended to opt for third party utility for easy and fast results.
Save