How to Merge Inboxes in Outlook 2021, 2019, 2016
Summary: Do you want to organize Outlook Inbox folders? Do you have two or more inbox folders in your account? If so, this post will help you how to merge inboxes in Outlook and manage them professionally. Below are some user queries for the same to make today's topic more clearer for you.
"I am using Outlook 2016. Somehow I found several inboxes in my Outlook 2016. I would like to combine them into one inbox. Is this possible? Please suggest me a method how do I make all my emails appear in one inbox in Outlook"

"I wonder if there is a way to combine Outlook inboxes for multiple IMAP accounts. I know that if you use POP3, they all come in one inbox, but once I switch to IMAP, I have to click on each account's inbox separately. Thanks a lot!"
The answer to both questions is Yes. You can combine inboxes in Outlook using a few methods. There are two methods to merge Outlook inboxes of different accounts: Manual and Automated. So you can choose one that fits your requirements to organize Outlook inbox folders successfully.
Merge Multiple Inboxes in Outlook Manually
Note: Before starting the process, please make a backup of the Outlook data files to avoid data loss or damage problems.
Open Outlook, click the File menu and then click Account Settings
In the Account Settings dialog box, select the Email tab
Select the email account you want to combine.
In the dialog box, select the Change folder.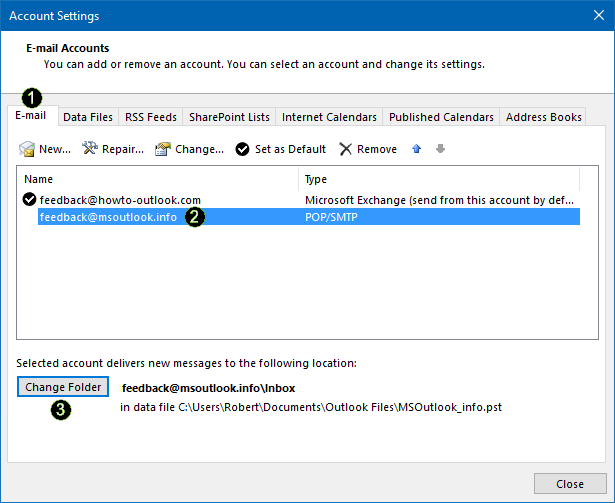 Now select the folder as the destination folder in which a specific message is to be saved.
These folders are already existing folders like the inbox or a separate folder.
You can create any other folder like inbox, account 1 or 2, etc.
After selecting the folder, click OK.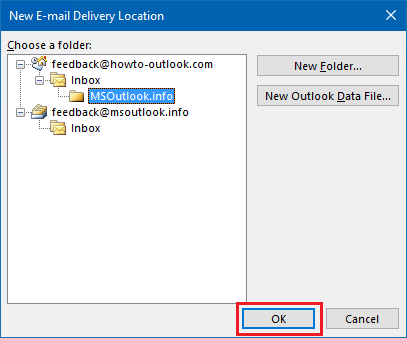 Combine Outlook Inboxes Using Automated Solution
To organize inboxes of Outlook, merging them into one is the good option. To do this, manual method described above will help you easily combine Outlook inboxes of multiple accounts. But, you need to repeat the same steps for each email account inbox you want to combine. Therefore, the user can use the PST Merger software to Merge PST File into one file. This is known as the best tool to consolidate data files without losing the original folder structure.
First Download and start the tool by clicking on the below button:
Steps to merge multiple inboxes in Outlook of different accounts are:
Step 1. Click the Add File, Add Folder, or Search File option to load PST files.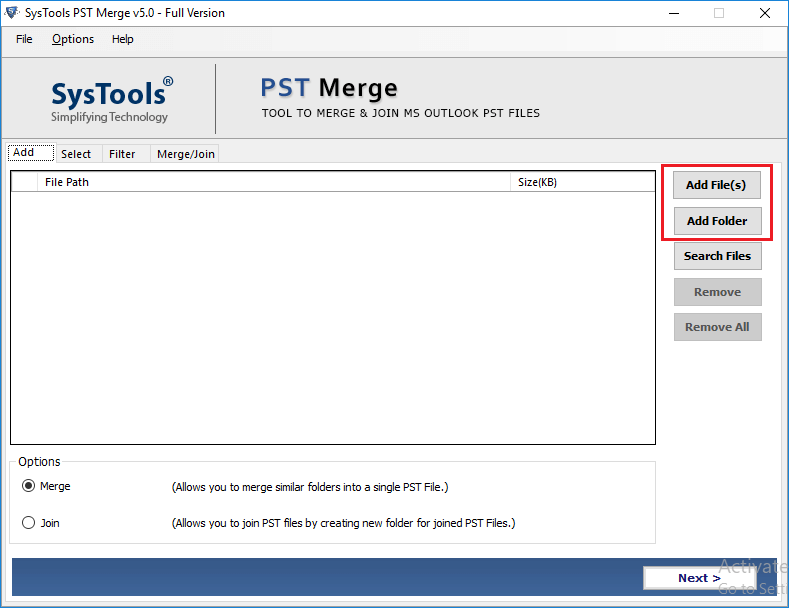 Step 2. Select the Merge option and click Next.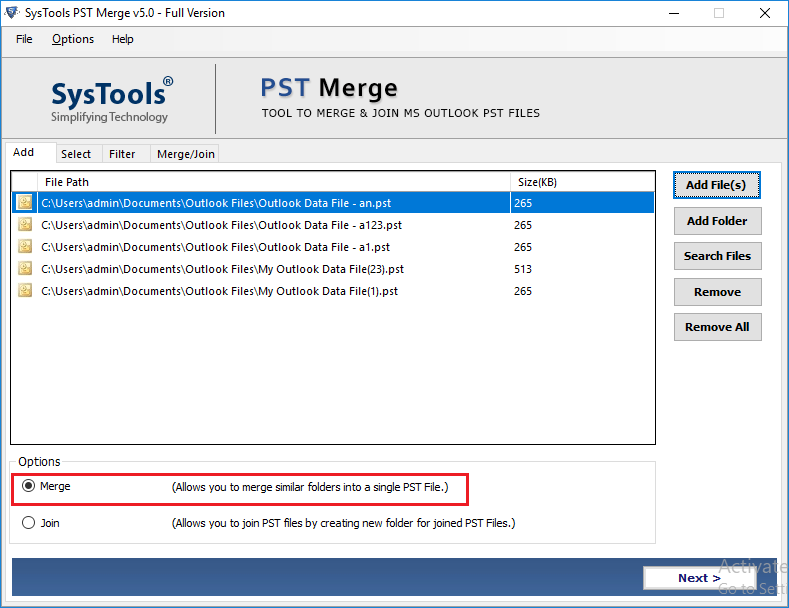 Step 3. Select the required folders. Choose Merge into an existing PST file and select the file or folder in which several inboxes are to be merged.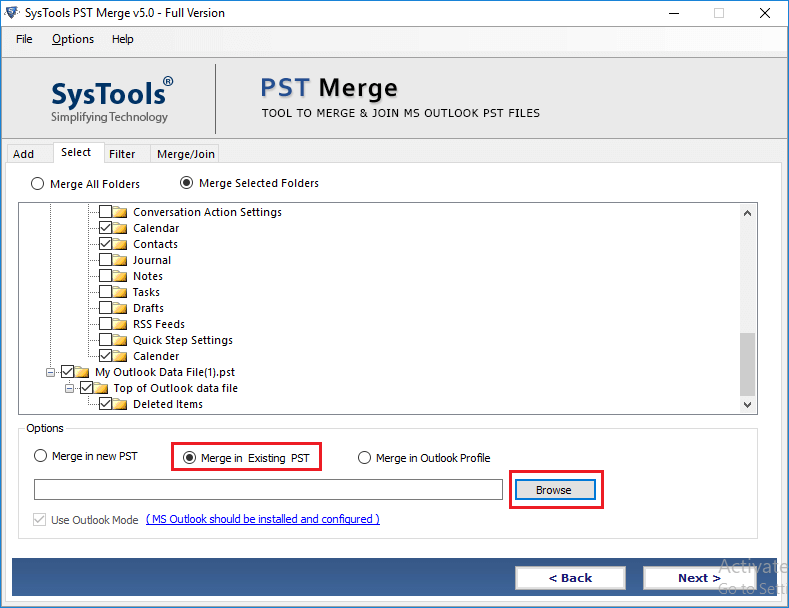 Step 4. Select filters and duplicate criteria.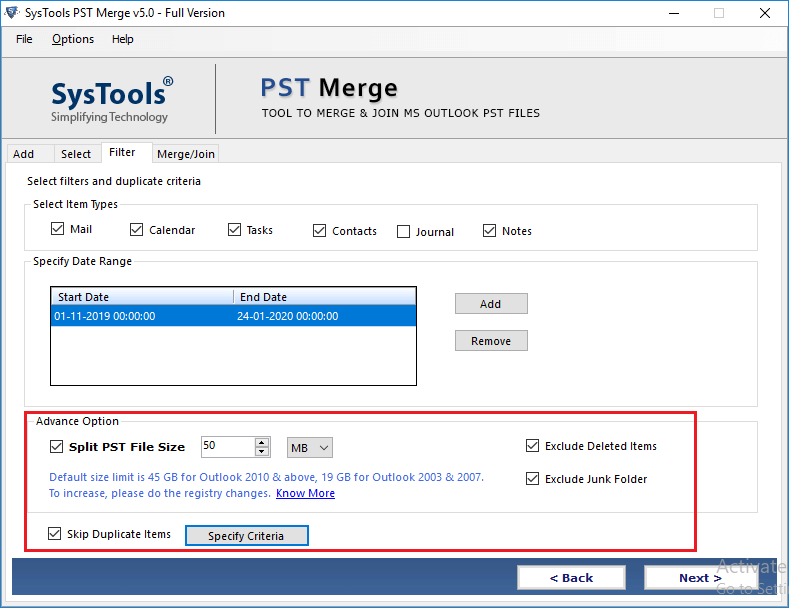 Step 5. Click Next to start the process.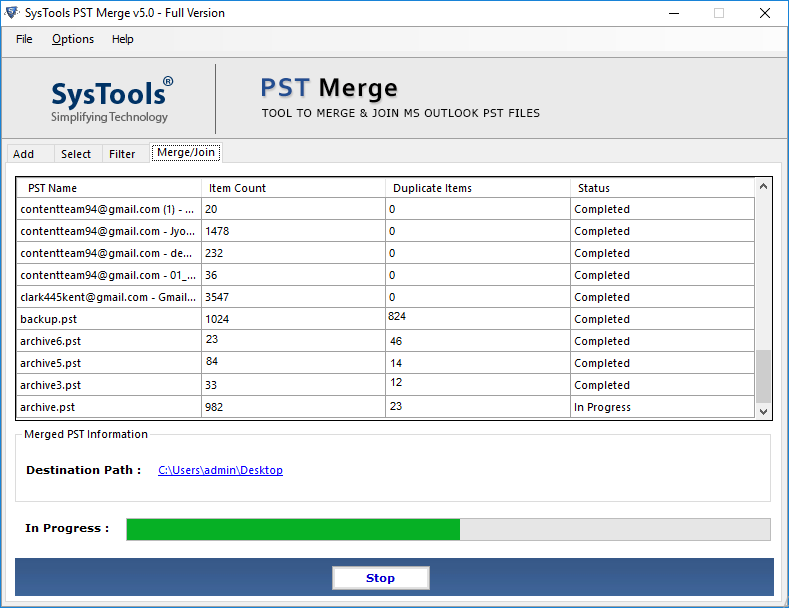 Why Suggested PST Merge Tool to Combine Outlook Inbox of Multiple Accounts?
This is the best tool to organize Outlook inbox folders and make all emails appear in one inbox when the manual method fails. It offers multiple advanced features and some of them are:
Author Suggestion
Here we have explained the manual method to merge multiple inboxes in Outlook step by step. However, some disadvantages also result from the manual approach like no guarantee for merging inboxes, the risk of data loss and time expenditure. To eliminate all these disadvantages, it is strongly recommended to use the professional solution. This way, the user can combine Outlook inbox of multiple accounts without duplication.
Frequently Asked Questions of Users
How to combine Outlook inboxes without duplication?
Follow these steps for completing this task:
Start Merge Outlook PST tool.
Add the PST files that you wish to combine.
Choose among 3 merge options.
Check "skip duplicate items"./li>
Click "Next" to combine inboxes in Outlook.
What is the best way to organize Outlook Inbox folders?
The best way to organize and manage inboxes in Outlook is to merge them into one. Once merged, you can access multiple Inbox folders in one and avoid data loss issues.
How can I manually combine inboxes in Outlook (multiple accounts)?
Start Microsoft Outlook and click File menu.
Click on Account Settings and again choose Account Setting from the dropdown.
Choose account whose inbox you wish to combine
Click Change Folder button
Select another existing folder where you want to save the emails.