Merge Two SharePoint Sites in a Single Site without Hassles
While wondering why would anyone want to merge two SharePoint Sites, I found some of the real user queries that made my mind clear. After realizing how crucial it is for users to combine their two different sites of SharePoint together, let's all learn the "Simple Solution".
Yes, you guys heard it right. The solution for merging two SharePoint Sites is quite easy & can easily bring the desired results irrespective of the multiple reasons why users want to execute this task.
We're going to explain the best tool & its steps that can help users execute the entire merging process with ease. Moreover, the tips to enhance the experience along with the most asked questions are there as well. However, let's go through the user queries first.
Can You Combine Two SharePoint Sites? Genuine User Query
"Hey tech geeks, I'm Robert Davis from California, United States. Recently our organization expanded. To restructure the database management for internal communication, we decided to merge the existing data of two separate SharePoint sites into one single site.
I found it quite difficult as our admin said that there isn't a manual solution that can be executed without errors. Now, if there is any way by which we can get the desired results easily will help us a lot."
Robert Davis, California – USA
"Being a project manager for an MNC is clearly not an easy job. We're having multiple sites in our SharePoint Online platform out of which I want to combine two of them together I heard that using an advanced utility is the only option. If it's true please suggest the best possible solution for merging two SharePoint Sites as I'm ready to do everything to get the results ASAP."
Nitin Patel, Delhi – India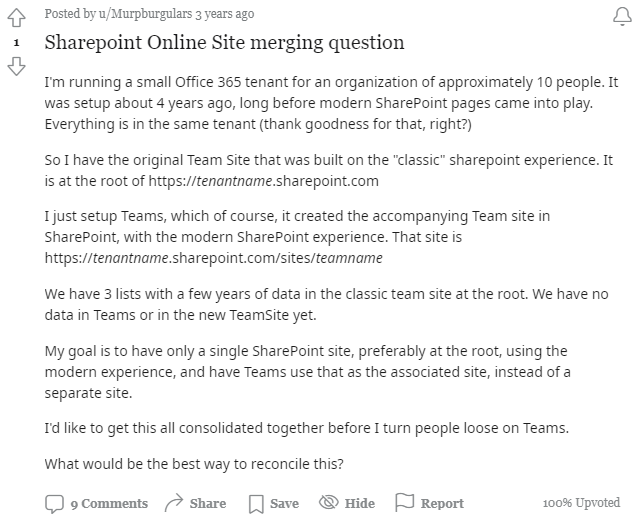 Based on the above three queries, you all must be agreeing with the issues of these users. So, let's begin & start finding the best possible solution.
Merge Two SharePoint Sites Using the Best Advanced Tool
After taking all the complexities involved in the process, neither we nor any other expert suggest users try finding the manual PowerShell commands solution. How can you merge two SharePoint Sites with the PSH commands as it includes a high possibility of data loss or corruption? It will bring only increase the hassles. Therefore, trusting a robust automated solution is the most reliable & only choice for users.
Evidently, the experts recommended SharePoint Online Migration Tool is all that users need to go for. What this software actually does is the migration of the data from one SharePoint Online site to another fresh or existing site without hassles.
This sounds much easier, right? Yes, it is actually. So what are you waiting for? Download the tool fast & follow the simple steps to get your desired solution.
Now, when we talk about the capabilities of the software, it focuses on merging two SharePoint Sites with the document libraries as well as generic lists leaving no significant elements. This way, users can also increase the data integrity of the resources. Moreover, the batch migration options, date filters & other advanced features make the task like a walk in the park.
Adding to it, not only in a single tenant but it can perform the operation across different tenants as well.
How to Merge Two SharePoint Sites Step by Step
Step-1. Download the Tool & then Launch it in your system.
Step-2. Select Document Library & List in workload selection.
Step-3. To get data from a specific time period, Apply Date Filter.
Step-4. Enter the Admin ID &Application ID for source & destination.
Step-5. Map SharePoint Sites from source to destination & validate.
Step-6. Click on the Start Migration button to complete merging.
Also, Refer to this SharePoint Online migration checklist to not miss out on any significant information.
Important Tips for Merging Two Sharepoint Sites
So, now, that we learned the entire process along with the required tool. Let's discuss some of the tips that can help users to make their experience smooth & eliminate the query "Can you combine two SharePoint Sites?" from its root.
Determine the Scope


Before you dive directly into the merging, understand the scope, needs, & other factors as well. Discuss with top management & get approval to begin.
Pre-Plan the strategy


Prepare the strategy in advance as this process might get wrong if users aren't ready with backup plans. Evaluate all risk factors & other crucial areas of consideration.
Communicate with Users


Inform your staff & then train them for the upcoming changes in advance. This can make the management better after the migration.
Ensure Data Integrity


It's always crucial for users to take care of data files as it is the most valuable asset nowadays for business. Give access & control to the trusted employees only.
Run a Pilot Project


Before you perform the actual operation, to test the preparations, run a pilot project. This demo project can help users understand the weak points if any.
Track the Migration


Track your migration at all points. Keep an eye on the data already merged & the rest going to merge. Also, study the status report at the end of the procedure.
In A Nutshell
Finally, after discussing all the crucial key concerns, we are here at the end of this article. All the necessary information to merge two SharePoint Sites is here along with the best solution & tool. The best thing about relying on this software is that at such a price point, this utility is safer than the other options.
In a nutshell,  if you are asking others can you combine two SharePoint Sites, then the above-mentioned solution provides that ability to yourself. A little attention, focused practice & the right tool is all you need.
FAQs
Q-1. Is this software perform migration of data from one tenant to another?
Ans: Yes, this software allows SharePoint Online tenant to tenant migration because of its immense capabilities & structure.
Q-2. Is merging two SharePoint Sites can be easy?
Ans: Yes, users can merge their one SharePoint site to another one with ease only if they use a safe & advanced tool for it. Otherwise, the task can be a tough mess to get out of it.
Q-3. What are the crucial data items that get merged after the migration?
Ans: The SharePoint Document Library with all of its elements and the generic lists can be transferred to the destination site using an advanced tool.
Q-4. Can you merge two SharePoint Sites using (PSH) PowerShell Commands?
Ans: No, currently, there is no manual solution available for this task. Even if users want to know the PowerShell commands, there is no direct command. Therefore, the automated solution is the perfect solution.