What to do When Mac Mail Keeps Asking to Enter Password Everytime?
When the users try to set up a new Mail account in Mac, they must enter the service provider, email address, and email login password once, then everything works just fine. However, sometimes things are not so simple, and one annoying issue that users encounter is the Mail app repeatedly asking for passwords, over and over again. But for every problem, there exist a solution. And here, we are going to discuss different manual tricks to resolve the irritating issue of Mac Mail keeps asking to enter password. Read on and observe how simple it is to rectify this problem.
Measures to Resolve Mac Mail Keeps Asking to Enter Password
There are multiple methods by which users can troubleshoot the Mac Mail issues. Some of them are mentioned below:
Method 1: Verify the Password is Correct
Make sure you have to enter the correct password. It means you have to check the caps lock key to see if it is on or off when it should not be, keeping in mind that every character is entered as intended.
Enter the exact password in the Mail dialog window, and check Remember this password in my keychain check box and you will never see the same message again. But, sometimes you will find it again. If you are completely sure about that password, but the Mail app is still asking for it anyway, then move on to the next solution.
Method 2: Manually Set up Exact Password in Mail App
If still your Mac mail keeps asking to enter password, then set the correct password in Mac Mail preferences using a manual approach. However, keep in mind that the password must be correct.
Firstly, click on Mail App Preferences by selecting the Mail menu
Choose the Accounts panel from the Mail preference window screen
Select a mail account from the given list that you are having problems with
In the Account Information tab, choose the Password field, delete the previous entry (if there is one), and, then re-enter the exact password
Go to the General tab or select close Preferences and click the Save button when asking to save changes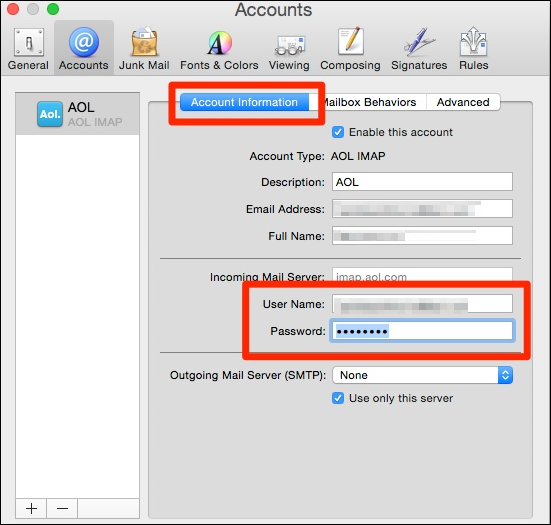 Now, you can refresh the Mail inbox. Still, Mac Mac keeps asking to enter a password? If not, then it's fine otherwise, go ahead and move to the next troubleshooting step.
Method 3: Set the Outgoing Mail Server Password in the Mail App
If the incoming mail works perfectly fine, but outgoing emails are being failed and you get a password request box, this most likely means your password for the outgoing mail server either is not set or is not correct. Many users do not want to do this with IMAP accounts, but generally, SMTP mail servers have a separate mailbox login, thus they need to check that and set the correct outgoing mail password as well. Now, back into Mail Preferences, we go to solve the problem of why Mac mail keeps asking to enter password:
Go back to Mail Preferences by clicking on the Mail menu and selecting Preferences
Choose the Accounts panel from the preferences window
Now, select the mail account that is sending the password errors
From the Account Information tab, select Outgoing Mail Server (SMTP)>> Edit SMTP Server List
In the next step, you have to choose the Advanced tab
Make sure that the email address you just entered is correct, then hit on Password and enter the exact password associated with your email account
Press the Ok button, then exit the Preferences and choose the Save button when requested
Again, you can send an email, it must work now as intended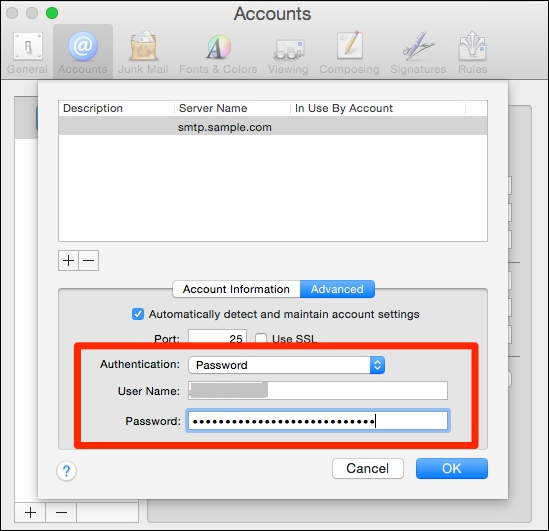 Did Still Mac Mail keeps Asking to Enter Password?
If you are still facing problems with your Apple Mail, there are a few possibilities to consider: login details and email account password changed, the mail server password changed, or you sign up with 2-factor authentication and you are not automatically entering a password. Apart from this, if you are still having the same problem. In that case, you can simply delete and re-add the email account, but you will probably want to backup your emails if you want to go that route.
Also Learn About: Troubleshoot Mac Mail SMTP Error 
Final Words
It becomes a difficult situation when Mac mail keeps asking to enter password every time. Thus, in this blog, we have explained different solutions that will help to fix Apple Mail Keeps Asking for Password issue. Make sure to follow each and every step very carefully.