Fix MAC Mail AOL Authentication Failed issue in Few Simple Steps
Hello, I would like to open and view my AOL Mail emails with another email client on Mac. So, I tried to access AOL email data on Mac via Apple Mail app but failed to authenticate with AOL Mac. It is the best email application that provides free email service including instant messaging and many more attractive options. I am facing Mac Mail AOL authentication failed issue during the configuration. Please help me to resolve the error.
Accessing AOL emails in Mac devices is not a difficult task as it provides the option to directly access AOL emails via Apple Mail app. So, there is no need to separately set up AOL Mail on Mac. The Mac OS X gives a free Apple Mail emailing app which supports many functions and provides the opportunity to setup AOL, Gmail, Yahoo, etc. Therefore, it facilitates its users to send and receive all emails through a single platform without any hassle.
However, the people who need one application to open all the emails directly then it is easy to use this single mail app which is completely organized. But during the AOL configuration with Apple Mail, the user faces several kinds of issues. Thus, in this article, we are going to suggest you the best solution to resolve all such MAC Mail AOL authentication failed. First of all, let's see some commonly occurring issues.
You May Also Read: How to Fix 'Unable to Add AOL Email to Mac' Issue
Why Mac Mail Failed to Authenticate with AOL – Most Common Issues
There may be several issues that can be faced by the user during the authentication process. But here are some most common issues that can create major inconvenience but easy to fix, includes:
If you are unintentionally using the wrong password, check it again and try to use the correct password.
Sometimes incorrect account settings lead to the AOL login failed on Mac issues that can be cured by entering correct details (port number or protocol, server address, etc.)
Faulty or misbehaving email app or email client generates issues during the configuration process that can be resolved by retrying the authentication process.
Server outage issues may occur for a short period of time. Users can wait and try to configure after some time.
After considering the above guidelines, if still you are failed to authenticate with AOL Mac, then take a deep breath and follow the steps mentioned below.
Troubleshoot Mac Mail AOL Authentication Failed Issues
Without wasting the time, come straight to the point. In this section, we are going to recommend you a standalone technique that can be used to overcome all the AOL Mail issues on Mac. Using the Mac AOL Backup tool, one can export all the AOL email files in several file formats. After exporting the AOL data, easily import it into the required email client.
In the same way, if user wants to set up AOL Mail emails in the Apple Mail app, it can easily be done by using Mac AOL Mail Backup software. With this utility, users can easily export and save AOL email data in MBOX file format, further, it can import in Apple Mail without any hassle. The software is enriched with a wide range of advanced features that help to resolve MAC Mail AOL authentication failed problem in an automated way.
Here Are the Steps to Resolve AOL login failed on Mac Problem 
Step 1: Install the software and enter the credentials to login.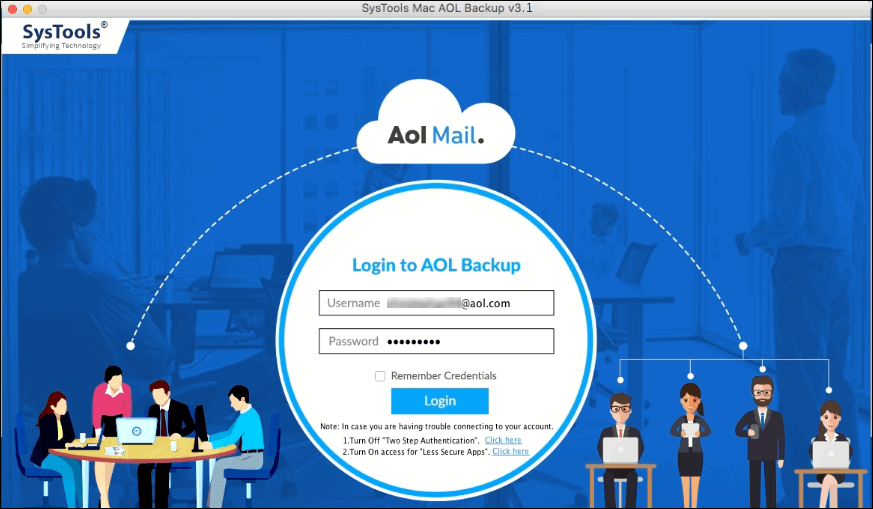 Step 2: Select Export Format option as MBOX for Apple Mail & Apply Advance Settings.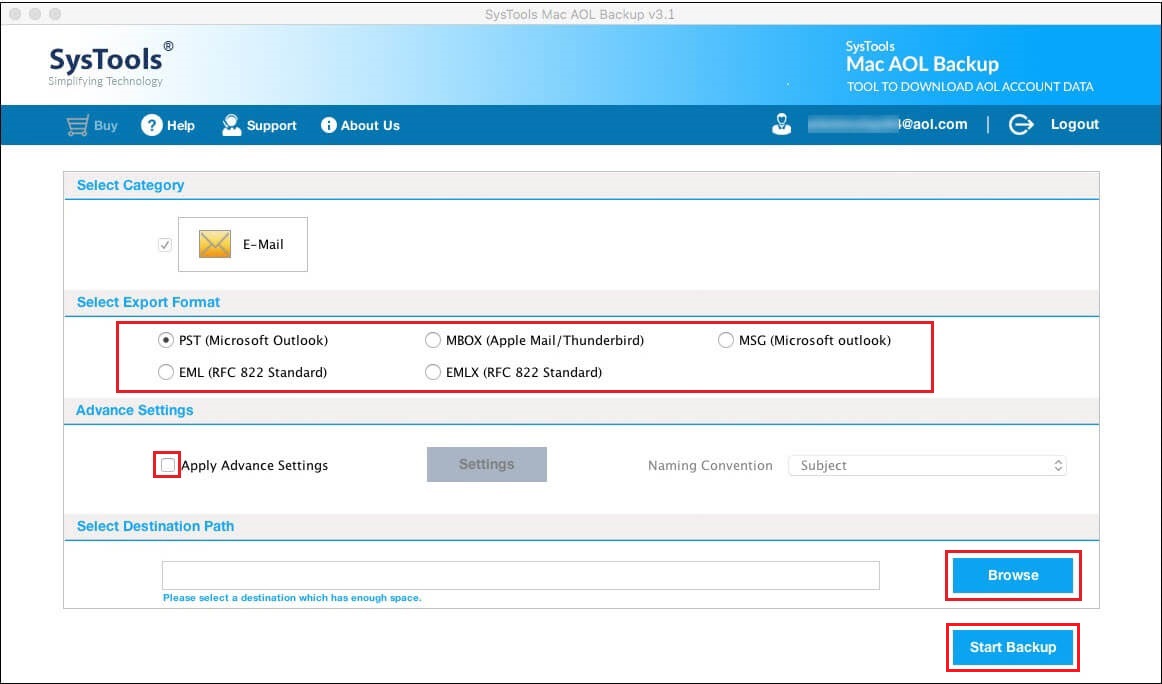 Step 3: In Advance Settings, choose required options as Date Filter, Delete after Download, and Include or Exclude folders. Then, click OK button.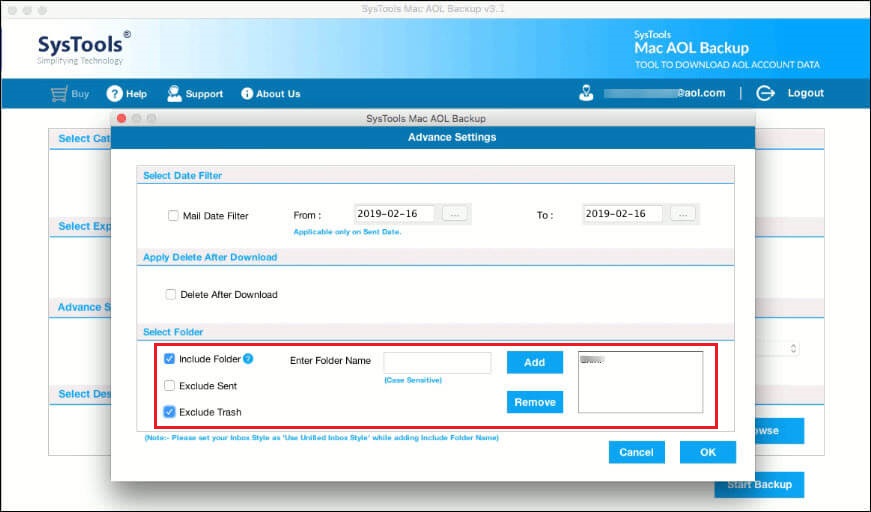 Step 4: Now, browse Destination Path and click the Start Backup button to begin the process.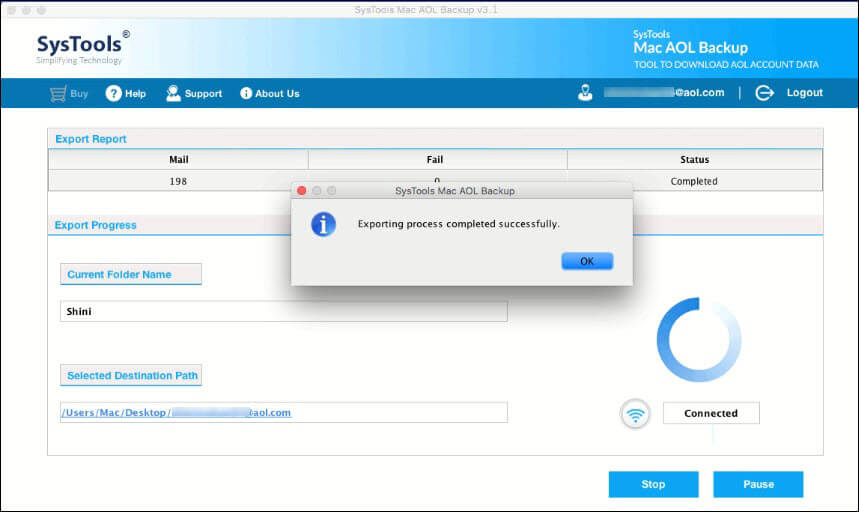 After following the above-mentioned steps, one can find the exported files saved at the provided destination location. Now, without facing any AOL login failed on Mac issue, import these files into Apple Mail to open and view AOL Mail email files in a hassle-free manner.
Conclusion
Nowadays, people having multiple email accounts that create trouble while sending or receiving emails through different platforms. Therefore, it is the best way to have a single app like Apple Mail. It allows its users to configure different email clients in a single mail app. But during the AOL Mail configuration with Mac, the user faces MAC Mail AOL authentication failed issues. To resolve such errors, we have recommended a trustworthy utility named Mac AOL Backup Tool. It avoids Mac Mail failed to authenticate with AOL provides a hassle-free setup of AOL emails into Apple Mail on MAC. Use this utility to open and view bulk AOL email data in Apple Mail in a risk-free manner.