How to Import Multiple VCF to Google Contacts Step by Step?
"I am having more than 500 vCard contacts with me and I want to import VCF to google contacts. To import multiple vCard into google one-by-one is a really hectic and time-consuming task. So, I am unaware of the fact that how do I process 500+ contacts simultaneously? Is there any solution available to my problem? If so, lease provide me the solution as soon as possible."
Summary : Do you also want to import VCF contacts into Google Contacts? If so, do not panic. Here, in this blog, we have come up with a simple and reliable approach to transfer vCard contacts to Google Contacts.
How to Import VCF to Google Contacts Manually
Firstly, log in to your Gmail Account.
Click on "Google Apps icon".
Mouse-click the "Contacts" icon to open them.
Thereafter, click on the "Import" option from top right corner.
Now, just hit "Select file" button.
Upload the VCF file from the computer where you have stored on computer, finally tap Import button.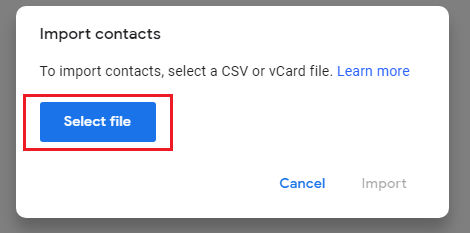 This way, you have successfully imported VCF file into Google Contacts using manual approach.
Automated Way to Import vCard to Google Contacts in Bulk 
Because the manual approach takes a long time to implement; therefore, you can simply choose a reliable automated solution. So, in this case, choosing the VCF to CSV Converter Software is the great option. This helps to transfer vCard file into Google CSV format. With this utility, the conversion process becomes straightforward and easy to do. The Utility is integrated with robust features and functionalities.
No file size limit is associated with the utility when working with a VCF file. This conversion tool makes it easy to move multiple vCard into Google Contacts for problems of no size and data loss.
It supports splitting and combining multiple VCF files. It supports any version of VCF and is compatible with all Windows OS versions, including Win 11, 10, 8, 8.1, etc.
Tool Steps to Import VCF to Google Contacts
1: Launch the software. Download and launch the software application on your system.
2: Browse VCF File or Folder. Click on the "Add File" or "Add Folder" button to browse single or multiple VCF files respectively.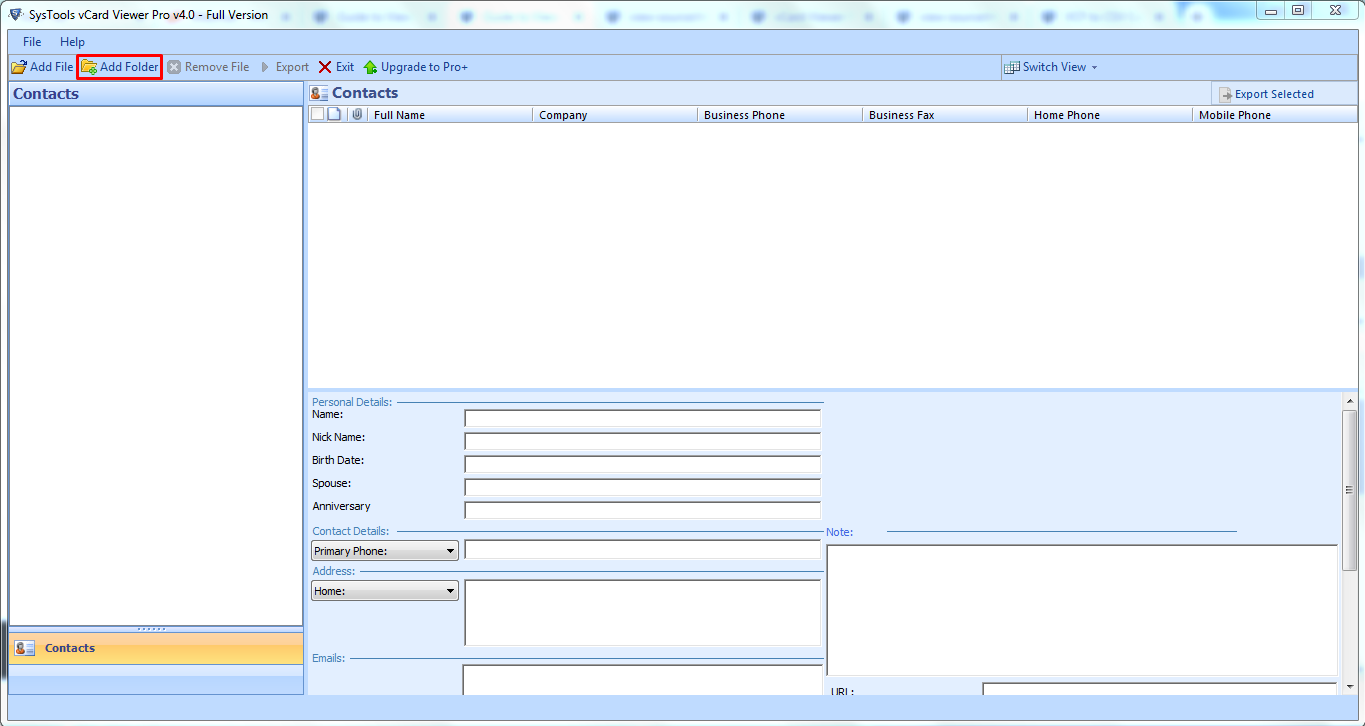 3: Choose Google CSV format. Select the radio button for the Google CSV option to import VCF contacts to Google format.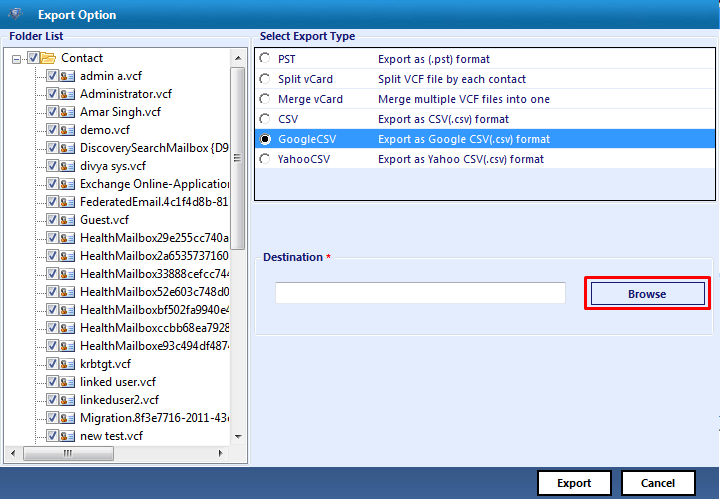 4: Set destination to save Google contacts file. Click "Browse", then select the destination location in the user interface of the software.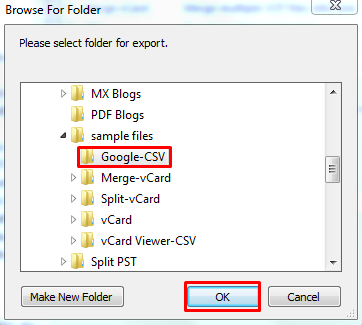 5: Export VCF to Google CSV contacts file. Finally, click the Export button to convert the vCard contacts file into Google contacts format.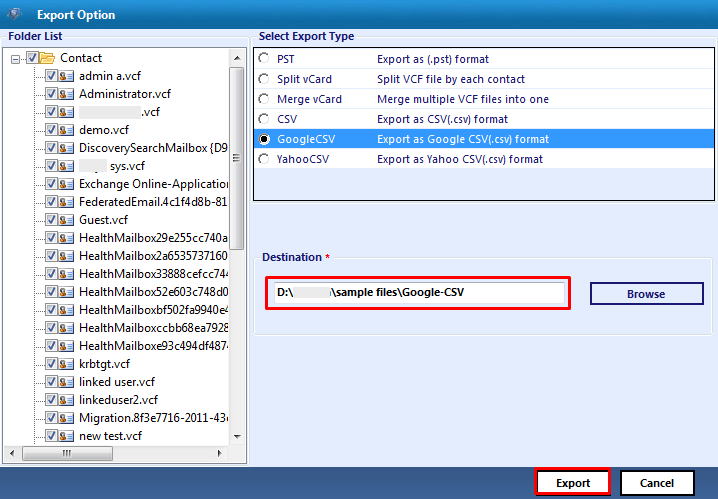 Once you get the Google CSV file, it is easy to import it into Google contacts. Simply, carry out the manual method (first method), but choose CSV file instead of VCF file.
What Causes the Import Methods To Fail
Sometimes when importing VCF to Google Contacts, you get an error: "Gmail is unable to access your contacts temporarily", "Can't import contacts, etc."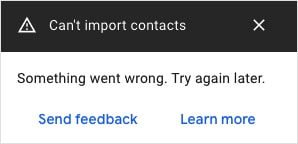 Import multiple contacts at once. With Google Contacts, you can import no more than 3000 vCard contacts at one time.
Reach the limit. You can only save up to a total of 25,000 VCF contacts or 20 MB storage, whichever reaches the limit first. For each vCard contact it cannot exceed 128 KB, 500 fields, and 1024 characters per field.
Inconsistent format. Make sure the contacts you want to import into Google Contacts are in vCard or CSV format.
The network is shut down.
How to Import VCF File into Google Contacts on Android Devices
Open the Contacts app on your Android device.
Hit the Fix & Manage tab at the bottom.
Click on Import from file option.
Select the Google account to which you want to import VCF contacts.
Browse the VCF file from the drive or device and import it into your account.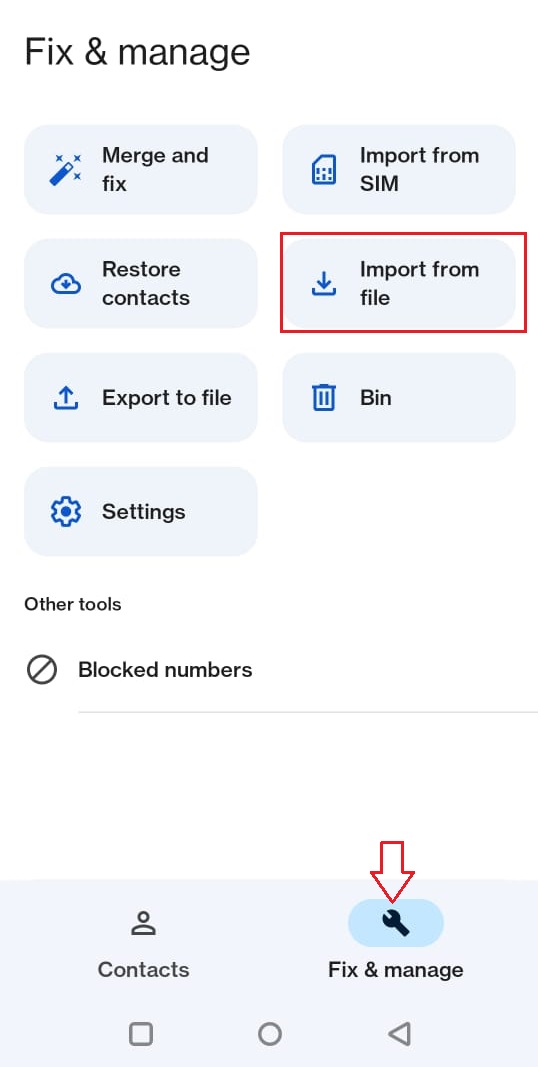 Conclusion
We know the importance of connectivity today. Therefore, we have described a proven solution for import VCF to Google Contacts. Here, this article provides two ways to perform this task. Due to some limitations of the manual solution, it is recommended to choose an automated solution, you can easily transfer vCard files to Google CSV with data loss.