3 Methods to Import Outlook Express DBX Files into Outlook 2016,2013, 2010, 2007
The article completely emphasis on the topic how to import Outlook Express DBX files into Outlook. In the complete write-up provides the users with a complete and reliable solution in terms of manual and the automated approaches. A user can fully rely on the content in terms of migration.
Move Outlook Express DBX File to Outlook 2016, 2013, 2010 & 2007
The complete technical guide is based on Outlook Express to Outlook PST conversion process. It even focuses on methods through which the users can export DBX to Outlook PST when both Microsoft Outlook & Outlook Express are installed in the same machine. We all are aware that Microsoft Outlook Express can be termed as a free tool having very simple interface as a mailing program. The mails and account information can easily migrated from Outlook Express to MS Outlook. In the Outlook Express arena all the folders are aligned to a single file. In a lay man's terms we can say that Outlook Express Inbox Folders is associated with a single file i.e., Inbox.dbx.
But, if we take the other side of the coin it can be said that Outlook every mail message is saved as a particular file. For instance, users have separate machine to access Outlook and Outlook Express, they can easily find and copy all the folders as a requirement to transfer Inbox.dbx to MS Outlook.

Best Ways to Import Outlook Express DBX files to Outlook
Following are some simple and actually working techniques that can be used to import Outlook Express emails to Microsoft Outlook:
Method 1: If both the Outlook and Outlook Express are Configured on Same Machine
Firstly, the users need to open Import and Export Tool to transfer DBX files to PST. Choose any one option depending the version of MS Outlook installed.
1. Open MS Outlook 2010, click on File >> Open >> Import
2. For Outlook 2007 users, Open File menu and click on Import and Export option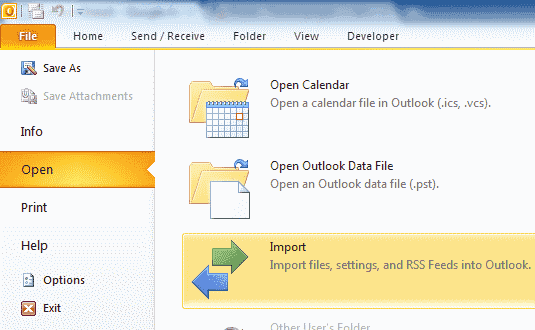 3. Click on Import-Internet Mail and Addresses >> Next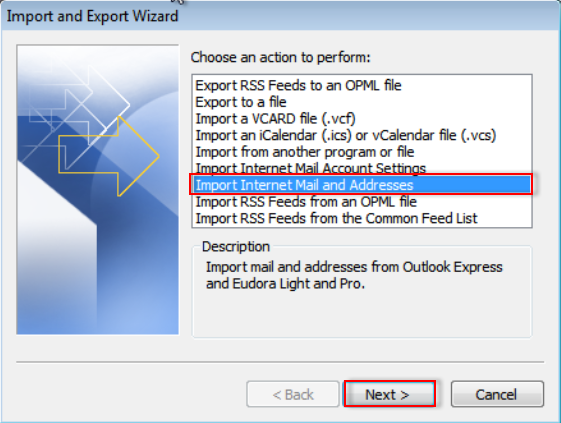 4. Select Outlook Express >> Choose Import-mail-checkbox
5. Click on Next and click on Finish button and then save in Inbox option can be selected. Save in Inbox saves the copy of import summary in the Inbox to export .dbx files to MS Outlook.
Method 2: If Outlook and Outlook Express are working on Different Machines
For using this approach, the users need to find out the location of the files first. Afterwards, they can transfer the mails with the help of Import-Export Wizard. The stored files of Outlook Express should be on the machine where Outlook is already configured to move Inbox.dbx to Outlook.
To copy the Outlook Express information to a shared location move MS Outlook Express to Outlook. User needs to copy the folders to that system in which Outlook is already configured.
Follow the steps below to complete the entire process of import Outlook Express DBX file to Outlook 2016, 2013, 2010, 2007 account:
1. Copy Outlook Express Folders First
2. Go to Tools menu, in Outlook Express Program in which the Outlook Express Email account has been completely setup
3. Click on Options and then Maintenance tab

4. Choose Outlook Express Program Dialog Box and then click on the Stored Folder
Note: Take note of the path as briefed in Dialog Box for storing location.
Tip: Users need to make a note of the storage location while migrating emails from Outlook Express to Outlook. The storage location can be used any other time while the steps are performed. It can be performed even faster if the by selecting information in the field and hitting on CTRL+C for copying the files and then open Notepad and hit on CTRL+V and paste it.
The default view can even be changed in Windows Explorer for checking the hidden Folders. It is to be because Outlook Express folder is located to an inside/hidden folder. The users can opt for any option to migrate DBX to Outlook for importing Account Name and Settings from Outlook Express. The steps are easy to perform just 5 in number.
1. For MS Outlook 2010
2. Click open and then select Import on tab for file
3. For Microsoft Outlook 2007
4. Select Import and export present in File Menu
5. Users can even opt for Click Import-Internet-Mail-Account-Settings and afterward, Click on Next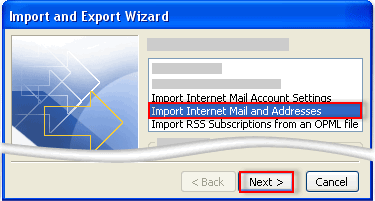 6. Outlook Express can easily be selected and afterward click on Next option
Once all the process is completed, follow the same steps mentioned in the above section where Outlook and Outlook Express are installed on same or different machines.
Use An Automated Approach to Import Outlook Express DBX to Outlook
Users might feel that buying a tool is not worth but believe you me that it is one of the easiest methods to solve all the problems. Third party tool is one of the most reliable solutions to solve all the problems as it saves a lot of efforts. Unnecessary time Consumption can be easily managed. The other chance may arise when the users are migrating some mailboxes in bulk and it is not getting done in a single attempt. In such circumstances, the best opted solution is a recommended Solution. Users can even give DBX File to PST File Converter tool. It is one of the easiest methods to solve all the problems.
This tool can easily import Outlook Express DBX file to Outlook 2016,2013, 2010, 2007. The tool has many added advantages that makes it different and trust-worth among all the tools present across globe. The tool facilitates the users with bulk and selective migration of the files. It even offers the users to export DBX file and save them as PST or any other file format like EML, MSG, MBOX, etc.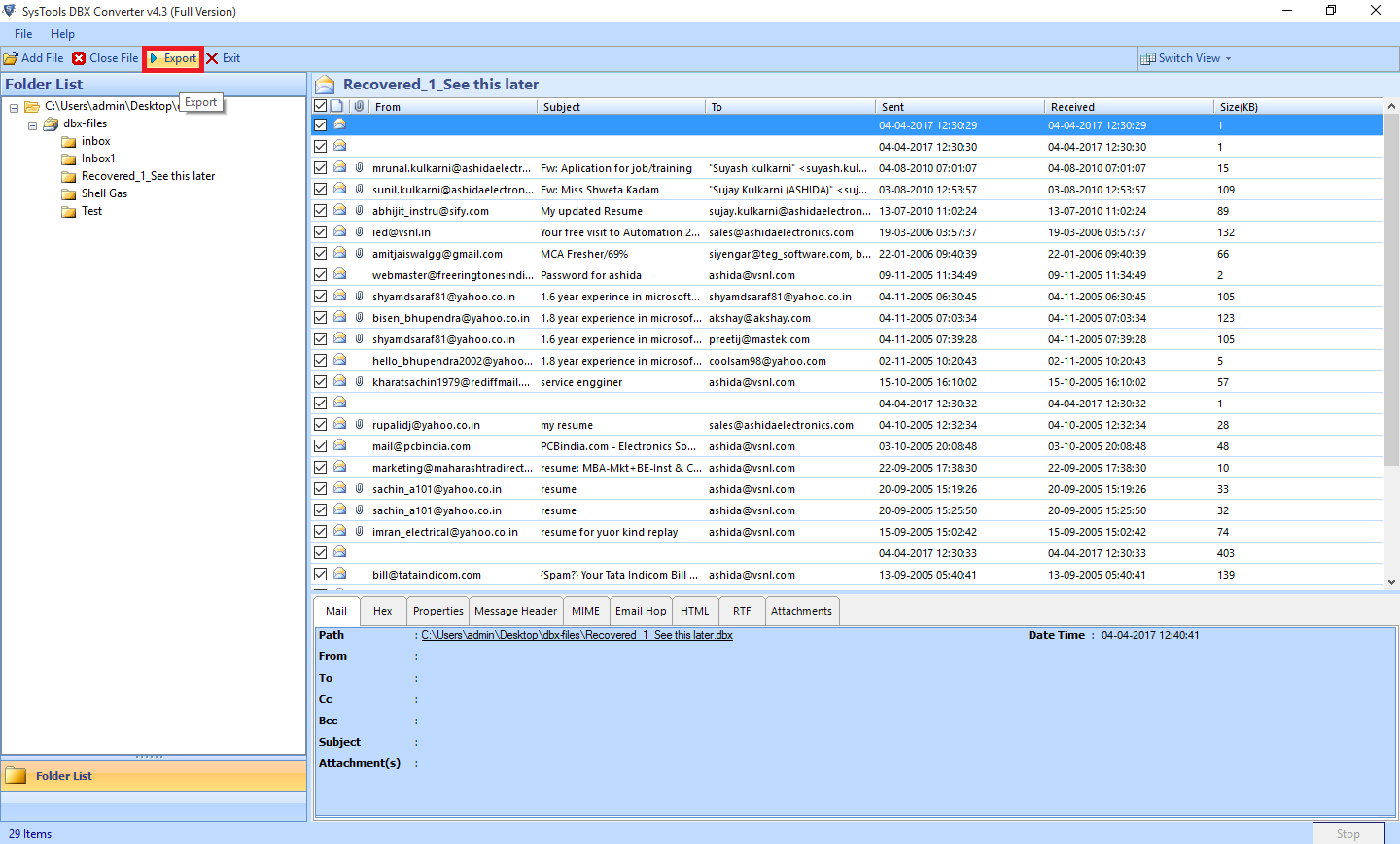 In addition to it, the software you don't need to keep Outlook in your system for the conversion. Moreover, the DBX to PST Converter utility can easily split the large sized PST Files. So, users should give the DBX Converter tool a try to import Outlook Express DBX files to Outlook .
The Way Forward!
Manual Methods is what a user looks for most. But, the manual approaches are quite a difficult to task to perform in actual. Many users tend to fail in the process of manual conversion and resulting in data loss. But, the best possible solution to import Outlook Express DBX files into Outlook 2016, 2013, 2010, 2007 account is using a professional tool i.e., Outlook Express Email to PST Converter. For the complete conversion process, the tool is the best possible solution in terms of migration.