How to Import EML Files to Office 365 Directly? Complete Information
Do you have important orphan EML files and want to upload them to your office 365 account for any reason? And you are not getting any solution and you are very upset. To overcome this problem, today we have brought this blog, in which you will learn how to import EML files to Office 365 account directly. And you will also get to know why should you upload EML files to office 365 only. What are the benefits of Means Office 365? Let's understand all these things in detail and then implement the solution and see.
User Query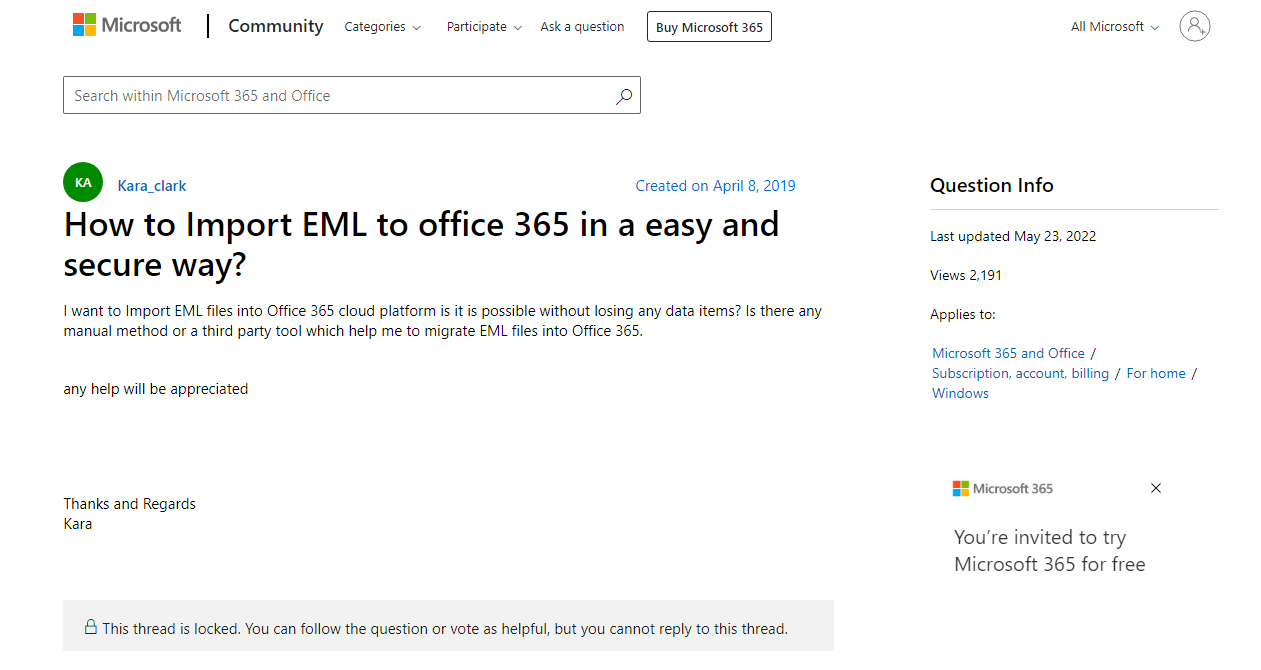 Main Reasons for Upload EML to Office 365 Account
The primary motivations for users to import EML files to office 365 have been discussed.
Office 365 is a secure and dependable email client that enhances user mailbox privacy.
Data contained in EML files may be lost if they become corrupt.
In contrast to EML files, users may access and see their accounts and data at any time and from any location.
Office 365 comes with a number of tools that assist business users in their job in addition to data security.
Large enterprises rely more on email clients that are cloud-based, like O365, than on email programs that just allow users to import EML files to office 365.
The aforementioned justifications highlight the need to import and access an EML file in Outlook 365. Consequently, moving on to the issues' remedies.
Read Also: How to Convert Thunderbird Emails to Office 365 Account?
Learn How to Import EML Files into Office 365 Account?
The only solution to import EML files to office 365 is EmailDoctor's EML to PST Converter Software. With the help of this software, you can import directly into your Office 365 account without any data loss. If you are looking for a manual solution to do this conversion then you are wasting your time because you will not find any such solution. Because there is no manual method to upload EML in office 365, only one and only professional method has to be used. This EML to office 365 migration tool is capable of direct importing your EML files with attachments and is applicable to Mac and Windows systems.
How to Use the EML to Office 365 Migration Software?
Download the EML to Office 365 migration software on your PC and install any system

After installation, select the folder containing the EML file from the folders shown on the right side

After the uploading, you can preview your EML file and attachments at the bottom of the software panel

Now, click on the Export button, then choose the Office 365 option for the conversion process

Finally, enter the user id and login credentials, then hit the Export button, now your EML files will import into your Office 365 account

Benefits of EML to Office 365 Migration Software
The application has a pleasant user interface and freely imports all emails from an EML file to your Office 365 account. Microsoft Office 365 accounts upload several EML files with attachments. Learn about some of the software's greatest and most notable features:
EML files may be imported in bulk to your Office 365 account.
Access your Office 365 account's EML easily.
Office 365 allows you to upload batch or multiple EML files.
During migrating, keeps the meta characteristics of files.
Offers choices for date filters when to import EML files to office 365.
Maintains the folder structure on the disc while moving folders.
Both conversion reports and a file size restriction are absent.
Provide stop and resume options to help users.
The program works with every Windows OS version.
Conclusion
In the blog post above, we provided the best methods to import EML files to Office 365 account. The user may transfer emails, contacts, calendars, and attachments from a single EML file to office 365 with the use of expert software. The only information needed is the account login credentials; it is a simple procedure.
Users who want to transfer their EML to Office 365 may also use the software's free trial version. The user may also buy the application's premium edition after they are satisfied.