How to Upload Pictures from Computer to Google Drive
"Do you want to save all your photos from desktop to G Drive? Searching for a quick solution that can instantly upload pictures from computer to Google Drive. Then, go through this write-up and get the solution."
Images are not the same photos in our generation, they have become part of our memories, which we always want to take with us as long as possible. Either it is an image of a youth icon posing for some brand endorsement or it is the first smile of a newborn child. We don't want these memories to be left behind, that is why storing & securing these images becomes a necessary part of our lifestyle.
We can store these memories on our computers or we can use cloud services like Google drive. G Drive is a far secure & reliable platform that provides free storage space for users. That's why saving the photos on Google Drive can help you to have a long time backup of those memories.
So in this blog, we have discussed some reliable solutions by which we can easily move photos from PC to Google Drive. So first start it with an automated tool i.e. File System To Google Drive Migrator. It is one of the most reliable tools available in the market by which you can transfer the complete amount of data from the desktop to Google Drive. This tool maintains the Data integrity & folder hierarchy while doing the process to upload pictures from computer to Google Drive.
Tip: This tool also help you to send files to Google Drive from pc.
Download Now Free Purchase Now 100% Secure
Along with that, it provides:-
Complete transfer of data.
File type filters so that only a specific type of file can be uploaded to g drive.
Date filter to upload files from a specific date range
Size filter so that only a particular size of files will be transferred.
Steps to Upload Multiple Photos to Google Drive from PC
Follow these simple steps to transfer photos from desktop to google drive
Step1: First Download & Install the software. After completion launch the software as Run as administrator: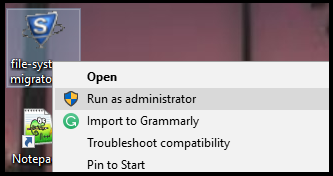 Step 2: You will see a screen like this, to start the process, click on Settings. You can find this button at the bottom left corner.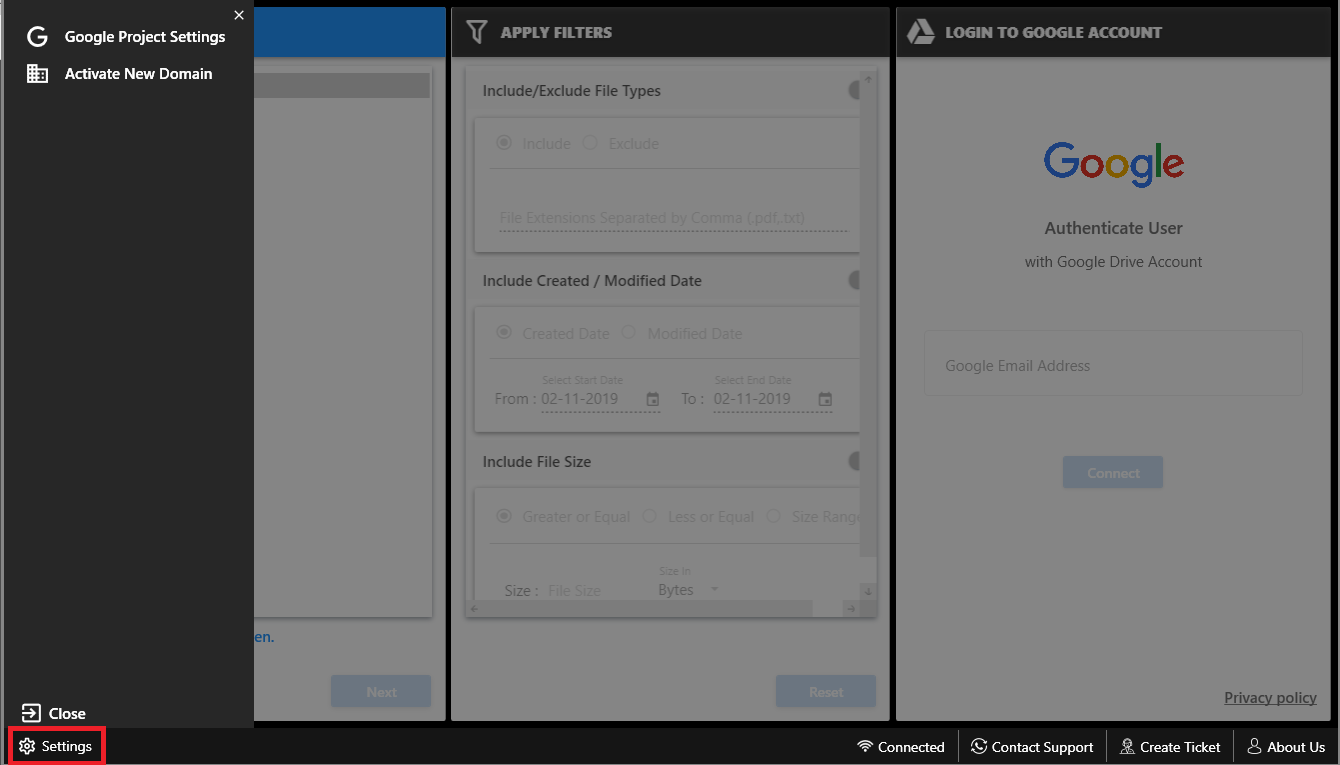 Step 3: Now, click on Google Project Settings to add JSON file and then click on Activate New Domain to enter the Activation code for your domain.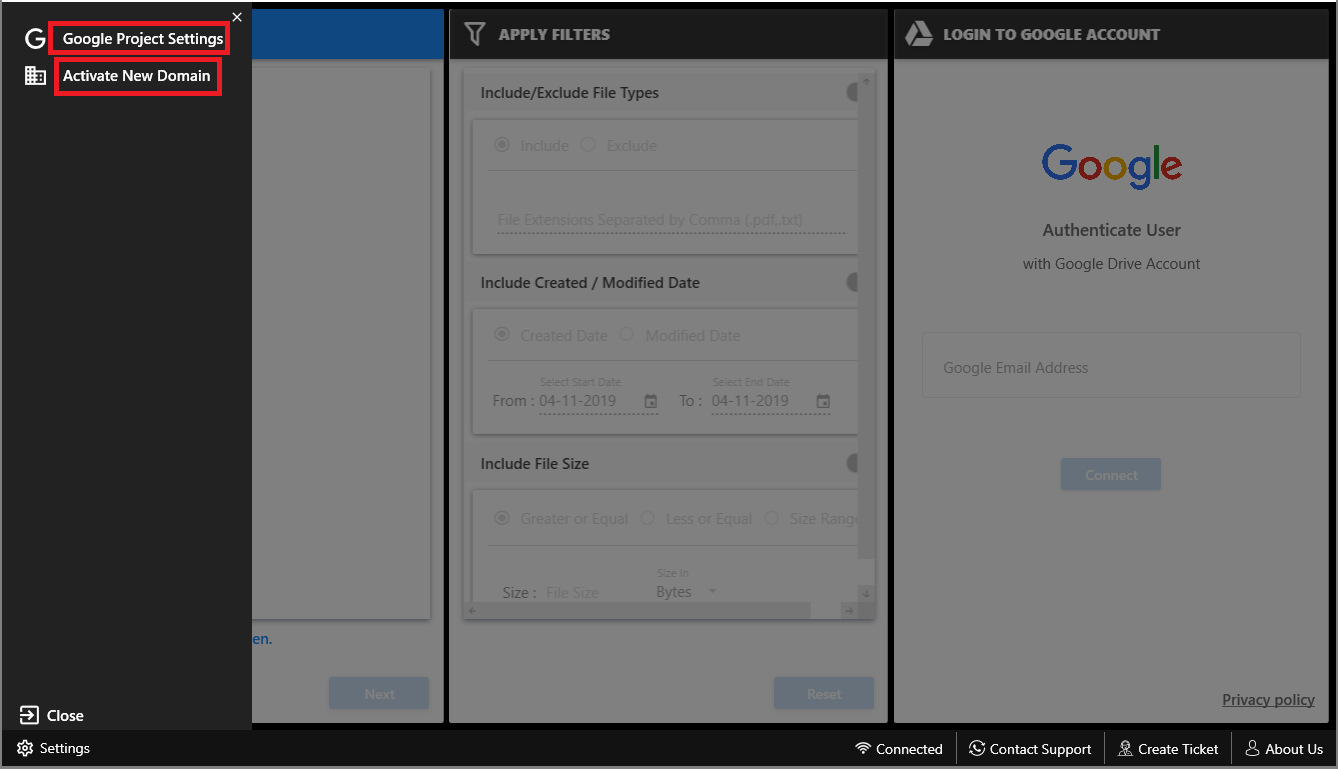 Step 4: Now, choose the desired folder or files you want to transfer to google drive.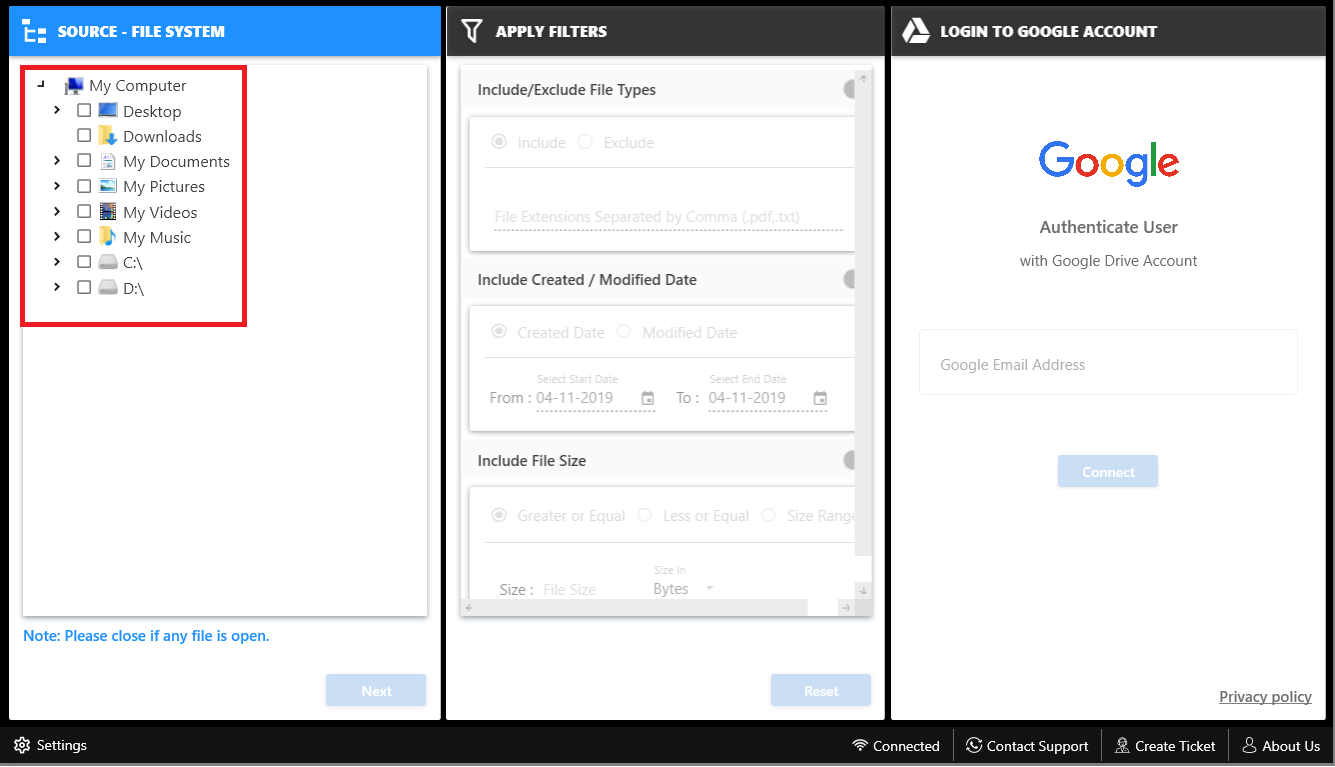 Step 5: This tool provides 3 types of filters:
1- Include / Exclude File Types
2- Include Created / Modified Date
3- Include File Size
The first type of filter lets you filter according to file type. The second type of filter provides a date as a filter. The third type of filter is based on file size which is furtherer divided in, Greater or Equal, Less or Equal, or Size Range filters.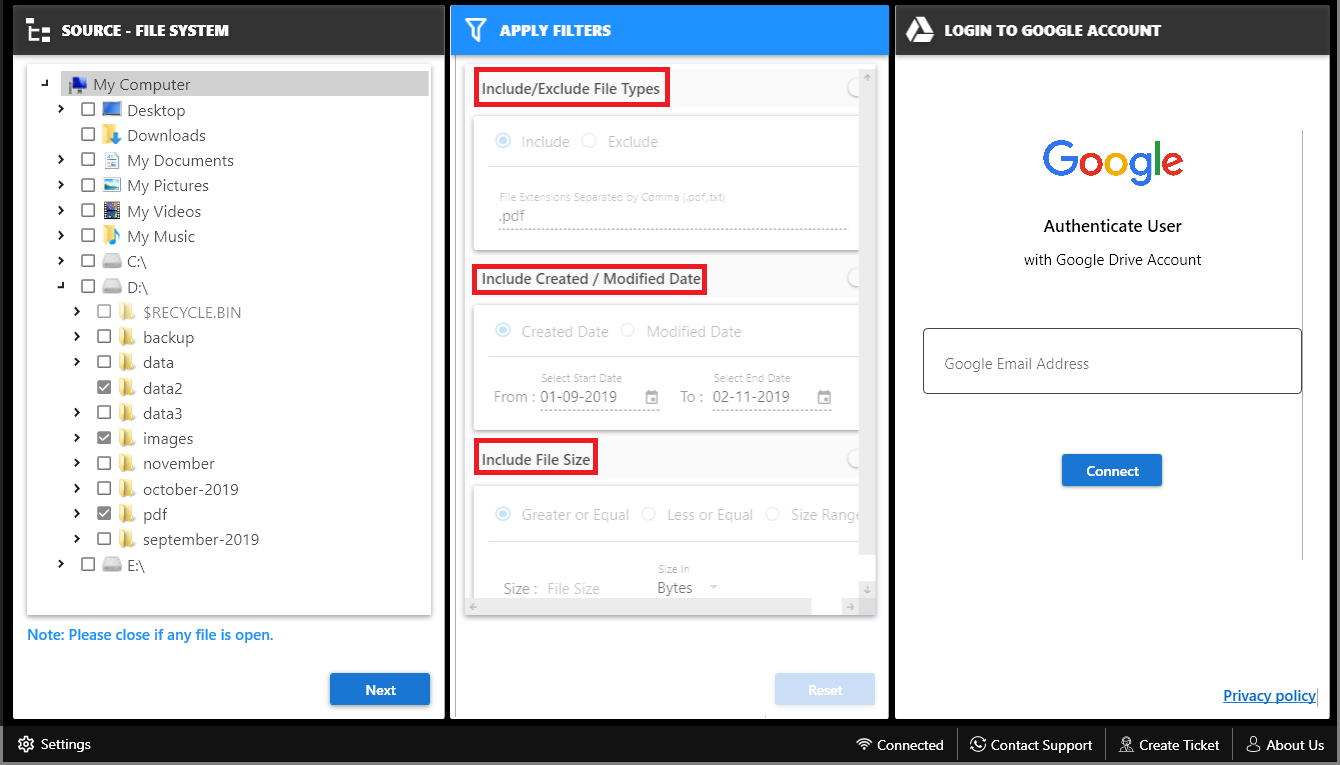 Step 6: After completion of the filtration, we will go to the next screen & type the Google Drive business account (email address) & then click on Connect.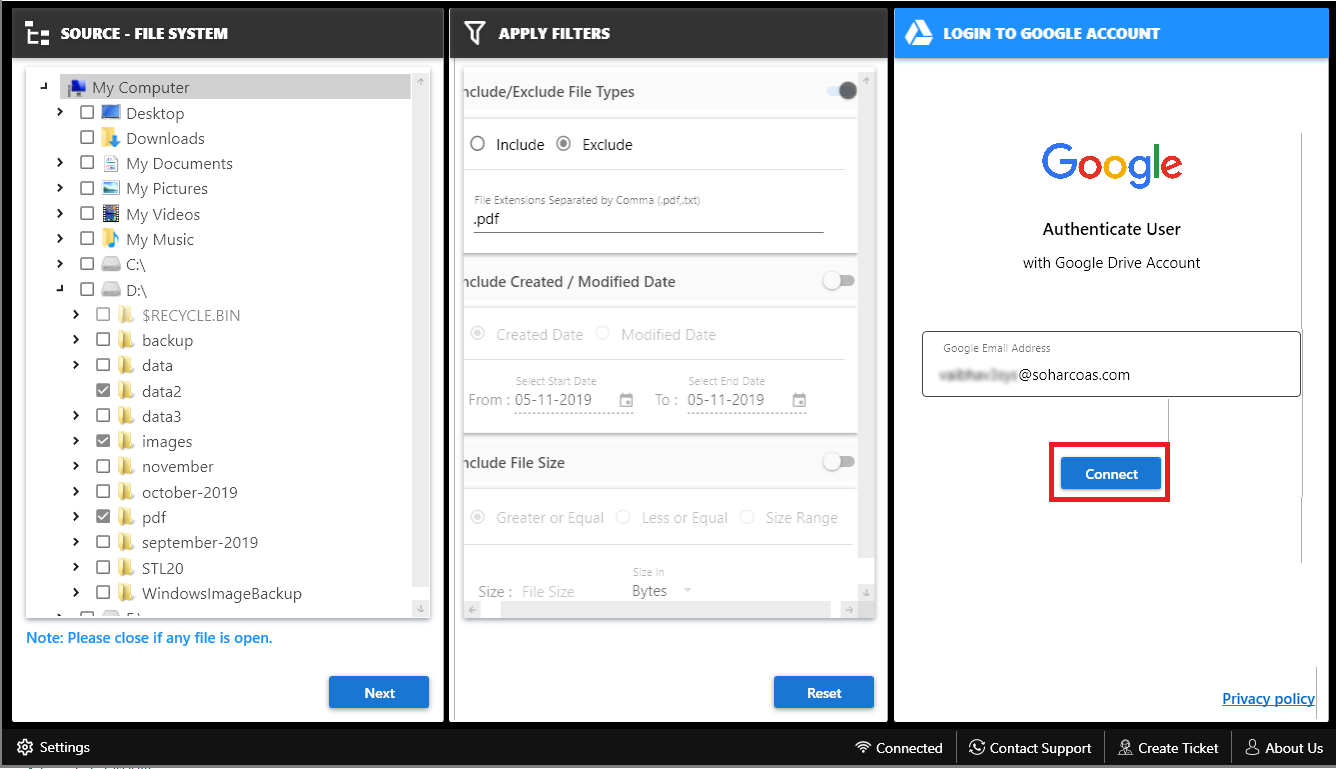 Step 7: After login, provide destination location, choose one from my drive & shared drive and create a new folder to save migrated data.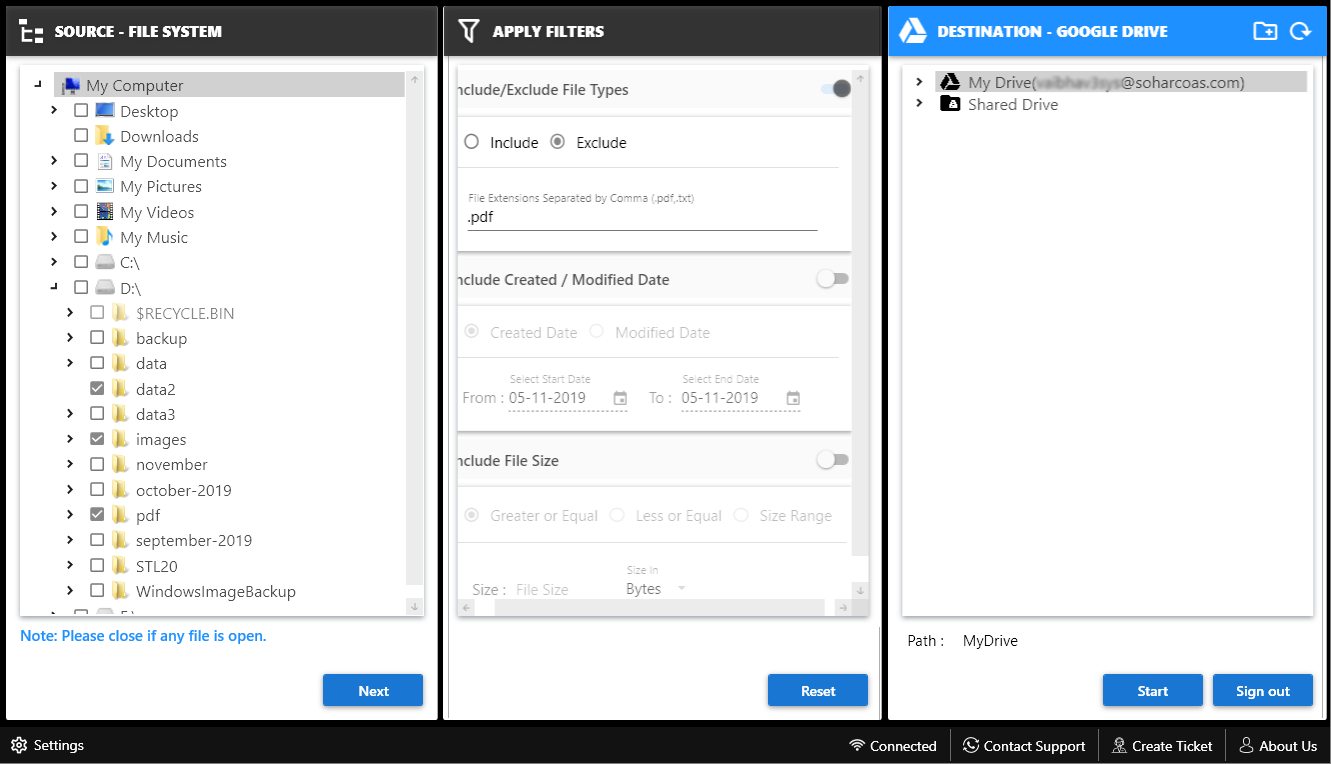 Step 8: You can see the newly created folder (here Migrated data), you can select the new folder & click on Start to begin the process.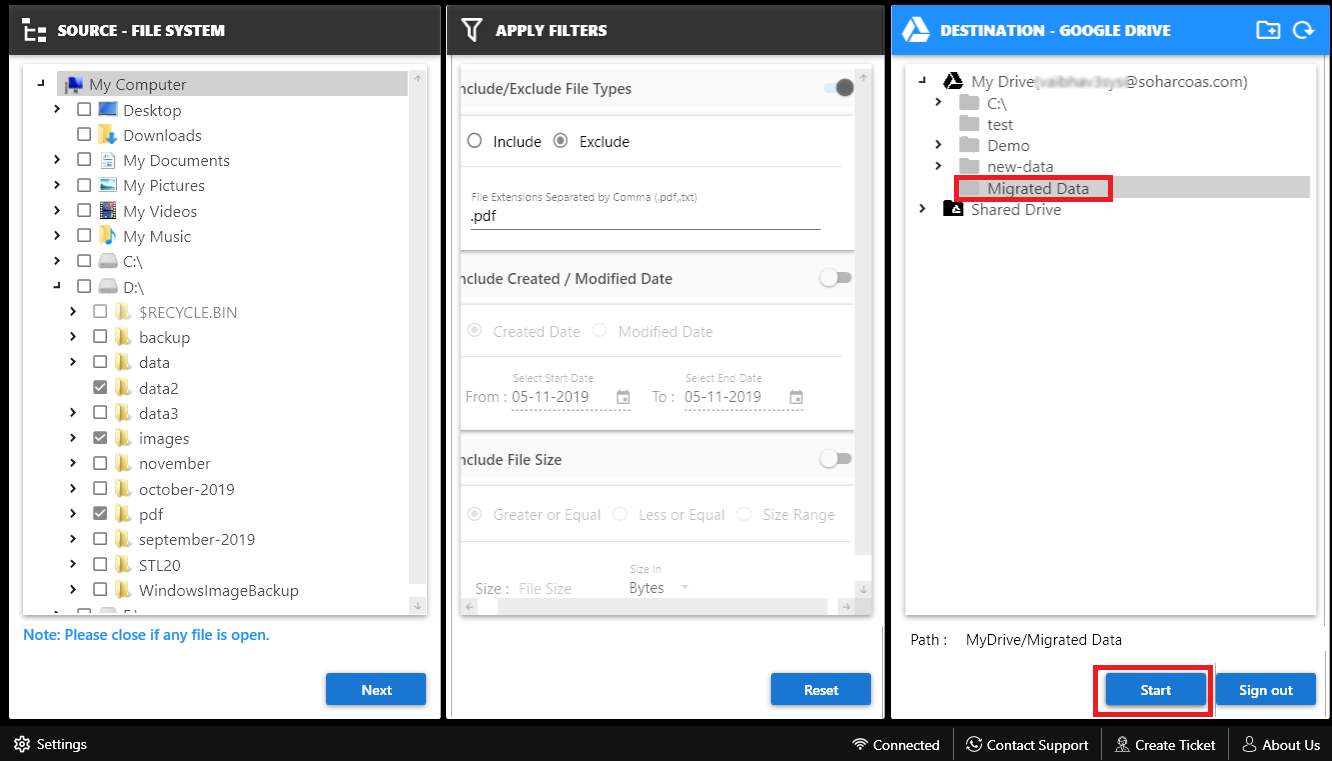 Step 9: With the help of the user dashboard, the user can easily track the live progress of status.
Here, Total Files, In progress Files, Completed Files and Failed Count is listed with the file path.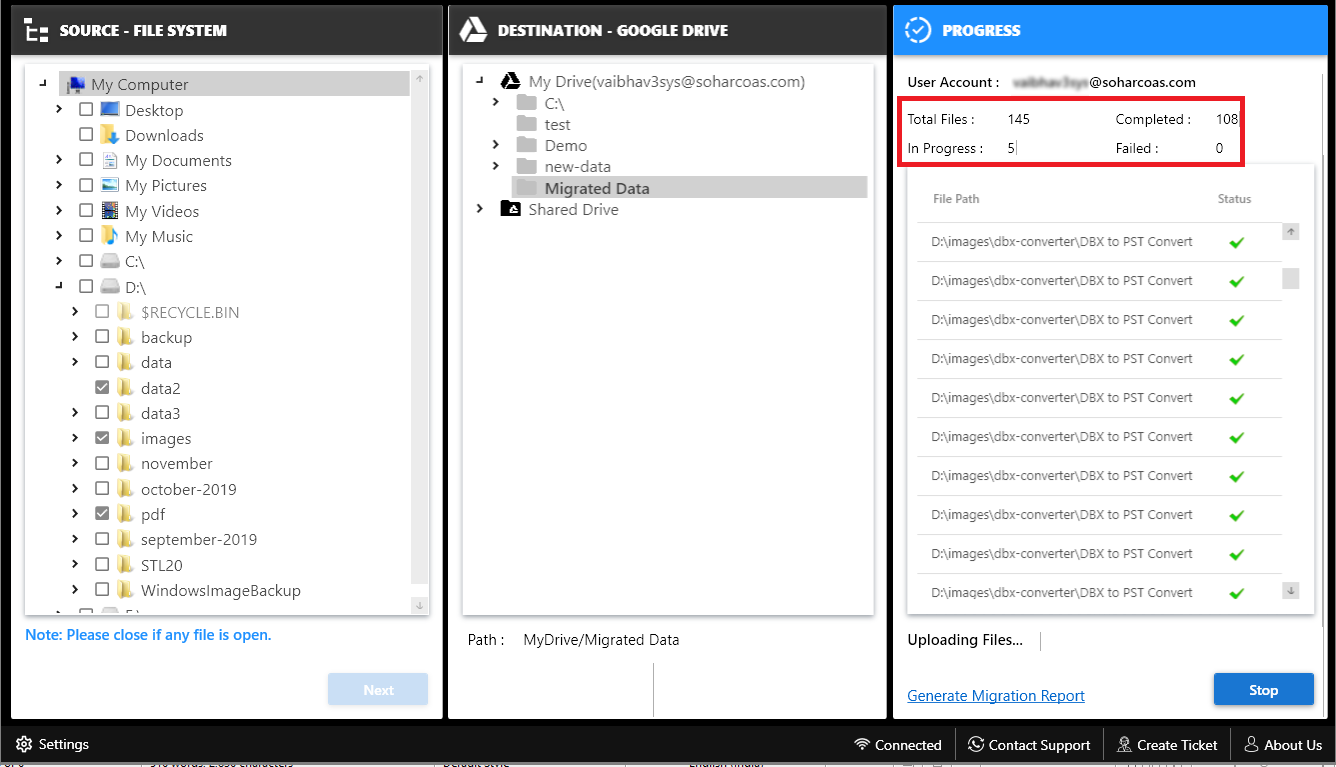 We have discussed about an automated tool that comes with many unique features & advanced filters. Howver, we have also covered another solution that can help users to upload pictures from computer to Google Drive.
Manually Move Photos from PC to Google Drive
Step 1: Go to https://drive.google.com & sign in to your account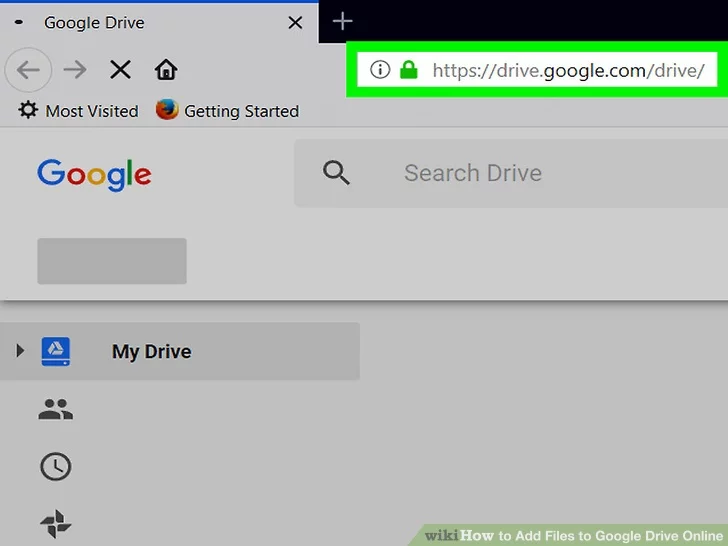 Step 2: Click the New button located on the left side of the window. Select File / Folder in order to transfer pictures from computer to google drive.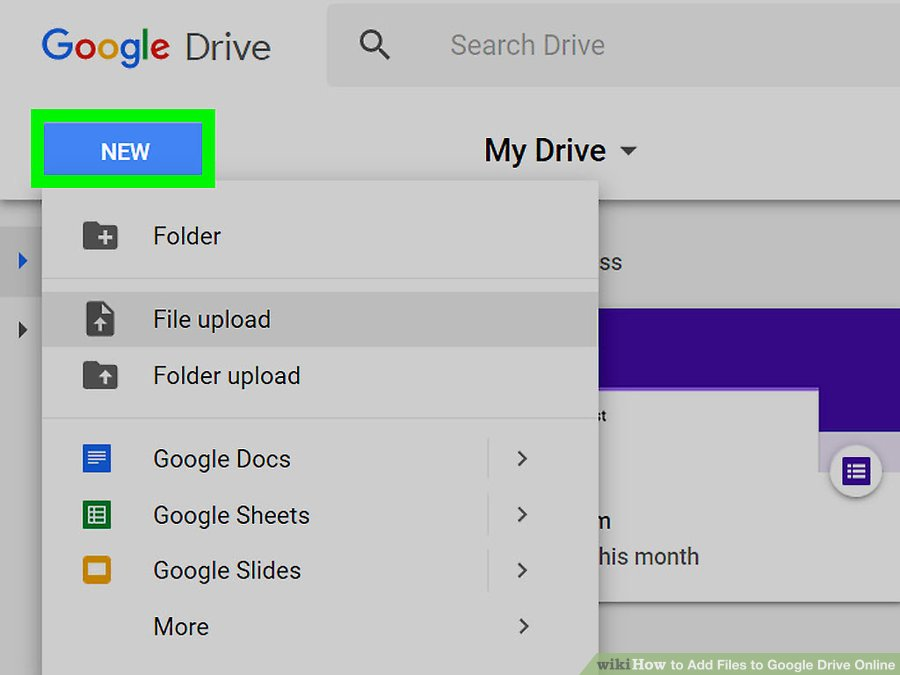 Step 3: Select the photos which you want to upload. You can also select multiple photos.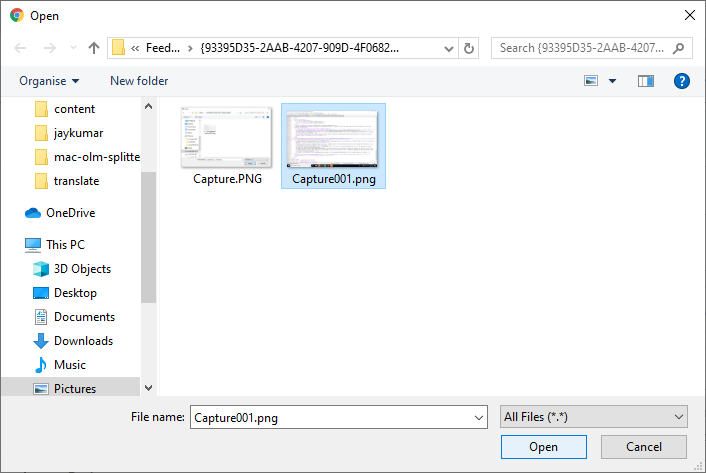 Step 4: You will see a box that shows the progress of your photo folder upload.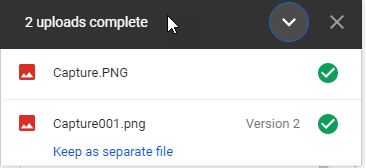 Step 5: This way you can upload photos from the computer to Google Drive using Chrome.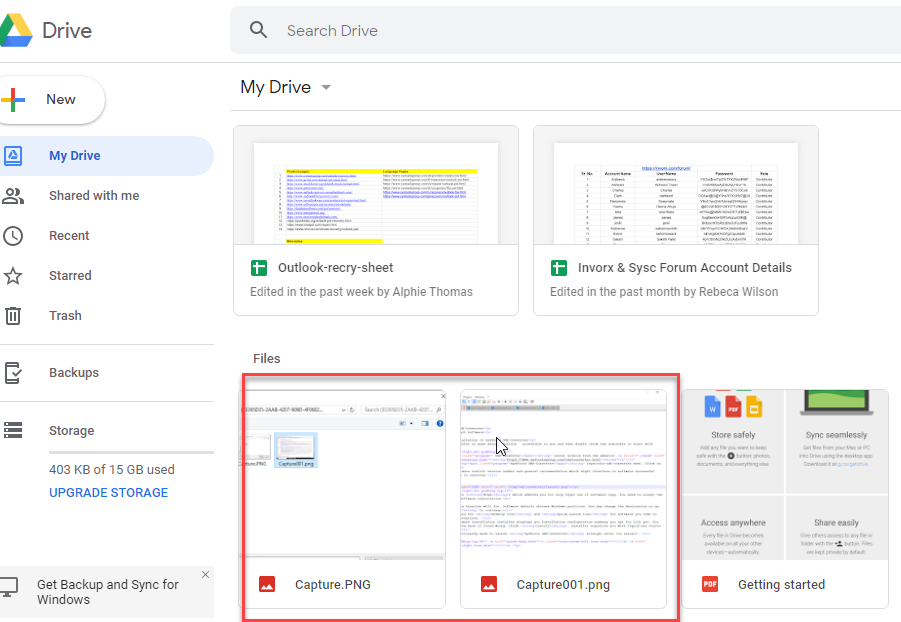 Limitations of Manual Process
No filters are provided like date range, file type & file size
At a time multiple folders can't be uploaded
Sometimes directory structure is not maintained
Conclusion
This article comprises a complete solution to transfer/upload pictures from computer to google drive using a convenient automated application. Along with that, we have also discussed a manual solution that can act as a quick fix but has some limitations. But when it comes to transferring a large stream of data File System to Google Drive Migrator has an upper hand. Along with that, the tool can filter data according to the file type that means there is no need to upload useless data. If you want images to get uploaded the tool will filter only images from the whole folder. Similarly, With the help of the size filter & date filter, you can easily distinguish only the use of full data. Now it is up to you which way suits you better.