How to Recover Deleted Files From SSD – Solid State Drive
"I had stored my important data in my SSD drive since three years. Yesterday, I was deleting few unused data from it. But I deleted few important data from SSD disk drive. Now anyone can tell me is it possible to recover deleted files from SSD. If yes then How? Please suggest me any trusted solution for it."
In this article, we will discuss possible reasons how to recover deleted files from SSD drive and everything related to solid state drive. It is the most common question that most of the users ask on a forum website. Then, we have decided to write an article on it. Before starting the article firstly we will know what is SSD, what the reason behind data loss. After that, we will discuss step by step solution to retrieve deleted file from SSD disk. So let's start the article.
What is SSD (Solid State Disk)
SSD stands for Solid State Drive. It consists of solid-state electronic memory chips to read and write data. SSD is the saver for the old computer if you want to speed up your computer. However, with high read and write speed, it is also common to see users asking for solutions to recover deleted data from SSD drive by mistake.
In this post, Users will absolutely get a positive answer if you are looking for the solid state drive data recovery method that is possible to recover deleted files from SSD drive.
Reason Behind Data Loss From SSD (Solid State Drive)
Most of the users lost their data files from SSD by doing this mistake that I have given below:
Intentionally and unintentionally deleted data and empty Recycle bin
Format solid-state drive files without taking any backup
Deleted SSD drive files and folders immediately by using shift+delete button
Due to virus and malware attack, SSD data are corrupted
Data are overwritten
Damage from trojan horses and other malicious programs
If you are one which is suffering from these data loss issues then no need to worry about that simply following two prerequisites:
The deleted files must be not yet overwritten by new data. You have to stop using your SSD drive immediately to get rid of data loss issues
Use trusted and reliable SSD Data Recovery Utility as soon as possible
Recover Deleted Files From SSD Drive by Using Professional Software
There are multiple data recovery utilities available in the market. Users can download the best professional and trusted SSD data recovery software. It is simple to use technical and non-technical both kinds of users can use this utility. It has the ability to retrieve shift deleted files from computer. This application is capable enough to restore all types of data such as images, videos, music, multimedia, personal and professional documents, etc.
The tool supports to recover all brands of SSD drive like Samsung, Kingston SSD Drive, Sandisk, etc. This is capable to restore data from internal and external SSD disks. It provides multiple features to assist you to locate the desired file rapidly. The application takes less scanning time and found maximum data files and folders from SSD disk.
How To Restore Deleted Files From SSD With Reliable Software
This is one of the finest utility that successfully retrieves deleted files from SSD disk. You just need to follow all the steps that are mentioned in the below section to recover deleted data from laptop. Firstly, Download and install the utility on the Windows PC and then, following the given steps.
Step 1:- After installing application the home window will display with a list of all attached solid state drive partitions.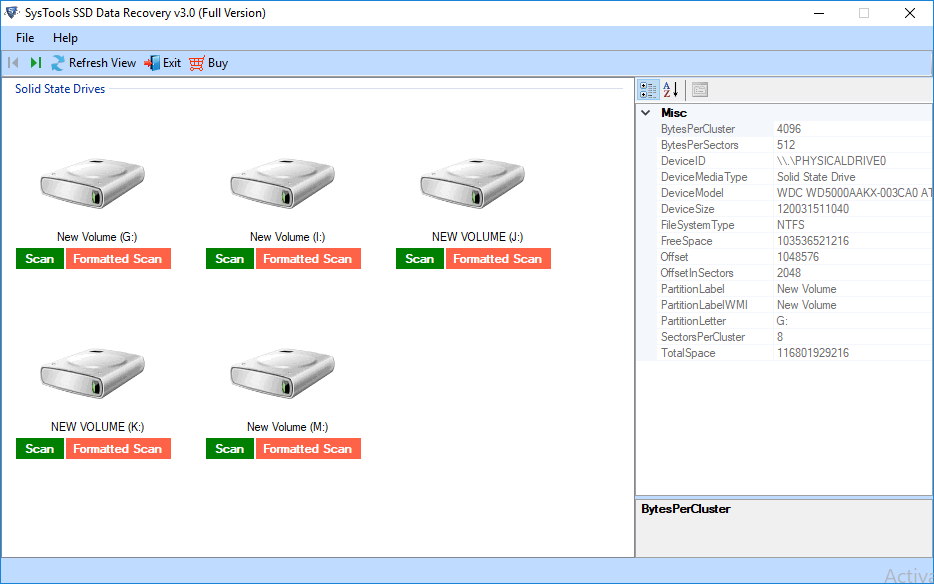 Step 2:- You can choose Scan instead of the formatted scan to restore deleted files from SSD drive.
Step 3:- Simply explore the folder and preview the entire data in the application panel. The tool will highlighted permanently deleted data by red color.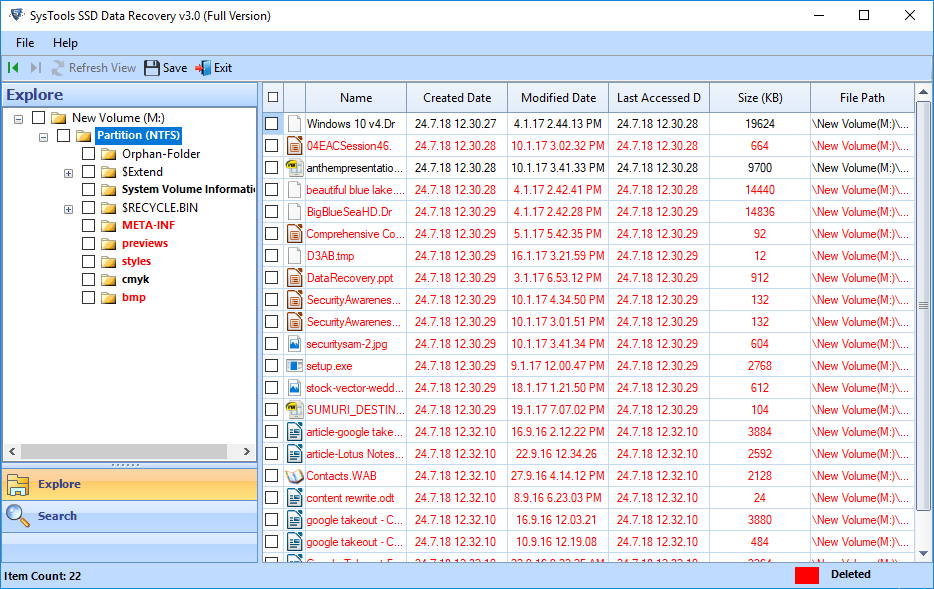 Step 4:- Tool Will gives two options to save data Save Selected Data and Save Complete data.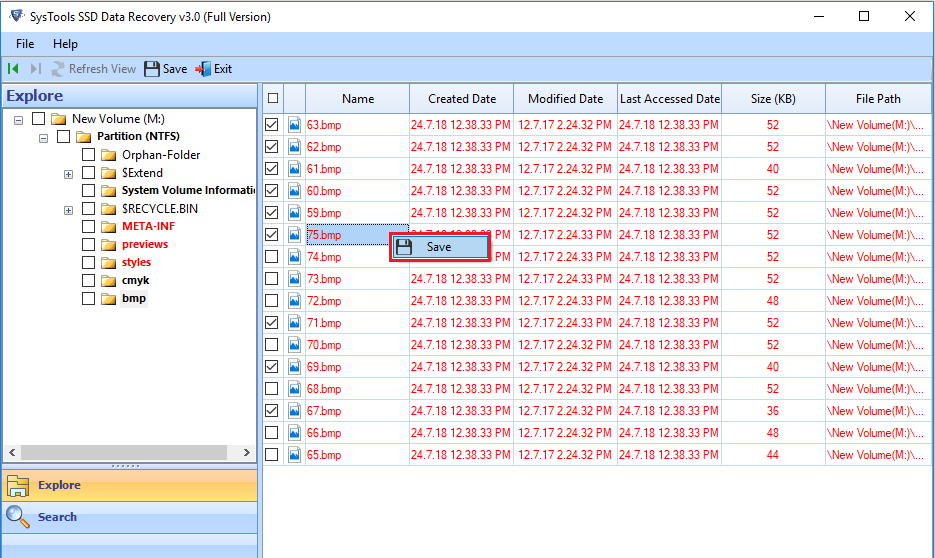 Why Users Choose SSD Instead of Hard Drive
Solid State Disk is getting faster every year making a big difference to the speed of your computing experience. The technology being used in SSDs is constantly evolving. So much, so that, an SSD that you buy today could be twice as fast when compared to an SSD you purchased four years ago. Some reasons that make users select SSD instead of HD that are mentioned below:
In SSD drive users can stores huge amounts of data and SSD drive offers faster access to data to users as compared to hard disks.
Solid State drives are more resistant to vibration and physical shocks.
SSD drives are less noisy and less latent.
Lastly, SSD drives are immune to strong magnetic fields.
Summing Up
Here we have described the trusted solution to recover deleted data from SSD drive. This software retrieves permanently deleted files from SSD disk very safely and securely. It provides free demo version users can check efficiency to restore deleted data from the SSD drive of the software. After that, they can decide to purchase the software.
FAQ's
Can we recover permanently deleted files from SSD drive?
Yes, you can easily recover deleted files from SSD drive with the help of prominent software. It is user friendly software technical and non-technical both users can use this utility without any hassle.
How do I permanently delete files from my SSD?
Well, users are always taking the help from the free solution to recover permanently deleted files from SSD. But they don't know the manual method is not able to recover shift deleted data from SSD drive. To resolve this user can try about the mentioned tool.