Open ACCDB File in Excel Without Data Loss
In this article, we have explained the reasoning behind the rapid rise in the search for the query "how to open ACCDB file in Excel". Moreover, we include several manual techniques and an automated utility to convert ACCDB to XLS and also offer . 
MS Access is the Microsoft's product that is designed to handle ACCDB files, ever since its first introduction in 2007. Once known for setting the industry standard for database management, Access has seen its competitive edge erode over the years. 
What might come as a surprise to many is that it's Excel, of all tools, that has dethroned Access from its once-unquestioned position. Therefore let's get a better understanding of why this is the case and learn the logic for exporting ACCDB to Excel (xls) format.
Reasons to Convert ACCDB to Excel Format
Here are the top 3 causes that compel users to change ACCDB files to XLS file formats.
Steep Learning Curve:

Companies must invest a lot of training time and resources if they want their workforce to use MS Access. This is because of the complex database and query-related knowledge required. In comparison, Excel is easier to work with.

Limited Visualization Capabilities:

The lackluster visualization tools in Access and the difficulty in creating and managing them don't offer any benefits. Excel on the other hand makes report creation easier, also XLS files are more compatible with 3rd party tools.

Flawed Security Measures:

Another major drawback of using Access as the primary data management software is the constant struggle with data leakage. So it is a smart decision to change ACCDB to Excel and avoid such issues altogether.
Read More: Learn How to Fix Excel File Not Responding Error in Simple Manner
As we now have our motives clear let us go over the hands-on approach for 
Manual Methods For Opening ACCDB Files in Excel
As XLS and ACCDB both are proprietary file formats belonging to Microsoft. So, a variety of methods exist to perform the conversion between them. However, each of the manual methods comes with its own limitations which results in errors and potential data loss. These drawbacks become readily apparent when a user tries them out for the first time. Let us begin with the most basic copy-and-paste method.
Directly Paste the Copy of ACCDB to Excel
It is just what it sounds like here are the steps for the same:
Step-1. Launch the MS Access portal and Open your ACCDB file
Step-2. Then, Press Ctrl + A and then Ctrl + C to copy the contents into the clipboard.
Step-3. Launch the MS Excel application, and open a new Workbook/Sheet.
Step-4. Finally, select a cell and press Ctrl + V.
This might look like quite a simple task, but the reality is that this copy-pasting has some severe limitations.  First of all, there is no guarantee of data integrity you could lose some of the data and not even be able to detect it until it's too late. Moreover, you don't need an expert to tell you that copy-pasting is not feasible for large data sets. Not to mention that accdb files are often interlinked with each other. Another alternative is to use the import mechanism of Excel let's find out how.
Procedure for Importing ACCDB to Excel 
Follow these steps to bring your ACCDB files into Excel sheet:
Step 1.

Open up a new Excel sheet.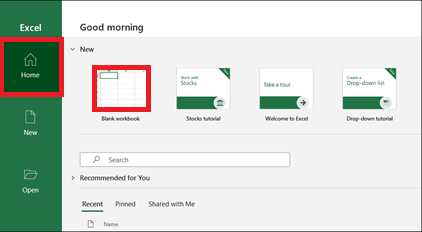 Step 2.

Then, in the menu bar look for the Data Tab and click on it, in Get & Transform Data section choose Get Data.

Step 3.

Then click on From Database option and subsequently select "From Microsoft Access Database".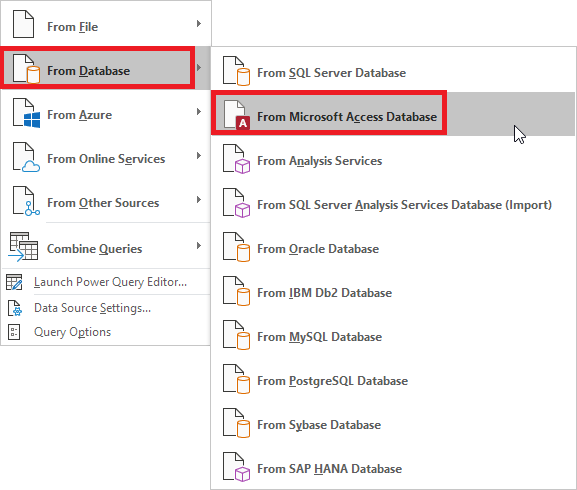 Step 4.

Pick your ACCDB file and hit Import.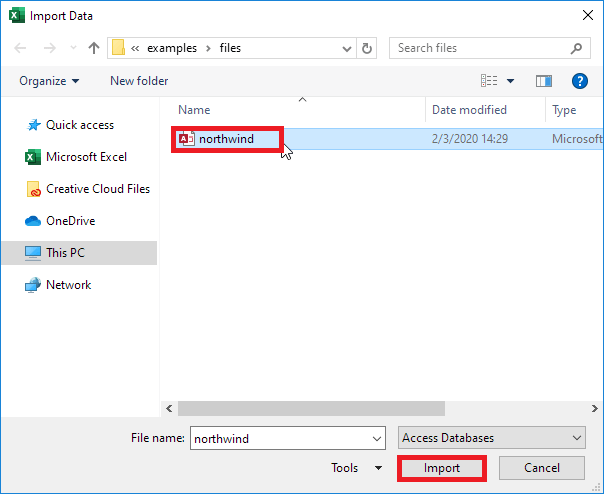 Step 5. Then, choose one table from the left-hand pane of the Navigator window and hit Load.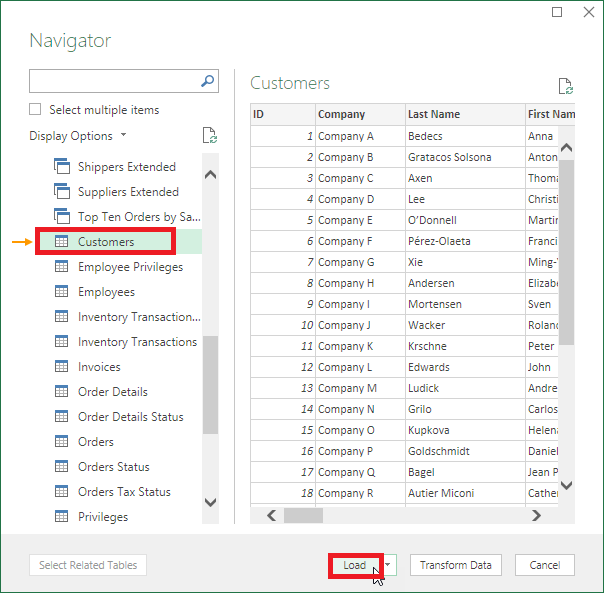 Step 6.

Finally, your data appears from ACCDB to Excel workbook.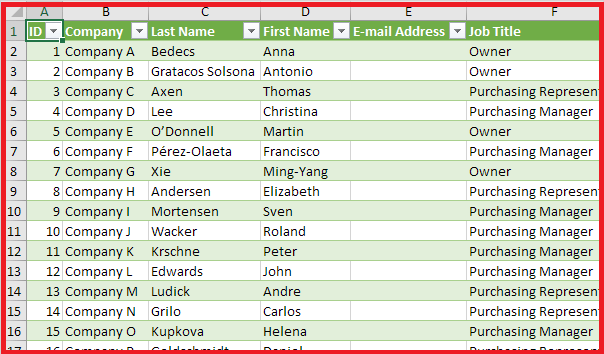 Also Read: The Step-Wise Guide for How to Break VBA Password in Excel Easily
Even this direct import has its drawbacks. These include a manual examination of the dataset for issue detection and resolution. Excel may slow down or crash entirely due to the sudden loading of a large data set. If this happens you may try yet another approach.
Steps to Export ACCDB to Excel Format
Note even this method is not foolproof so try it at your own risk. Follow the steps when ready.
Step-1. Close any Excel workbook opened in the background.
Step-2. Then, from the Navigation Pane of the original database, pick the object for export.
Step-3. Within the External Data section of your Export group, choose Excel.
Step-4. Then, the Export, – Excel Spreadsheet dialog box, gives you the option to review the file name for the Excel workbook and modify it if required.
Step-5. Choose the file formats supported within Excel by mentioning them in the File Format box.
Step-6. Finally, while exporting a table or a query, with its formatted data, pick the option titled "Export data with formatting and layout".
Source: Export data to Excel
Quite a few things can go wrong during the export procedure such as. Sometimes, data is in the wrong column, which is especially true for columns having NULL values. Overall one thing is clear the manual methods cant be relied on for this critical data conversion. Users need not worry as we have an automated tool specially designed for such a scenario.
Professional Answer for How to Open ACCDB File in Excel
ACCDB to Excel converter is the top-notch solution for all data conversion needs. Moreover, it comes with a simplistic UI and cutting-edge algorithms to handle all scenarios demanding an ACCDB to XLS conversion. Just follow these steps to use the tool.
Step-1. Download and open the utility, and Browse for the .accdb (or .mdb) file and click on Open.
Step-2. Once the file is visible in the preview window hit the Export button.
Step-3. Select Excel from the dropdown, choose ‌the Destination Path, and pick the Export Option then press Export/Save.
Step-4. Finally, a window indicating a successful export appears click on OK and end the process.
Look at some features that make this the first choice of experts and users alike.
Advanced Features of the Utility 
ACCDB to Excel converter contains a lot of useful features to make the export process as smooth as possible. Some of them are:
Multiple export options i.e. create a new Excel workbook per database or per table.

A detailed report indicating all export parameters covered by the tool.

Ability to not only convert ‌ACCDB to Excel but MDB files as well.

Repair corrupt ACCDB file before exporting.

Works even without installing MS Access.

Applicable for the latest Windows 11.
Conclusion
With this users now know how to open ACCDB File in Excel file format. Not only did we cover the reasoning behind the conversion but also provided the various manual methods to complete the process. Moreover, to dodge the limitations of manual techniques an automated solution is presented too.