Get to Know How to Increase Outlook Mailbox Size
Many times users have been used Outlook client for a long time. Yet, they must know the maximum size of PST files as well. Even users are not able to save more content into one PST than its maximum file size limit. If users are using any previous version of MS Outlook, such as 2002 or below, they have the maximum limit of 2 GB. On the other hand, if users are using MS Outlook 2003 or its later version including Outlook 2016, they will get enough space, i.e. 20 GB to 50 GB. But sometimes it is not good enough while sending or receiving thousands of emails each and every day. Deal with a certain size limitation issue is quite challenging for all Outlook users. Here, in this blog, we have come up with the easiest way to let users understand how to increase Outlook mailbox size in order to get free storage space.
Need to Increase Mailbox Size in Outlook
In these days, latest version of Outlook is most widely used by many users. That means multiple Outlook users are using Unicode PST format. Although it provides a lot of free space, sometimes users may face file size limitation problems. If Outlook mailbox size grows and reaches the maximum size, it might cause serious problems for MS Outlook users. Users will notice that Outlook starts hanging or crashing constantly. At times users may encounter a bad situation which is the corruption. An over sized Outlook PST file is always lead to corruption. A corrupt PST file can be repaired using Recovery tool for Outlook. Being over-sized means the .pst file has reached its maximum size limit.
Manually Increase Outlook Mailbox Size Limit
Outlook users will get stuck with PST file size problems. They have to increase the size limit of Outlook mailbox so that they can save the mailbox content. If users are using Outlook version 2003/ 2007/ 2010/ 2010/ 2016 then, they should try the following manual trick. They can use Registry Editor in Windows. Moreover, users must specify PST file size limit according to the version of Outlook that they use. Just follow these steps:
Open Windows Registry Editor
1. First of all, Press Windows + R keys on your local machine. Next, type "regedit" in the search field and select Enter. Then, you can open the Registry Editor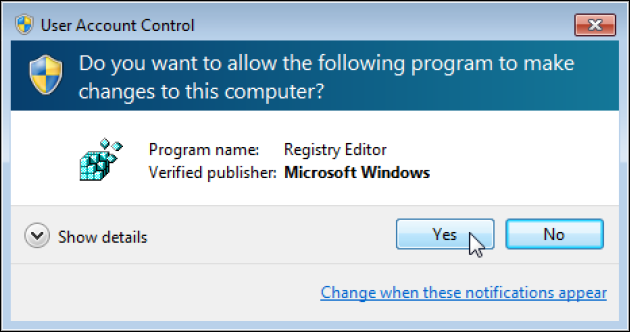 Now modify PST mailbox size
2. Next, use the database tree under the Registry Editor window. In this list, you can view HKEY_CURRENT_USER directory. Expand it with a single click.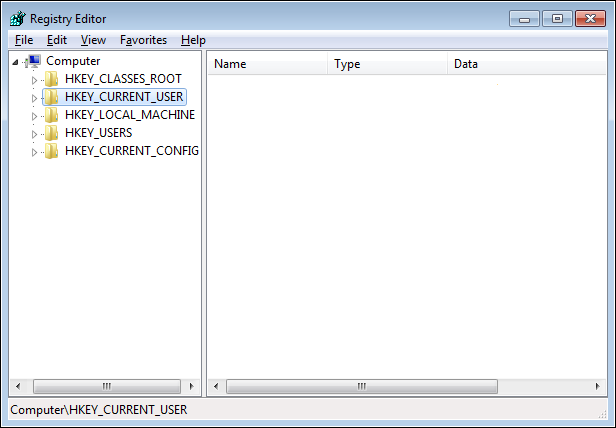 3. After that, you can go to the following registry path as per the Outlook version.
a) For single users
In Outlook 2003, navigate towards

In Outlook 2007, go to the below path

In Outlook 2010, navigate to

In Outlook 2013, navigate towards

In Outlook 2016, go to below path

b) For Administrators
In Outlook 2003, navigate to

In Outlook 2007, navigate to

In Outlook 2010, go to this path

In Outlook 2013, navigate to

In Outlook 2016, navigate to

4. Once you will reach the PST entry, you will receive something like this: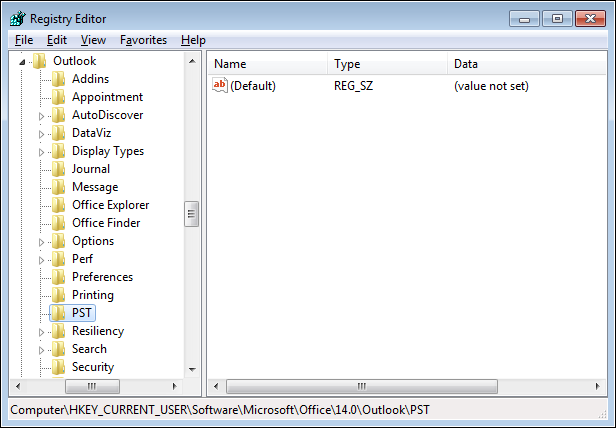 5. If you are unable to view these two values then, you have to create both values manually:
MaxLargeFileSize
WarnLargeFileSize
6. Now, right-click on blank space. Navigate to the New option and choose DWORD (32-bit) Value.
Note: If you are using MS Outlook (64-bit) then, you can select QWORD (64-bit) Value.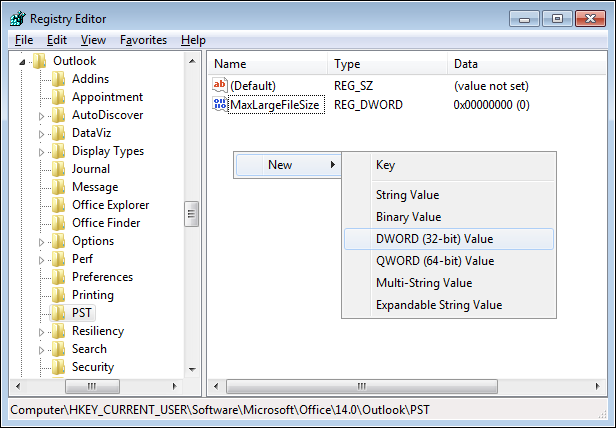 7. Label the new value as MaxLargeFileSize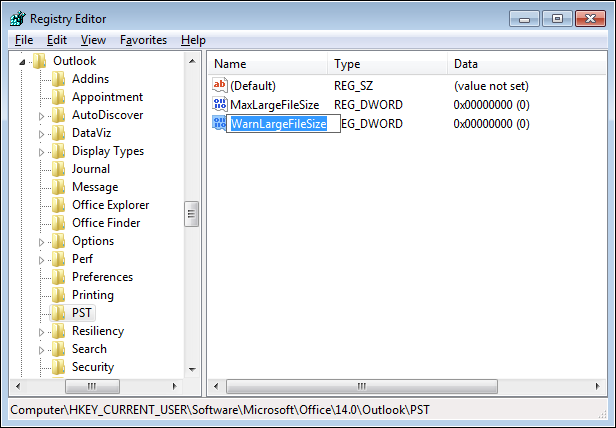 8. Again, right-clicking on the blank space. Go to New option and choose DWORD (32-bit) Value.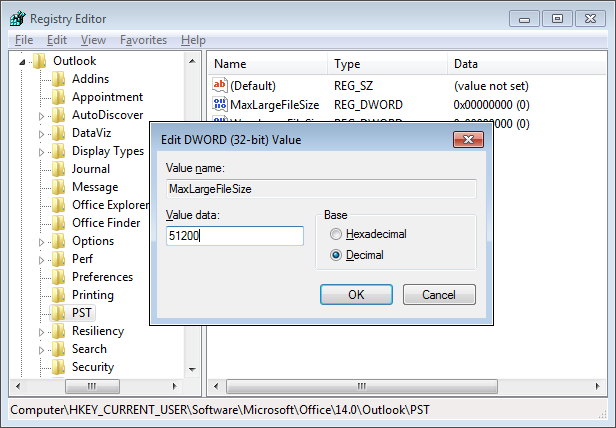 9. Give the name if this entry is WarnLargeFileSize.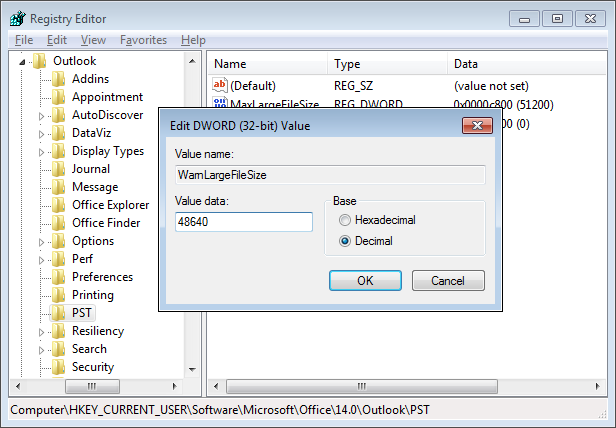 After creating these two new values, you should mention their values too. Follow given steps:
10. Now, double-click on the MaxLargeFileSize.
In the next steps, enter the specific Value and specify the Base type:
You should define the value in MB. Make sure that it hould be larger than the maximum size of Outlook PST file.
Choose Decimal as the base type, and click OK to save it.
11: Now, double-click on WarnLargeFileSize.
Again enter the exact value and specify the Base type:
This time enter the value which should be at least 95% of MaxLargeFileSize value. Select Decimal as a base type, and click the OK button for saving it.
12. Finally, close the Windows Registry Editor.
The entire task of "increase Outlook mailbox size" has been completed successfully.
Let's Wrap Up
Outlook is the most popular email client using which users can easily create their own mailboxes and archive files to save all messages. Sometimes, PST files can grow and users have to store all mailbox data. Additionally, after going through the reason to increase Outlook mailbox size, we have discussed a complete manual procedure. Make sure you follow each step carefully for increasing the mailbox size in MS Outlook.