How to Import PST to Apple Mail on Mac
Apple Mail, the default email client of Mac OS, comes with built-in options to import mailboxes. However, this import option supports only the MBOX file. Therefore, rendering all the hope of directly importing PST to Apple Mail useless. After all, Apple Mail does not support Outlook PST format at all.
But there's no need to worry. Here we have two different methods to import Outlook PST to Mac Mail. The first method will take advantage of Mac Outlook's feature to generate MBOX file. In contrast, the second method uses a direct conversion tool to get the job done.
So, let us start with the methods.
Method 1 – Outlook for Mac to Import PST to Apple Mail
Outlook for Mac is a must to import PST file to Apple Mail using this method. If you do not have a copy of Mac Outlook, you can check the official site to obtain the trial version for a month. As long as the Import option is available in it, you will be able to transfer Outlook PST to Mac Mail for free.
This method is done in two different stages:
Stage 1: Process PST Files in Outlook for Mac
Open Outlook for Mac on your system.
Navigate to the File menu and select the Import option from the dropdown list.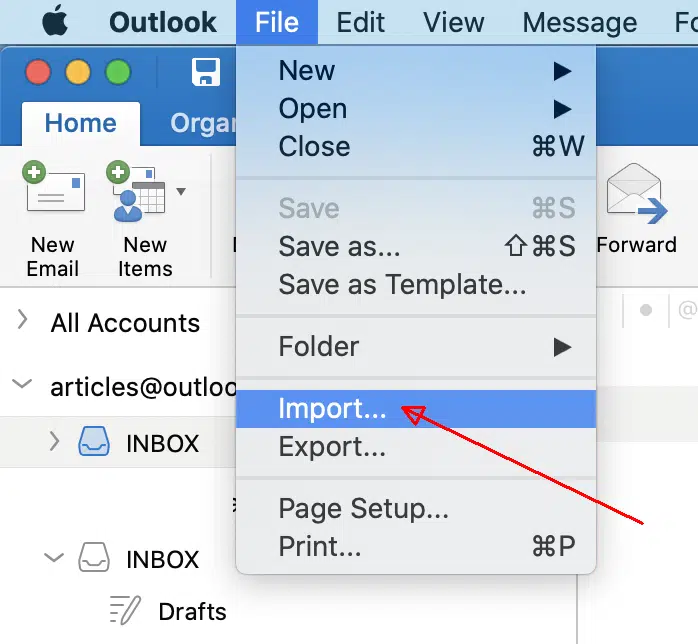 Then, select the Outlook for Windows archive file (.pst) option and continue.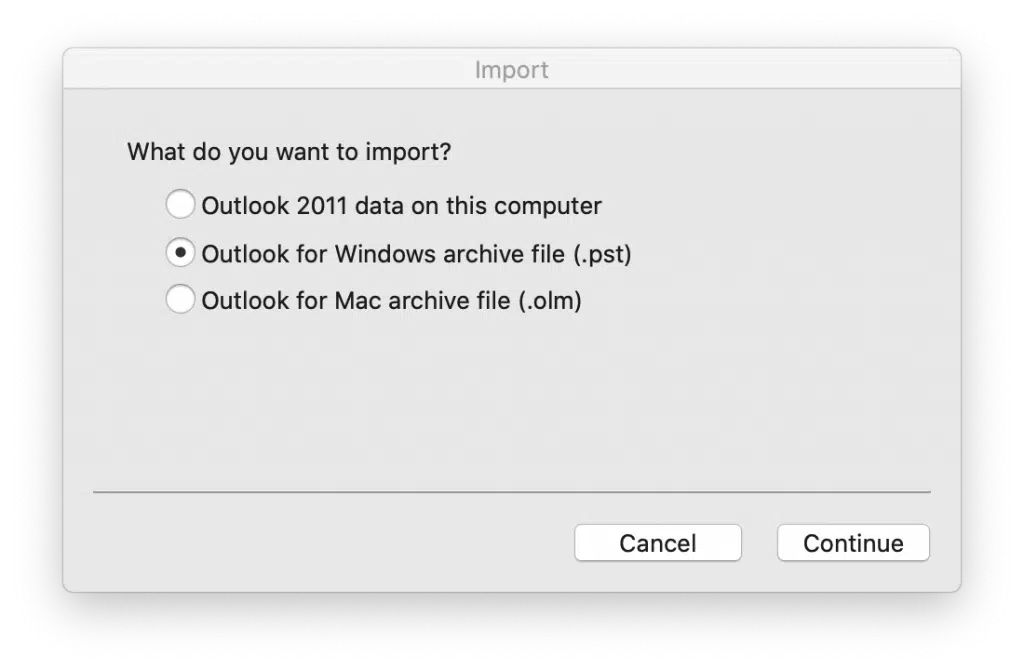 Browse and select the PST file that you want to import into Apple Mail.
Finally, click the Import
The contents of the PST will appear under On My Computer.
Now, drag and drop the mailbox folders containing PST emails to your desktop.
These mailboxes will appear as MBOX file.
Stage 2: Import MBOX to Apple Mail
Open Apple Mail on your Mac.
Go to File, then Import Mailboxes.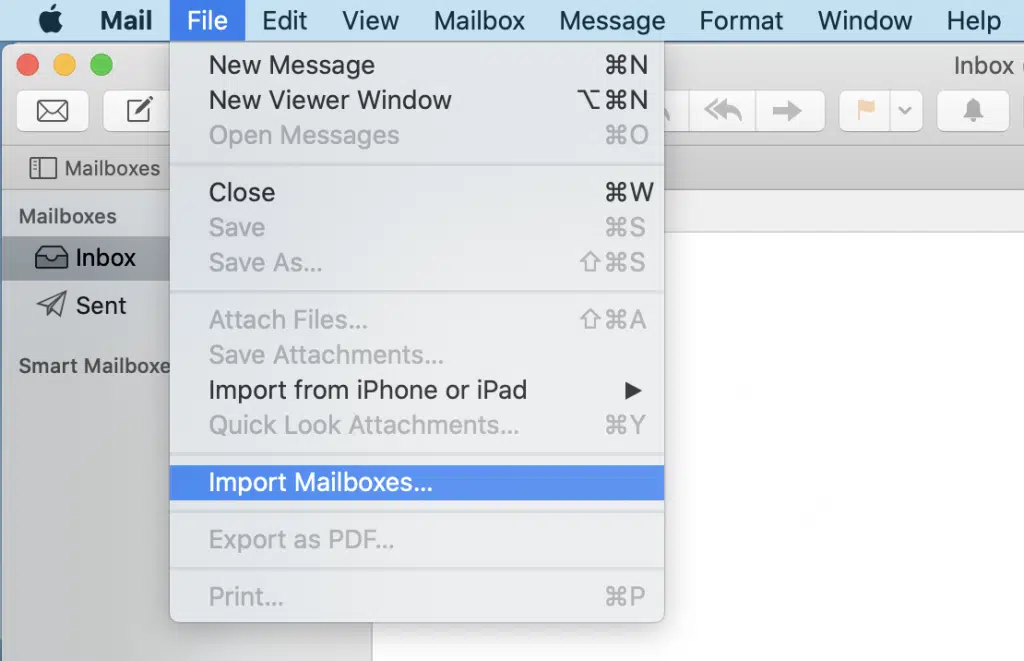 Select Files in mbox format.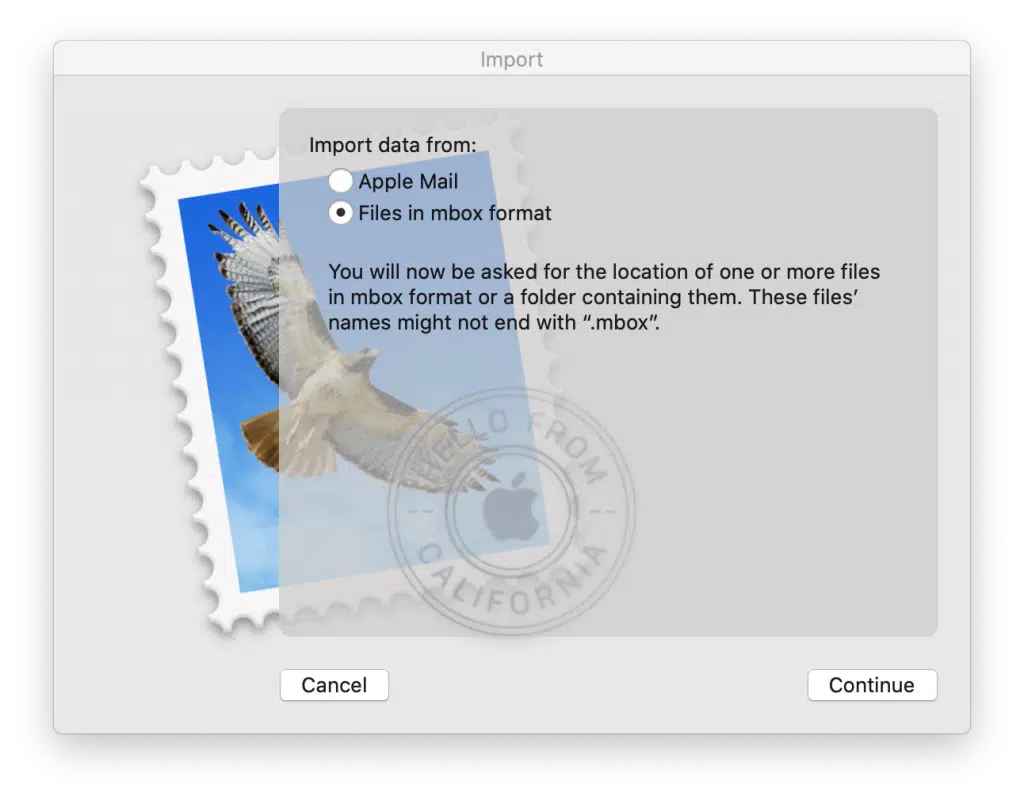 Browse the MBOX files from the desktop and import them into Mac Mail.
The imported files appear under On My Mac with Import as the name.
Do note that this method only transfers emails from PST to Apple Mail. After all, the MBOX file cannot store other mailbox items like contacts, calendars, etc.
Method 2 – Software to Import Outlook PST to Mac Mail
Using the manual method is tricky since it requires an external application. If you will pay for it then why not pay for something more convenient instead? Outlook PST Converter tool is the best way to convert PST file to MBOX and ultimately import it into Apple Mail. A direct conversion results in saving time, effort, and resources all at once.
In fact, the tool also supports corrupted PST files as it has built-in algorithms to repair damaged PST file and convert it into the required format. It supports multiple export formats like MBOX, EML, EMLX, MSG, CSV, TXT, MHT, HTML, Document, healthy PST, PDF, VCF and ICS format.
Steps to Import PST to Apple Mail Quickly:
Start PST Converter.
Select the PST file that you want to import.
Choose MBOX as the export type.
Export PST to Apple Mail mailbox file (MBOX).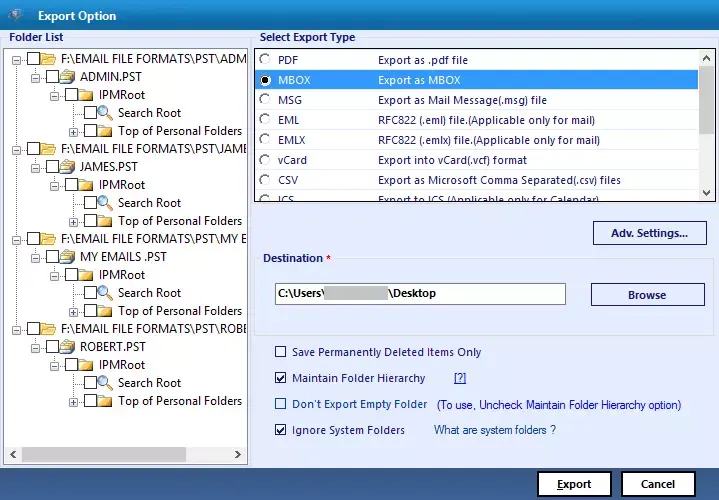 Additional Benefits
You can also use the software to convert other mailbox items from PST file like contacts and calendars to VCF and ICS format respectively. Afterward, import them into Mac. There is no additional fee to convert to other formats.
Import PST contacts to Apple Mail
After converting the contacts to vCard file, simply do the following:
In Apple Contacts, go to File, then Import.
Select the vCard file to import.
Click Add.
Import PST calendar to Apple Mail
After converting the calendars to ICS file, do the following:
In Apple Calendar, go to File, then Import.
Select the ICS file and click Import.
Select the calendar to import into.
Concluding lines
This how-to article described two methods to import PST to Apple Mail. You can use Outlook for Mac to generate an MBOX file and import it into Mac Mail. The second method is to automate the process using professional converter software. We recommend the latter solution as it does not compromise the emails during conversion. Moreover, it allows you to transfer emails, contacts, and calendars from Outlook PST to Mac Mail easily.