How to Host Tally ERP on Azure Server
Microsoft Azure is an open and flexible cloud computing platform that drives most Fortune businesses. You can gain a competitive edge above your peers by moving your Tally ERP to this cloud ecosystem.
Whether it's a big fortune company or a newly established business, accounting is an area that is important to all. And Tally or TallyPrime is the leading accounting software that fulfills all their needs.
But
In this era where more focus is on cloud computing with its obvious benefits, more and more organizations are moving towards it or finding ways to access their applications like Tally on Azure.
Ever since the Covid epidemic outbreak, it has become a norm to work from home. It has led to a rapid increase in users seeking to access Tally online by migrating its data to cloud service providers like Azure. And this has become an upward trend that will likely not stop or revert even after the lockdown discontinuation.
If you are still having doubts about hosting Tally on Azure, here are the benefits to use Tally ERP 9 or TallyPrime on MS Azure.
5 Major Benefits of Running Tally on AZURE
#1 Access ANYTIME ANYWHERE (Home / Office / Remote Location)
Once you host Tally on Azure, you can start working with Tally regardless of your location or system OS as long as you have a stable internet connection. There will be no restrictions. Whether its Mac, Windows, Linux, Mobile (Android or IOS), it works perfectly on all.
#2 Secure Storage
You are provided with a resilient foundation and security and also the ability to choose your required infrastructure. All your data is hosted on Tier 4 data center and is constantly backed up. Whether you are going Solo and are an agency, you can opt for this secure hosting service and just focus on your core work without worrying over the security.
#3 Scalable Solution
Tally ERP on Azure Cloud is designed to grow with your company. The infra can be upgraded to match up to your real-time needs. So you can increase your dedicated resources as your Tally data increases.
#4 Cost Effective Uptime Service
Due to the Tally servers being housed in Tier-IV Datacenter, there are no issues regarding the Uptime. You naturally get high uptime with low upfront costs with flexible billing options. There is even the option to opt for a single license.
#5 Managed Support
We have a qualified and experienced technical team to provide support for Tally on MS Azure service. You will get help on all your queries regarding 'hosting Tally on Azure' in a timely manner.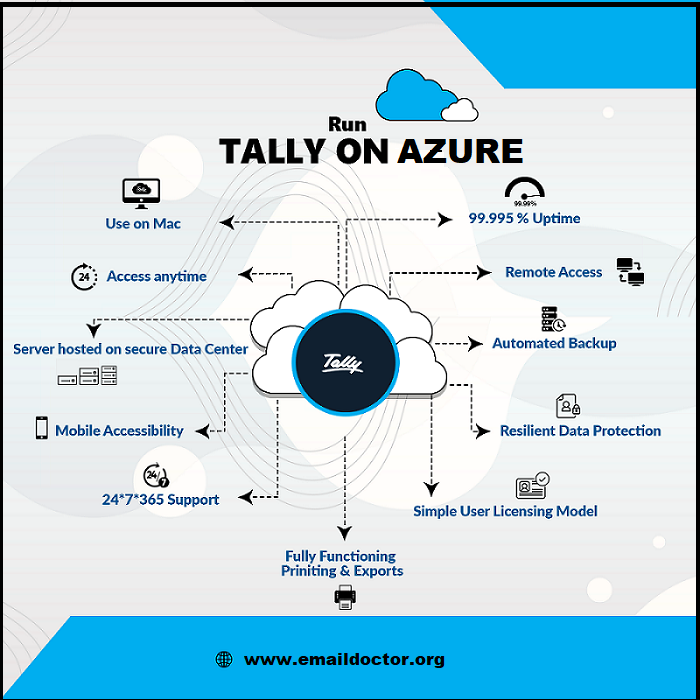 If you are interested in hosting Tally on Azure platform, then you can simply fill up the query form and we will get back to your as soon as possible. You will get free demo and can experience using Tally ERP 9 or TallyPrime on Microsoft Azure server before opting for the pricing.
How to Install Tally on Azure?
It's quite simple actually.
Step 1 – Fill up the query form.
Step 2 – Get in touch with our support team.
Step 3 – Take Tally on Azure for 10 days free demo.
Step 4 – Once you are satisfied, select and get the plan.
Step 5 – Run Tally remotely from anywhere, anytime.
That's all!
Don't Lag Behind – Get Tally Now!
Cloud hosting is the next big thing. The world is moving towards it. So Don't lag behind and get Tally on Azure or other cloud hosting services from us and access your Tally data anytime and anywhere from home, office or other remote location.