Tool to Export Autocomplete Outlook 2016 Mac Cache
How can I export autocomplete Outlook 2016 MAC cache to the new system? I have been using MAC Outlook for quite sometimes, but now I am switching to Outlook for Windows. Also, I will be using the new account. But, I am quite worried about losing my Outlook contacts, especially cached contacts from my MAC system. Please, suggest me some good tools.
If you are dealing with the same above problem, then I would suggest going for SysTools software for MAC Outlook autocomplete cache that can export these cached contacts to PST / VCF / PDF / MSG / TXT / HTML would be a great idea!
You can even create a backup of your Mac Outlook cached contacts or autocomplete list by exporting it to the TXT format. You can transfer these cached contacts to Outlook for Windows by converting them into a PST file format.
Before I tell you the solution you should know the basic difference between Mac and Windows Outlook.
In Mac Outlook these cached contacts are called Recent Addresses and in windows, it is called autocomplete list or auto-fills. 
As we all know, Microsoft Outlook is an email client which was initially designed for windows. Later, it was made for Mac OS X frameworks also.
The basic difference between these two is Outlook for windows makes PST file whereas Outlook for Mac makes OLK file. 
Also, these Recent Addresses do not move with the user. For example, if you are using another computer system for your Mac Outlook account or another identity. 
WHY?– because Mac computers build their own database for recent addresses. So, you can say that this Recent Addresses list is local to its respective Mac System.
However, if you have 2 Mac products like iMac and Macbook Air (lucky you!) and they are connected to Exchange Server. Then, in this case, you will get the same Recent Addresses on both systems.
Enough technical stuff! Let's head on to the solution.
Try the FREE demo version of the software which will export 10 items per profile.
Download Now Free Purchase Now 100% Secure
One Tool With Numerous Export Options
I am sorry to say that there is no manual solution to export your OLK files having Recent Addresses to the PST file for Windows Outlook. 
But this high-end tool that provides many file formats functionality at an affordable price. You don't have to buy different tools for different export formats. You can swiftly Export autocomplete Outlook 2016 Mac cache.
Export Mac Outlook autocomplete cache to PST / VCF / MSG / PDF / TXT/ HTML formats
You also get the options to create vCard 4.0 / 3.0 / 2.1 version (by default it creates 4.0)
Create a backup as either a separate or single PDF & VCF file for all cached contacts.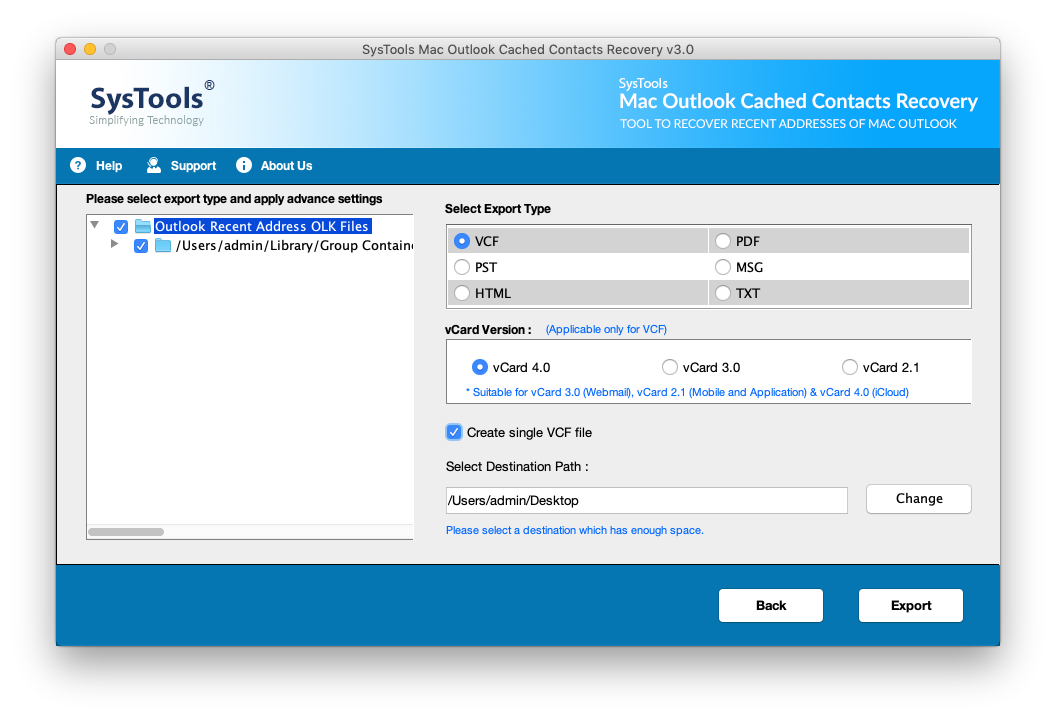 The most amazing feature about this tool is that you recover all your cached contacts from your MAC system.
Automatically locates autocomplete cache from profiles of MAC Outlook 365 / 2019 / 2016
Recover auto-complete cache from both OLK 14 & OLK 15 files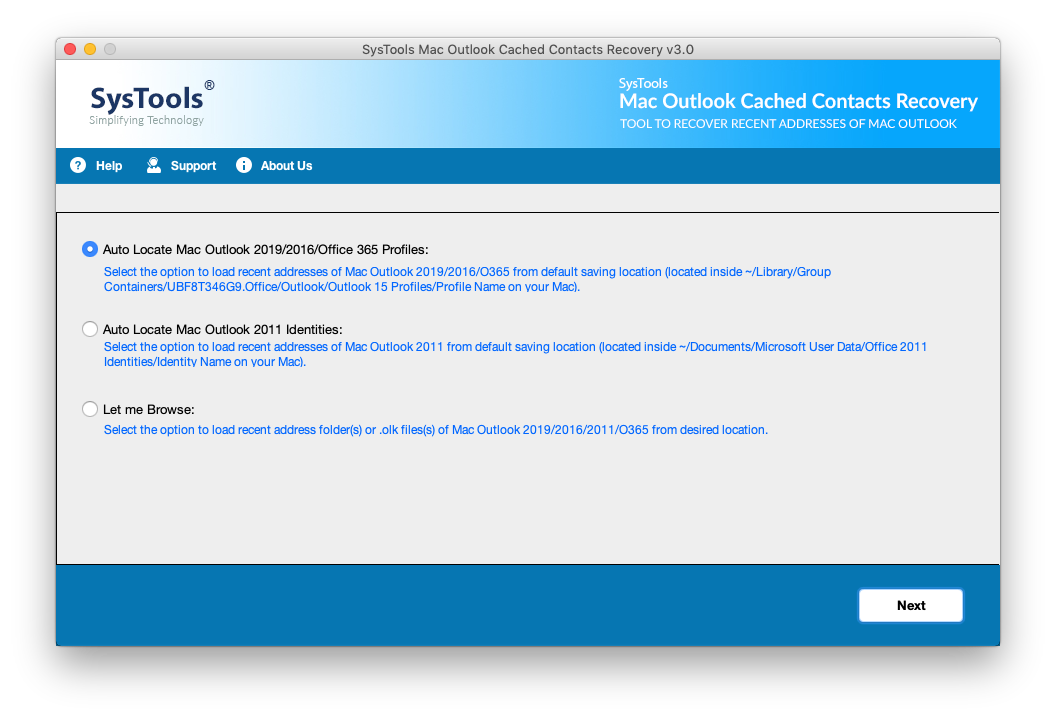 Technical Information And Pre-requisites of The Tool
Kindly read all the specifications and requirements to install and run the software on your system.
Hard Disk Space
100 MB of free hard disk space required
RAM
4 GB of RAM is required
Operating System
1GHz processor (2.4 GHz is recommended)
Operating System
MacOS X 10.8 (Mountain Lion), MacOS X 10.9(Mavericks), MacOS X 10.10 (Yosemite), MacOS X 10.11 (El Capitan), MacOS X 10.12 (Sierra), MacOS X 10.13 (High Sierra), MacOS X 10.14 (Mojave), MacOS X 10.15 (Catalina)
Pre-Requisites
To see the working of the tool and how to export autocomplete Outlook 2016 Mac cache. Visit this page: Export Recent Addresses Outlook Mac

Note: Autocomplete cache is called Recent Addresses for Mac Outlook
Listing and Mention of SysTools Software For Outlook Autocomplete Cache
Many reputed software sites have proudly mentioned this tool on their websites. This tool was examined by their tech experts. They say it is a unique software which can recover and export autocomplete Outlook 2016 Mac cache without losing any data.
Because there aren't any dedicated tools for cached contacts for Outlook and that too for MAC. They appreciated SysTools developing to come up with this kind of product.
You can click on these links to see for yourself: