Free Solution to Resolve Eudora Error Server SSL Certificate Rejected
Eudora is an email application that is provided by Qualcomm similar to other kinds like Mozilla Thunderbird, Outlook etc. It stands out because it has a user-friendly interface and it can be utilized simply by novice people who do not have high technical knowledge. But, most of the users are having serious issues with this email application especially when they confront Eudora error- Server SSL certificate rejected. This can be a disconcerting issue and only knowing appropriately what to do can provide relief.
Eudora as an email client is no longer being supported and it is now the end of life. The issues will continue even if, we repair this one and the reason is direct. Whereas it is not supported, no updates, and nothing. It is tough for Eudora now to cope with the changes the industry is making. Such as the SSL problem, which is needs by servers for encryption. So, in this article, we will be going to discuss the manual solution to fix errors when SSL certificate is rejected in Eudora.
If you want to switch from Eudora to Outlook, you can opt for MBOX to PST Converter. It automatically detect Eudora database and converts the emails ibto PST format for MS Outlook.
Get Rid of Eudora Error: Server SSL Certificate Rejected
The entire procedure to resolve the matter is described in a sequential way. You just need to follow all the steps to get a positive outcome:
First of all, identify and locate the identity you are having problems with. Once you have identified the identity then, open it in the identities wizard
Now, right-click the identity and choose Properties
Navigate to the incoming mail tab and hit on Last SSL Info
Then, select Certificate Information Manager from here, you will be able to see the list of certificates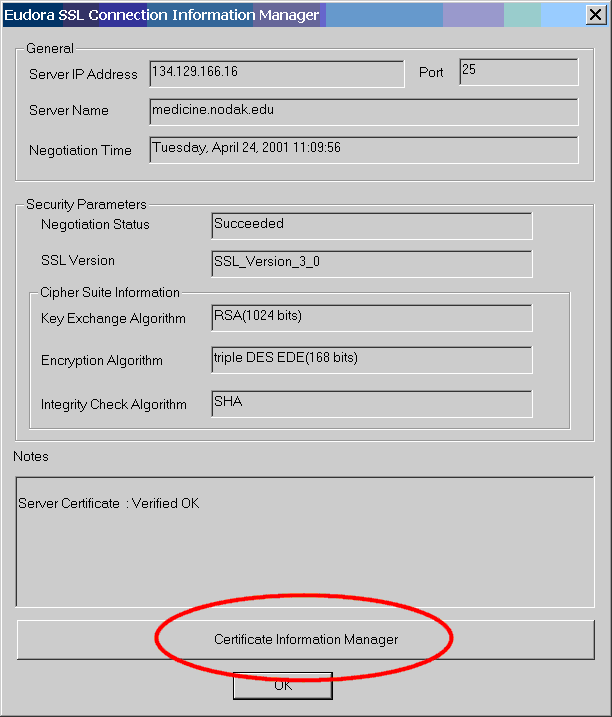 In this step, under server certificates, select the [+] sign inside the small box to open up the element below or keep starting additional + signs as far as you get to the bottom
Then, hit on the bottom component "skull" to highlight it after that, click on the Add to Trusted button to proceed forward
Now, choose each of it, and select Add to trusted, and then exit out of it by clicking on the appropriate buttons
Here, click on Done or OK to close everything out
Now check to see if Eudora is still giving you Server SSL Certificate Rejected error. Also make sure to add all the untrusted certificates to trusted list.
User's Query:
"I know very well that Eudora is no longer a supported email program, but a month ago, I was still able to utilize it to download some of my important Comcast emails to my desktop. However, starting about maybe a couple of days ago, every single time when I open Eudora to download my Comcast email, I face an associated error message with the heading i.e., Server SSL Certificate Rejected. I wonder if there is a method for me to resolve this. Please suggest me an appropriate technique to resolve the issue. Thanks."
Why This Eudora Error Server SSL Certificate Rejected Occurs?
If a user is utilizing Eudora then, they may have confronted issued when it comes to receiving and sending emails. Once, you are trying to resolve the issue you may end up with an error message that says that server SSL is rejected. The reality is that the server SSL certificate is rejected by Eudora may be much of a hindrance so, you may need to learn why this error is occurring.
Mainly, secure socket layer "SSL" has two major purposes. The foremost option is to encrypt the data that is being transferred between the web servers and the browsers. The encryption procedure converts the data into unreadable code that will only turn to its original form once it accomplished its target. This conserves all crucial information that streams throughout the network, assuring your business and the client also.
Another functionality of SSL certificates is to allow, that the system that you utilize to generating a connection is what the server concludes. The error message server SSL certificate rejected Eudora basically, means that Eudora cannot confirm whether the SSL certificate is real or not. So, it is initially uncertain about the server. With this, what you required to do is to inform Eudora to approve the certificate. And this is what you should have to know most particularly if you are having an issue related with the SSL certificate.
Final Verdict
Most of the Eudora users are facing issues such as Eudora error server SSL certificate rejected. So, in this write-up, we emphasize the free method to resolve the error in an appropriate manner. You just need to follow all the steps to get a better resultant.