Lotus Notes to Office 365 Migration: 2 Best Available Methods
As cloud technology becomes profitable, more and more organizations are turning to it from on-premise environments. Organizations using HCL Notes (formerly known as IBM Notes or Lotus Notes) are no exception. As a result, there is a huge demand for Lotus Notes to Office 365 migration.
However, migrating Lotus Notes to Office 365 is not easy because Lotus Notes stores its data in .nsf files. Additionally, Microsoft applications only support the .pst file format. Therefore, it becomes impossible to manually migrate data between these two environments. However, there are some simple workarounds for migrating.
Techniques to Migrate Lotus Notes to Microsoft Office 365
In addition to the combination of file conversion and import tools, there are two simpler workarounds for migration:
Technique #1: Perform Lotus Notes to Office 365 Migration Using IMAP Connector
Follow the step by step procedure to manually migrate email from Lotus Notes to Office 365:
Step 1: Save NSF Files
As explained above, Lotus Notes supports .nsf files, so you will need to back up your Lotus Notes NSF files. This will help you recover your mailbox if manual migration fails.
Step 2: Generate new user mailboxes for each NSF file
In this step, you need to create a target user account in Microsoft Office 365 for each NSF file. Create a username with the same name as your NSF file, this will help you easily map your NSF file and Office 365 user account.
Step 3: Enabling IMAP TCP/IP Port
This is an iterative process that must be performed for each user account. Follow the steps below to enable the IMAP TCP / IP port:
Go to Admin Center of Domino in Lotus Notes
From the configuration tab, open server document that performs IMAP services
Click Ports, then select Internet Ports, then click the Mail tab.
In the IMAP column, change the TCP/IP Port value to Enabled.
Click the Save button to implement the changes, then close Lotus Notes
Step 4: Synchronization with the IMAP Connector
The final step in Lotus Notes to Office 365 migration is to synchronize the two environments using the IMAP connector.
Drawbacks of Manual Migration
Firewalls and proxy servers for Lotus Notes connections often block Internet connections.
Cannot migrate NSF files larger than 1GB
This manual method does not support calendar migration, so it must be done separately.
Complicated and time-consuming process.
Only 15 user mailboxes can be migrated at a time.
Perform Lotus Notes to Office 365 Migration Using Professional Software
To overcome the complexity of manual solutions and get a faster migration experience, use the Lotus Notes to Office 365 migration tool.
Free Download
Tool Purchase
Now
The tool supports not only email migration, but also contacts and calendar migration. Using this tool, administrators can easily migrate multiple Lotus Notes NSF files directly into Office 365 user accounts. It also provides several features that can help administrators during the data migration process.
Here is the list of features provided by the tool:
Migration of email, contacts, calendar from Lotus Notes to Office 365
Date range filters are only available for selective data migration.
Option to map NSF files with an Office 365 user account.
Retry and Re-Run Migration options to handle failed migrations
Provides an delta migration option to migrate new data at the next migration attempt.
Generates the download report in Summary and Detailed formats.
Step-By-Step Process for Lotus Notes to Office 365 Migration:
1. Click on the Download button to get the software exe.
2. Launch the tool and go to Activate tab for tool activation.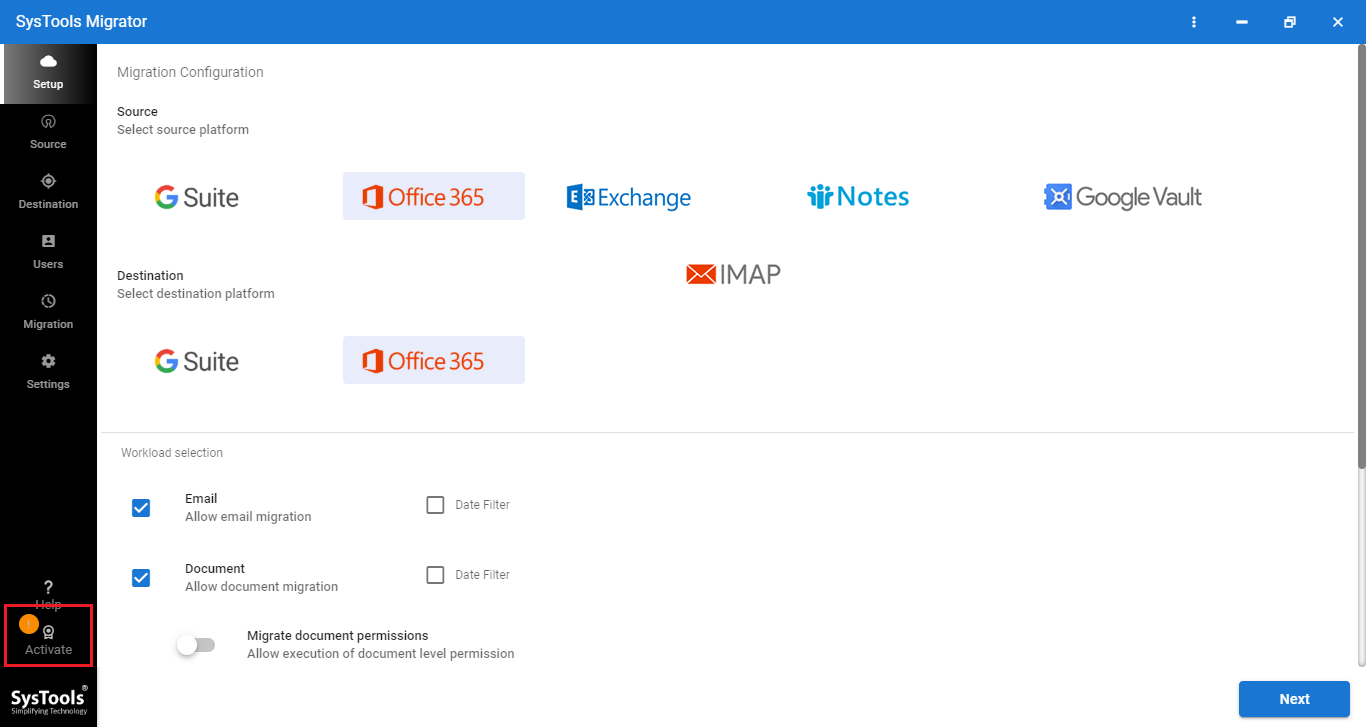 3. After activation, click on the Setup tab to select the workloads items to migrate from Lotus Notes to Office 365.
4. In the next tab, enter the Admin Email, Client Password, and NSF file path. Then, click on Validate button for the authentication >> Next
5. Now enter the Office 365 admin id and application id (created during project creation steps)
6. From User tab, select the option for mapping NSF file with Office 365 account.
7. Once the mapping is finished, click on validate button for the user authentication and hit the Start Migration button.
8. Watch the live status of Lotus Notes to Office 365 migration from the tool window. After finishing the migration, download the report and exit the tool.
That's it! In just 8 steps admin can migrate Lotus Notes to Office 365 for all users. Now you can login into your Office 365 account and check the migrated data.
Check out our Lotus Notes to Outlook import guide if you want your data in Microsoft Outlook.
Final Words
In this article, we discussed a step-by-step Lotus Notes to Office 365 migration approach. Manual solutions are completely free, but they come with risk and complexity. However, the automated solution shown is paid, but it is a foolproof solution for migrating multiple NSF files directly to selected Office 365 user accounts.
You can choose the method based on your organization's needs and experience with the platform. If you are less experienced with IMAP and Office 365 connectors, then the automated tool is available to help you simplify your migration.