Convert Multiple EML Files to PDF Format Using Trusted Solution
In this informative article, we are going to resolve the most searched query on the internet i.e., to convert multiple EML files to PDF. We have mentioned ways to export EML files i.e., by using manual method as well as professional solution.
Users can extract EML files from any supported email clients like Mozilla Thunderbird, Windows live mail etc. Since, PDF files are easily accessed on any system. Therefore, more and more users are looking for a solution to batch convert EML to PDF format.
EML and PDF File – Basic Info
EML File: EML files contains the content of the message and details like subject, sender, recipient, date etc.
PDF File: PDF stands for Portable Document Format created by Adobe in the 1990s. PDFs include images, videos, text, etc.
Why is PDF File Format Preferred?
PDF files is preferred because of the following reasons
Converted PDF files can be saved for future.
Installation of an email client is mandatory to access EML files. However, PDF's can be easily accessed on any system.
PDF file can be used as important evidences in digital forensic investigations purposes.
Method 1# – Convert Multiple EML Files to PDF Using Automated Tool
If the user has few EML files then he can export them manually but, if the EML files are large in number then, it becomes quite difficult for the users to export VCF contacts. So we suggest the users opt for EmailDoctor EML to PDF Converter Software. This tool is very simple and easy to use. It allows the users to batch convert EML to PDF along with attachments. The software can scan your entire computer and look for all EML files in it. So if you don't know the exact location of your EML file, don't worry. After scanning your computer, the tool loads the folders containing the EML files and displays them in the left panel. The application has a user-friendly interface that even a novice user can understand its layout without taking external help.
Note: – If you are Outlook user, then you can also convert EML to PST  format. Using the same utility.
Steps to Convert EML Files to PDF Format
Install and Launch the EML to PDF Converter Software on your system.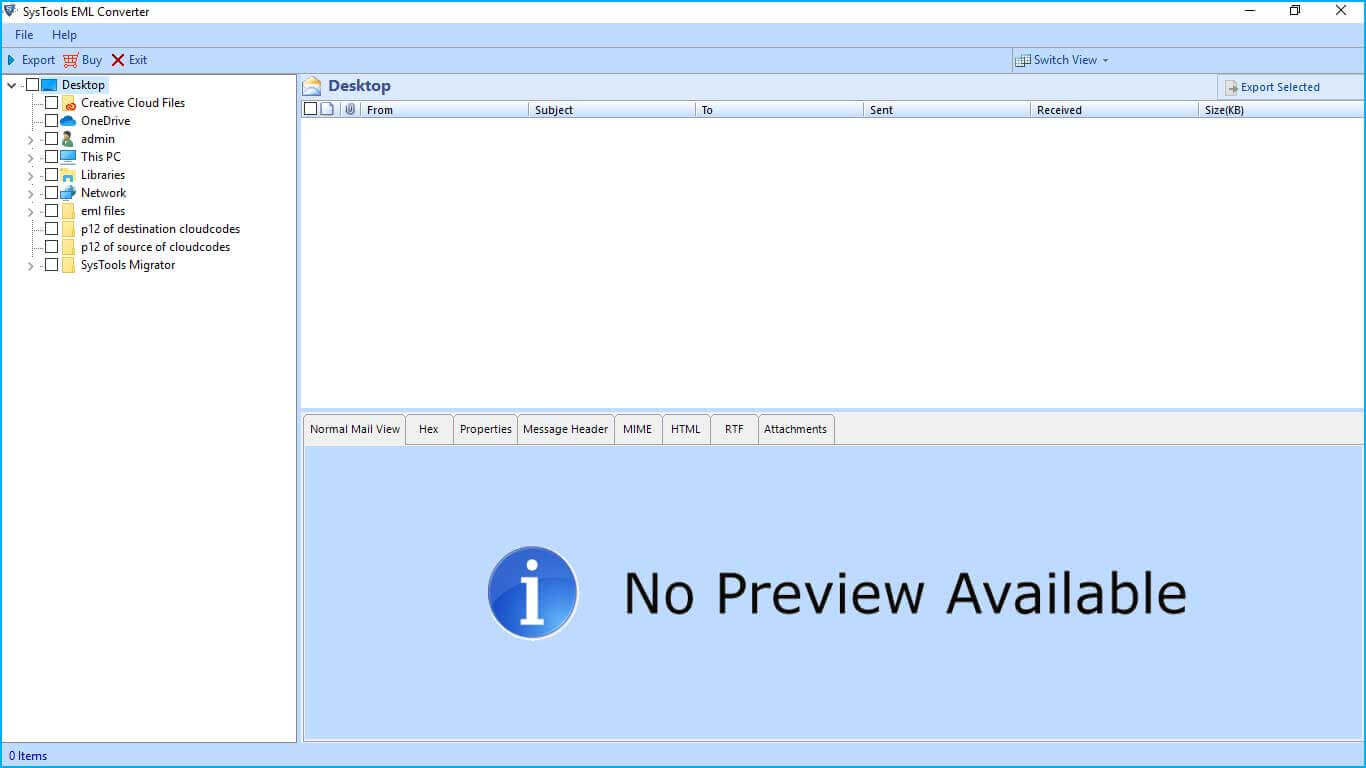 Explore the Folder containing EML file and browse in software panel.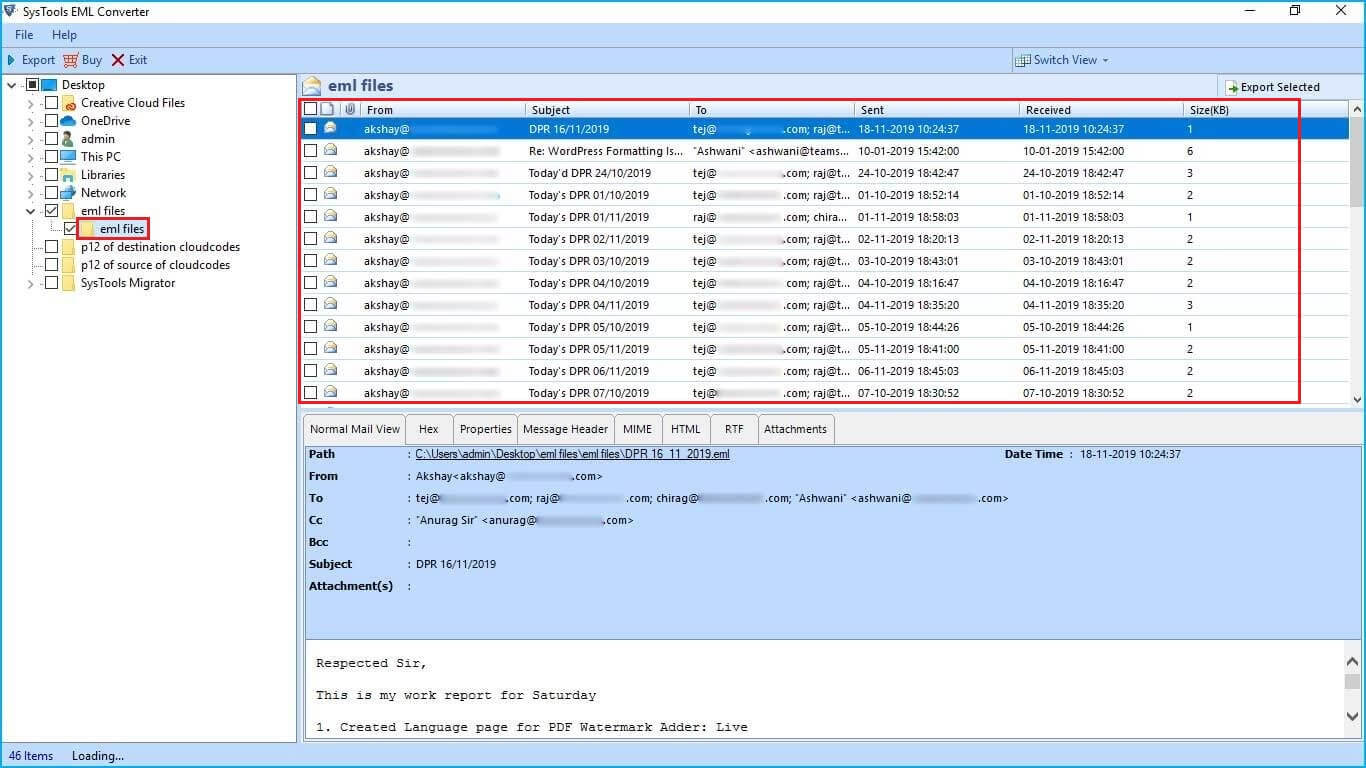 Click the Radio tab for the PDF file. Then Select on the "Explore" option.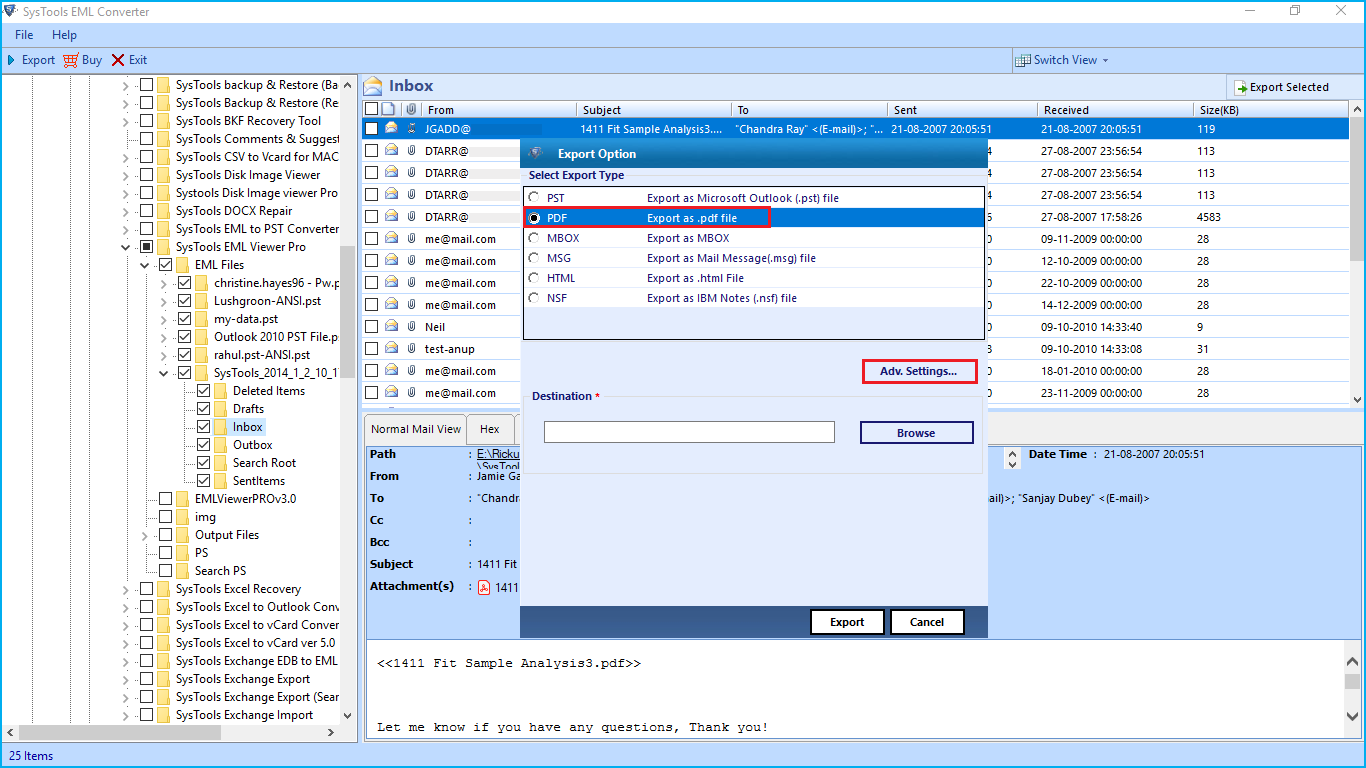 Choose Advanced Settings to apply various settings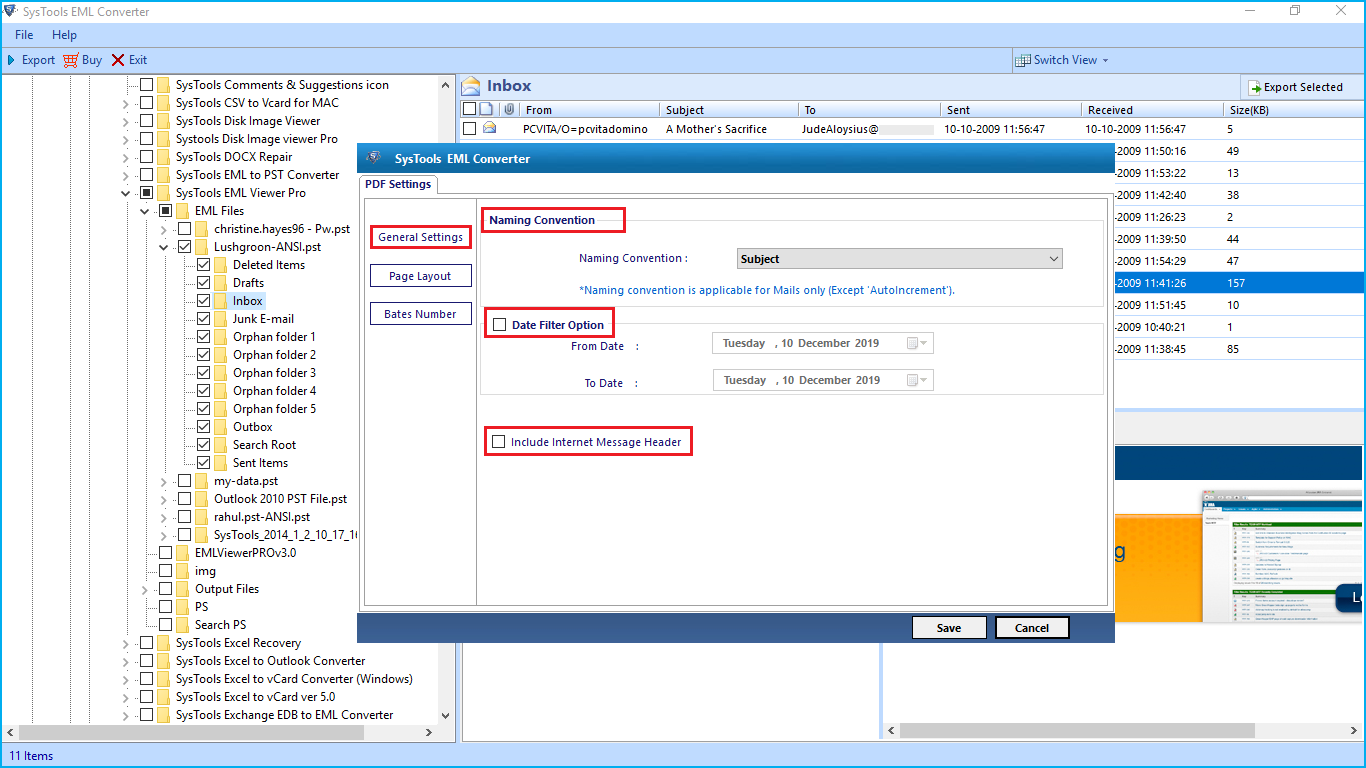 Hit on Export tab to start conversion process. After completing conversion process, the tool will give you Output PDF file.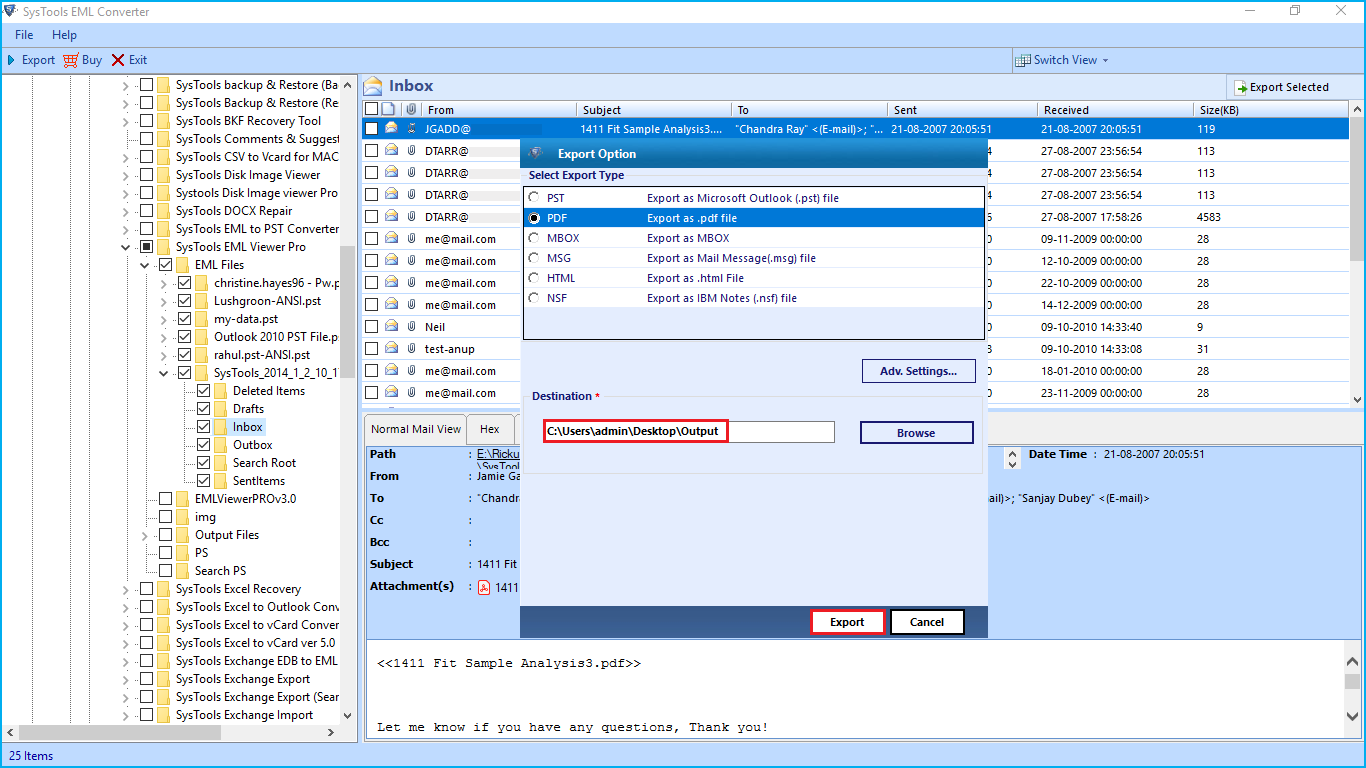 Why is Automated Tool Preferred?
Apart from converting EML files into PDF, the software can convert EML/EMLX files to multiple file formats like PDF, HTML, MSG, PST, MBOX, and NSF.
ImportExportTools extension is not required
There is no file size limitation in export EML files to PDF
Selective data conversion feature with date filtering and individual selection.
Keep Folder Hierarchy feature to keep original folder style
Naming conventions and Internet message header options are also available
Option to select the destination folder to save the converted PDF file
Compatible with all Windows OS versions including the latest Windows 10, 8.1, 8, 7, etc.
Some Advance Option Available in This Tool
Understand the capability of the tool and why you should choose this wizard to convert EML to PDF format. 
Naming Convention and Date Filter: – The software provides multiple options to save exported file. You are free to chose any of them as per your requirement. It also enables you to apply date range for selected file conversion for EML to PDF format. 
Page Layout: – Apply margin for PDF file (min 2.0 and max 10.0 mm) for Top, Bottom, Left and Right. You can also paper layout (Landscape and Portrait) mode. Also, you can choose paper size (A4, A5, etc.)
Bates Number: – You can apply bates number in the resultant PDF file. It includes Bates Number Format (Start Number, Increment By, Position). After that select Date Stamp (Position and Format). After checking all these advance options you have no other option to choose this tool for converting EML files to PDF format.
Method 2# – Convert Multiple EML Files to PDF Manually Free
Follow the steps to export EML into PDF by using Thunderbird. It is not a trusted solution to convert EML Files to PDF format. I recommend you to opt the method 1 for Complete Folder Conversion
Start Thunderbird email client on your system.
Select any Thunderbird folder (Inbox, Drafts, Sent, and Trash) and Right Click for Options.
Hit ImportExportTools option and select Export all Messages in the Folder.
Finally, select PDF Format.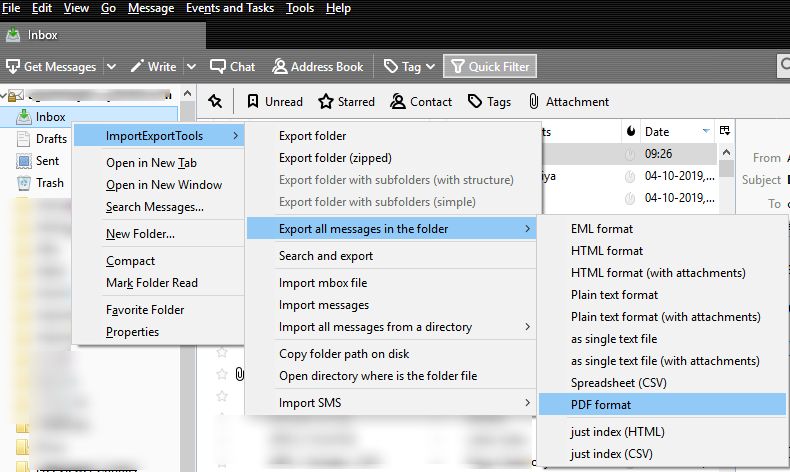 Convert Selected Messages
Right Click on the Targeted Message. Hit on Save Selected Messages option and click on PDF Format.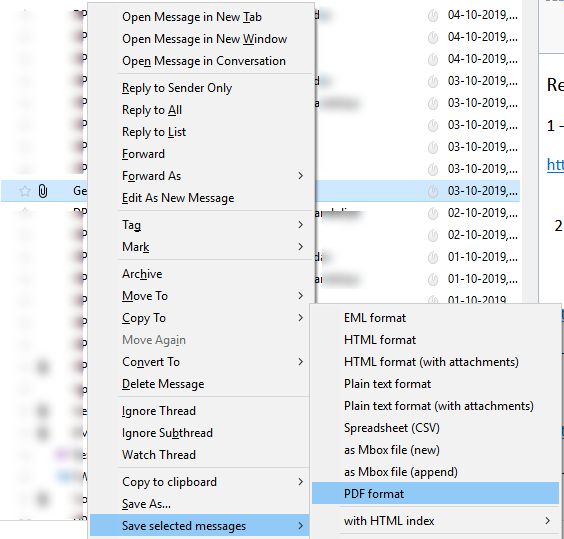 Click on the Browse button and Desired Location to Store Email Message (In PDF Format).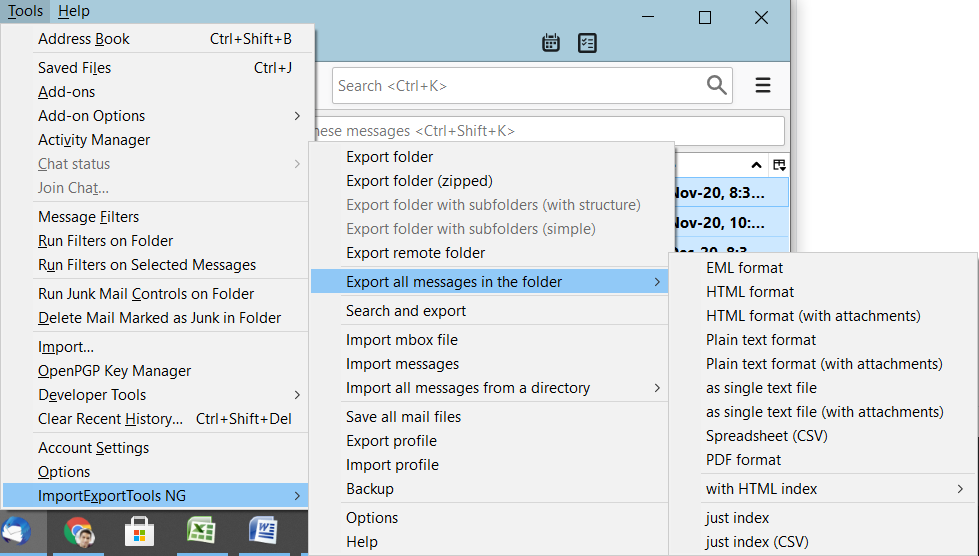 Choose any desired Folder to save PDF file.
The Verge
Although manual approaches are reliable enough to print EML to PDF. But they are not capable to convert multiple EML files to PDF along with attachments. So, we suggest the users to try an efficient solution which helps the user to perform conversion along with attachments. Explore great features of this professional EML to PDF converter software to bulk export EML files to PDF in a very short time span.