Safe Way to Compact PST File without Opening Outlook
Raj
| Modified: 2021-09-13T08:07:19+05:30|
MS Outlook
| 4 Minutes Reading
As an Outlook user, we know that managing PST files is a challenging task. Due to its performance and advanced functionalities, most users prefer to use MS Outlook. But the general problem with the Outlook is related to its data file known as PST (Personal Storage Table) file. In Outlook, PST has a certain file size limit as it can only store the mailbox data up to its fixed maximum size. Users should never let the PST file to reach its maximum size limit which may cause several severe corruption issues and Outlook performance related issues. In this blog, we are going to suggest a safe way to compact PST file without opening Outlook.
MS Outlook email client generally saves its PST data files into two formats i.e. ANSI format that is used in Outlook version 1992 to 2002, and Unicode format associated with Outlook 2003 and later versions. ANSI format PST files can store mailbox maximum data up to 2GB. But, a UNICODE format PST data file provides mailbox storage of 20 GB to 50 GB. Unicode PST files rarely reach to its maximum limit, but ANSI PST files easily reached to beyond its maximum size limit. Then, go with this write up and know the save way to reduce PST file size without Outlook
Challenges Faced with Oversized PST Files
An oversized PST file may lead to various issues and corruption problems. User needs to compact PST file without opening Outlook, because oversized PST file generally affects Outlook performance and many more. Some of the major challenges faced by Outlook users after reaching PST file its maximum size limit are as follows:
Large PST files may corrupt or damaged easily – When PST files often grow to its maximum, then they become prone to corruptions. These issues mostly occur when the data accessed on the network.
Oversized PST files can be inaccessible – The corruption problem of the PST file leads to the inaccessible stage by showing an error message. The error message can be like "Your PST data file might have exceeded its maximum size limit".
Generally, Outlook users can delete unwanted email data to manually compress Outlook data files. But, in order to compact PST file without opening Outlook, one must use a safe PST Splitter Tool.
How to Manually Compact PST File with Outlook?
Step 1: Launch and open MS Outlook client into the system.
Step 2: Now select and delete unwanted data items from your mailbox.
Step 3: Then, click on the Folder List. Here, right-click on Deleted Items folders, and select Empty Folder.
Step 4: Now, click on File >> Info >> Account Settings.
Step 5: In Account Settings window, click on Data Files, and select Outlook Data File. Click on the Settings tab.
Step 6: A Personal Folders pop-up box will display, click Compact Now.
Step 7: The process to compact Outlook data file will start on your computer. Let's wait until it gets complete.
Sometimes manual tricks fail due to many reasons and do not work. Manual solutions are also time-consuming and sometimes take several hours in execution. In such circumstances, Outlook users can use professional tools to compress PST file without Outlook.
Professional Way to Compact PST File without Opening Outlook
Outlook users can try professional solution that takes less time than the manual solution. Use proficient PST Splitter Tool that provides an excellent result and does not require any technical expertise. It is an outstanding solution to reduce PST by its Size, Folder, Date, Year, and Email ID. The software is capable to divide both ANSI and UNICODE format PST files without any file size limitation. With this safe and secure application, compress Outlook data files with no alteration and modifications to the Original PST files data.
Follow the Steps to Reduce PST File Size without Outlook
Step 1: Download and install the PST Splitter Software.
Step 2: Choose Outlook format & Split option (Split by Size, Folder, Date, Year, and Email ID)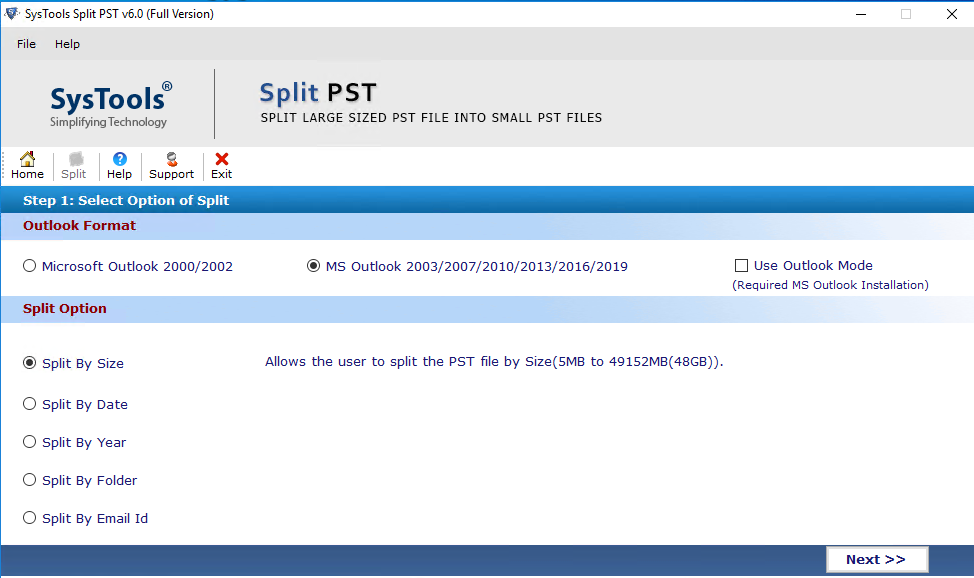 Step 3: Specify size in MB in which you want to compress PST file without Outlook & Click Next.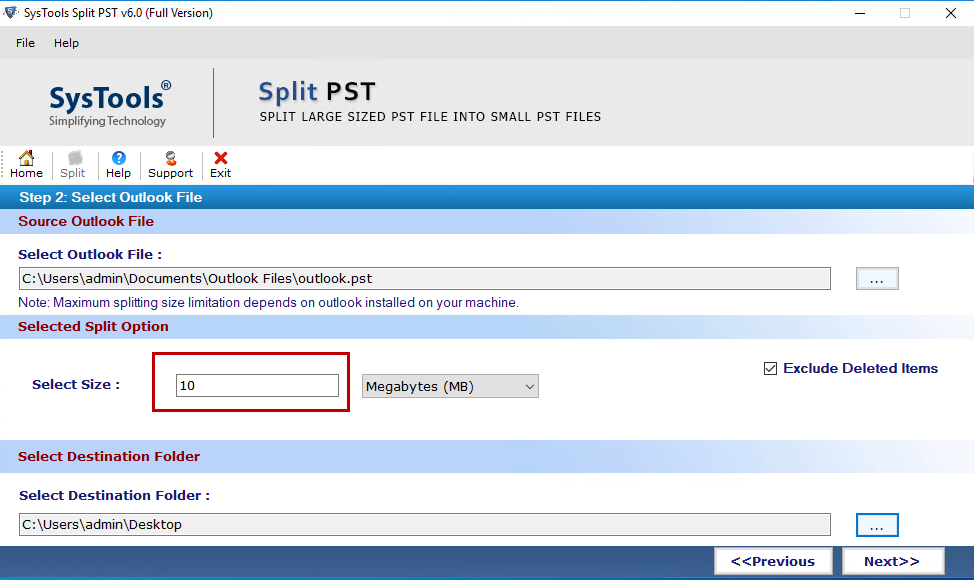 Step 4: Check Status Report and click on Split button to begin the process.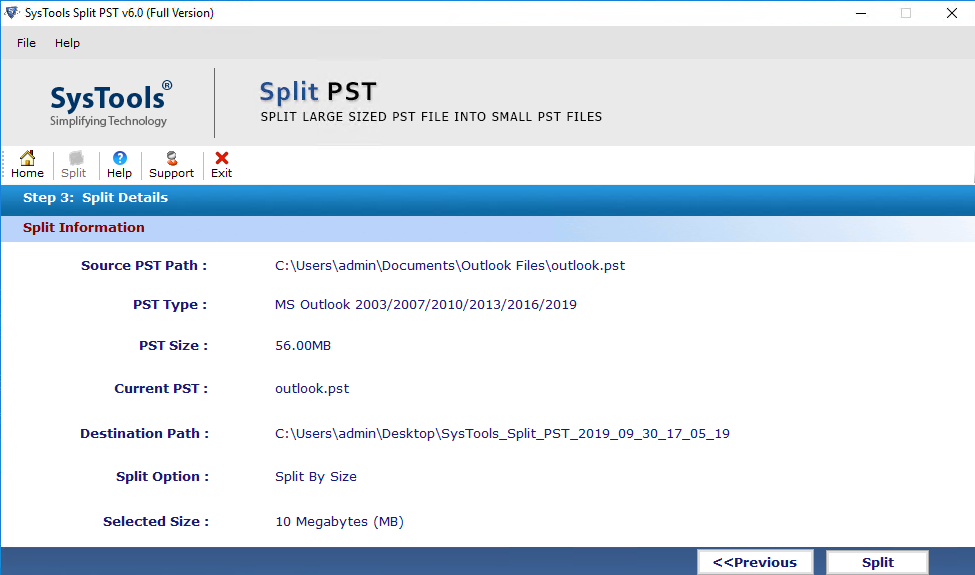 Conclusion
A large PST file can lead to serious troubles for Outlook users such as severe corruption issues, etc. In this article, we have provided both manual and professional solution to compact PST file without opening Outlook. For better results, use recommended safe PST Splitter Software enables to reduce PST file size without Outlook any hassle.