How to Combine Multiple VCF Files into One VCF File Manually
Summary- Do you want to combine multiple VCF files into one VCF file? Or are you looking for a way to convert a vCard file to a vCard file? If so, you need to follow this blog. Here we are going to share some easy methods that can help users to merge vCard files without any problem. But before we dive deeper into the article, let's take a look at the user's questions.
User-1 Request: "I have decided to import all my VCF files from my computer into my Gmail account. But here's the problem, Gmail can't import multiple VCF files at once. So if anyone knows the process of Combine Multiple VCF Files into One VCF without losing any data, just let me know."
User-2 Request: "I have over 550 VCF files stored on my PC. So I wanted an easy solution that helps me merge all my vCard files into one. Because it saves me the trouble of sharing multiple vCard files at once." If anyone has the knowledge to merge vCard files. Let me know."
Effective Steps to Combine vCard Files into One
1

→

Download

and

Open

the VCF combine tool. 

2

→ Add VCF file with "

Add File

" or "

Add Folder

."

3

→ Use "

Export

" or "

Export Selected

" as you need.

4

→ Opt for "

Merge vCard

."

5

→ "

Browse

" for saving file. Then, tap on "

Export

."
Why Do You Need to Combine VCF Files
VCF files can be easily viewed from text editors such as WordPad and Notepad.

Converting VCF files gives users the most convenient and fastest way to share information with others.
Managing data from a single VCF file rather than multiple VCF files is very easy.
The biggest advantage of vCard for customers is that it is a very convenient way to store your data. Instead of entering your details manually, they can simply scan the code from a business card or email signature.
Manual Method to Combine Multiple VCF Files into One VCF File 
In this section, we are going to elaborate on the manual solution If you want to use the manual technique, follow the steps outlined below.
First, you need to copy all the VCF files you want to merge.
Then open Command Prompt and write cmd and press Enter option.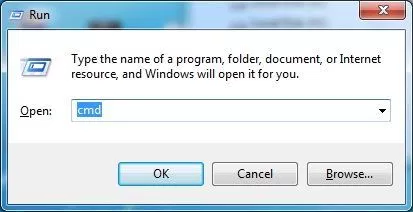 Now you need to go to the folder where all your VCF files are stored.
Now type the command as written below.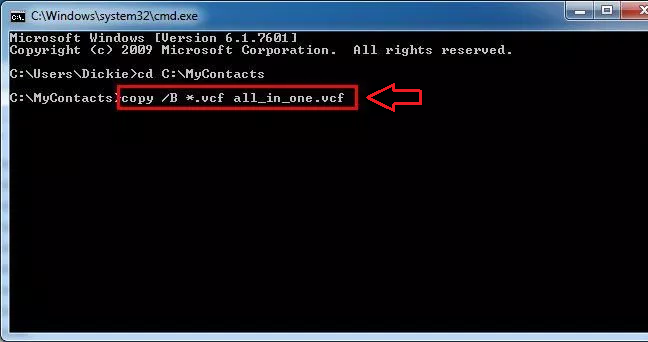 Here all your VCF files are combined into a single file. The merged file is named all_in_one.vcf.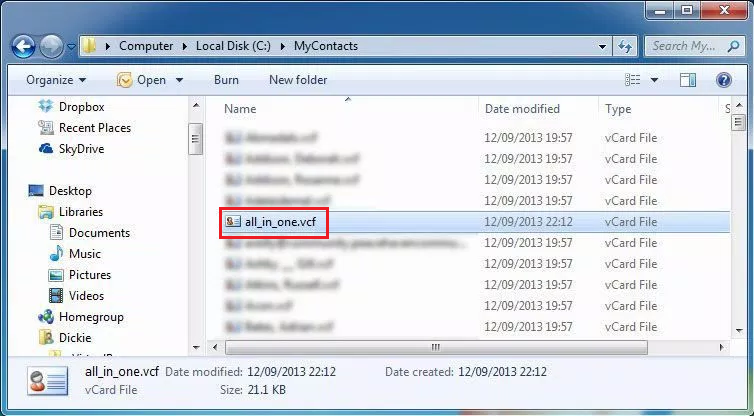 Disadvantages of Free Solutions
The above free solutions are not suitable for non-technical users. The whole process requires technical knowledge to implement it. Moreover, it is a very time-consuming process that can take a lot time, and sometimes users may lose their valuable data while combining VCF files.
Automatic Solution to Combine Multiple VCF Files into One VCF File
If you need efficient and smart conversion, VCF Merge Tool works perfectly. In fact, the software is advanced and can intelligently merge VCF contacts into one VCF file. Let us know the complete conversion procedure.
This Software is the right solution if the user wants to merge multiple vCard files without any technical knowledge. The tool can handle files of different versions like 2.1, 3.0, and 4.0. This tool also helps to batch merge VCF files without data loss. Furthermore, the app offers its users a free trial and 24/7 support. To merge your vCard files, you need to follow these basic steps.
Read More: How to Split Single VCF to Multiple VCF File.
Steps to Guide to Combine Multiple VCF Files into One VCF File
As a first step, you must

Install

the

Tool

on your PC.
Next

, select

Add File or Add Folder depending on your requirements
Select the Browse button to locate the file to be converted. 
Select the Export button and move to the next step.
Why Should We Use this Software?
Keep Compete Contact Details
The software saves all the information related to the contacts even after merging the VCF files. When merging vCard files the contact details like name, address, email, phone number, photo, description, and much more are saved perfectly. You will find all these contacts in the generated VCF file.
Free From File Size Restrictions
There is no limitation to the size and number of files. Using this advanced software, users can easily upload any number of VCF files to the software panel. In addition, the number of VCF files is not limited by this application. With this software, a number of VCF contacts can be added to smoothly merge them into one VCF file.
Merge Desired VCF Contacts
This program allows users to load selected VCF files individually or add VCF folders at once to combine them into powerful VCF files. Before starting the process of merging VCF files, the utility will scan the added VCF contacts completely and display a list of contacts with their numbers. It will help users to intelligently combine VCF contacts into one VCF file.
No additional tools are needed to combine VCF Contact files with this smart application. It can easily merge standalone vCard files. To guide users through the full merge process, screenshots and work guides are available. 
Support Any Version of the VCF File
The software supports all VCF files well. No matter what device and platform your VCF contacts come from, the app loads them and merges them together. It includes VCF for iPhone, Outlook, G Suite, Skype, Gmail, iCloud, Blackberry, smartphones, and more.
Compatible with all Windows Operating Systems
No matter what Windows platform you use, this software works on all Windows operating systems, including Windows 10, 8, 7, and more.
Conclusion
In this blog, we describe two methods to combine multiple VCF files into a single VCF file online. One is to merge the VCF services, which is a bit tricky and time-consuming to convert. The second method is an automated solution, which is easier and provides 100% secure results. You can simply merge vCard contacts into a single file without any loss to the software. for more information, you can download and evaluate the free version of the software and contact our team for further inquiries.
Frequently Asked Questions
Ques: Can I preview the VCF files in this VCF merge tool?
A: Absolutely, you can completely preview the loaded vCard files using this vCard merger tool. In addition, it helps you to sort the contacts by size, date, and alphabetical order. 
Ques: Which vCard and Windows versions does this tool support?
A: It supports from the latest Windows 11 (64-bit) to the oldest Windows like 7, 8, etc. Apart from this, you can use it conveniently with all vCard versions such as 2.1, 3.0, and 4.0.
Ques: Does this VCF file merger tool support vCard created from different platforms?
A: Yes, this merger software is compatible with different platforms such as iPhone, Outlook, G Suite, Skype, Gmail, iCloud, Blackberry, smartphones, etc. As a result, it helps you to effortlessly interact with several ecosystems, increasing your productivity. 
Ques: Is it reliable to use this vCard merge tool?
A: Absolutely, this program is safe and secure to use. As it preserves every information of the VCF file in the resultant file. Here, the information can be name, address, image, attachments, etc.
Read More: