Help!!!! I can't Edit PDF on Mac OS X
The problem is I can't edit PDF on Mac or more precisely Preview won't let me edit PDF. Recently, I was given a task to update some documents which are in PDF format. But, due to some restrictions I guess, I am not able to edit it. Also, there are many PDF documents with me that need to be updated. I have to print them and need to assemble some PDFs together. But apparently, I can only view but cannot edit it. Please, suggest some way or tool to remove restrictions for Mac OS.
I have been in a similar problem where the original document can't be changed preview. This generally happens when there are owner-level restrictions in the documents. It prevents you from doing any activity with the PDF or it allows some of the activities.
So, you have to remove Owner level restrictions from the PDF or talk to the owner and ask them to allow for the activities you want to do.
But, the challenge is the owner himself/ herself forgot the password or is not currently present to give permission. Now you are stuck with locked PDFs. And, you don't know how to unlock PDF on MAC OS?
Well, you have to take charge and look for the best-automated option which can remove those restrictions. So that you can change "I can't edit PDF on MAC OS X" to "I did it!".
I would like to suggest SysTools Mac PDF Unlocker. It will swiftly remove Owner-level restrictions and lets you print, edit, copy & extract pages. You can also Comment, Sign & assemble the document without any trouble.
Easy Tip

Double-click on PDF document on your iMac or Apple MacBook, an application called Preview will get opened. This application has a "Annotations Toolbar' facility that will  unable you to edit the PDF document. But, you can't edit/change what's already in the document.
See For FREE Edition Tool And Limited Time Period Offer (HURRY!)
SysTools offers you a FREE edition of the software so that you can actually try it before you own this amazing tool.
Free Edition of the tool will have 'SysTools Demo' watermark on the resultant PDFs.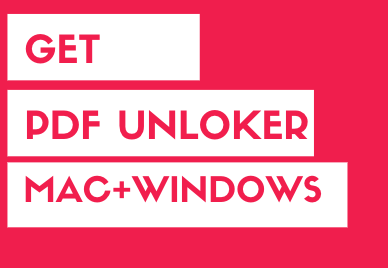 Get bundle offer: For the price of one – click on the Purchase Button 
How to Use the Tool?
1. Choose 'Add File(s)' or 'Add Folder(s)' button.
No need to enter the permission password. As this software is capable to remove PDF restrictions without needing the password.
2. Click 'Unlock'.
3. Now you can see all the permissions are enabled. Lastly, click on 'OK'.
After using this tool, you will be able to edit your PDF file with the help of "Preview' in the Mac system. Here I have mentioned some how-to steps to edit in Preview for your convenience. 
Steps to fill in and sign a PDF File on Preview:-

Open the PDF in Preview.

Click Tools > Annotate > Signature> Manage Signatures.

A tab will appear with Trackpad option which will help you to create your signature.

Lastly, save your signature by clicking on 'Done'.

Steps to edit a photo in Preview:-

To annotate a photo:

Choose Tools > Annotate to see options.

Preview also provides the options to rotate or flip the image:

Check its toolbar

To adjust the size:

choose Tools > Adjust Size.

To crop a Photo:

keep your cursor where you want to start cropping on the photo >> drag it to the point till you want crop >> Choose Tools > Crop.
A High-end Tool With Numerous Features
If your PDF has editing restriction on Mac OS then, you should definitely invest in this tool because of its numerous benefits:-
Unlock protected PDF on Mac OS X for printing, editing, copying & extracting pages.
Unlock PDF document for Commenting, Signing & Document Assembly.
Add Files / Folders option to remove restrictions from bulk PDF files to SAVE TIME.
Eliminate Owner and Known User Level Password protection from PDF.
View the status of the PDF document going PDF Unlocking process.
Remove restrictions from Advanced Encryption Standard (AES & RC4 128 & 192 bit) encrypted PDF.
Does not need Adobe Acrobat installed to unlock locked PDF on Mac.
You can directly print the resultant PDF files by selecting the 'Print' radio button. 

(NEW)

As this tool can remove both user password and restrictions from PDF files, you can choose to keep the user password after removing restrictions by using 'Keep Source Password in Output PDF'.

(NEW)

 
Preserves all the Attachments in the PDF
After the PDF unlocking process is completed:-
You will get all the attachments present in the PDF documents without any loss.
Additional PDF documents, images or other file formats will remain the same.
The tool completely maintains data integrity.
You can remove Owner-level restrctions from PDF using Adobe Acrobat Pro Dc. But, It will ask you for Permission Password.
Also Read: Know How to Break PDF Password / PDF Encryption?
See What Tech Expert MacUpdate Thinks About This Tool
Their tech experts tried this tool and appreciated it so much for its high-end functionalities at an affordable price. They even listed this product on their website as they highly recommend this software to those who can't edit pdf on Mac OS because of restrictions.
Also, Out of 408 people who have reviewed it, 74% have given a 5-stars rating to this tool. They are quite happy about this product and smoothly editing their PDF with NO RESTRICTIONS.

You can press this Green Button and Download the Tool for FREE and See For Yourself before you own the tool!
I can't edit PDF on Mac (Preview won't let me edit PDF), Please Help!
If the original document can't be changed preview then, download SysTools Mac PDF Unlocker to remove restriction from the PDF document. FREE Edition Available!
What type of restrictions can this tool remove?
This tool can remove all the possible restrictions and lets you print, edit, copy, extract pages, comment, sign & Assemble documents.
I have many PDF files with me, suggest some way that I can remove restrictions from all the files at once!
SysTools Mac PDF Unlocker provides Add Files / Folders option to remove restrictions from bulk PDF files to SAVE TIME.
Do I need to install Adobe Acrobat to run this tool?
No, you don't need to install Adobe Acrobat to run this tool.
Which versions of Mac OS X, does this tool supports?
SysTools Mac PDF Unlocker supports Mac OS X 10.15 (Catalina), Mac OS X 10.14 (Mojave), Mac OS X 10.13 (High Sierra), Mac OS X 10.12 (Sierra), Mac OS X 10.11 (El Capitan), Mac OS X 10.10 (Yosemite), Mac OS X 10.9 (Mavericks), MacOS X 10.8 (Mountain Lion).