The Best 6 Email Alternatives to Thunderbird
Mozilla Thunderbird is among the most popular desktop email clients on a global scale. However, as seen with most things, not everyone thinks highly of a popular product.
Although Thunderbird is free, it may not suit your needs. If you are looking for email alternatives to Thunderbird, here are some of the best ones.
1. Postbox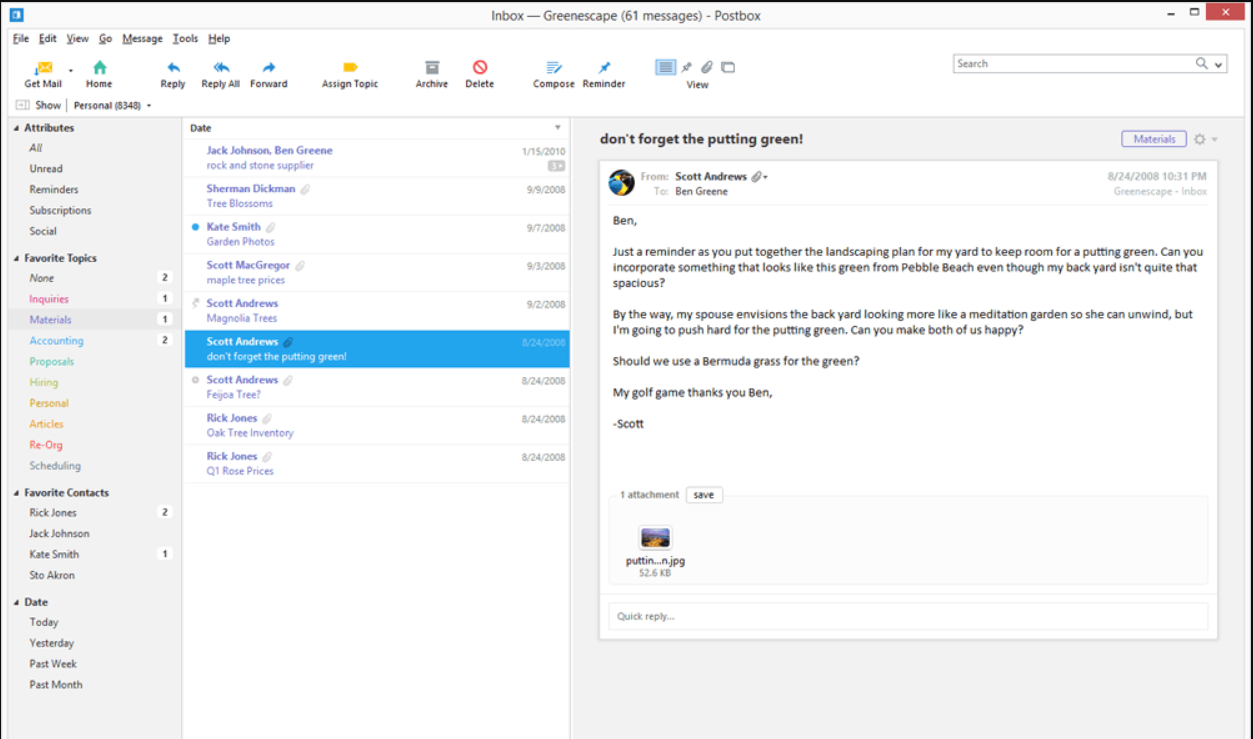 An intuitive email client that's simply beautiful. It is definitely the Photoshop of desktop email clients. Postbox email client, like Mozilla Thunderbird, is available for both Mac & Windows.
It has a Quick Bar that enables swift actions like copy, move, tags, labels, etc. Also, with the Quick Search feature, fast and accurate searches are just a click away. It even allows finding documents and images saving you from the horror of going through those thousands of emails for a single image.
It works on tabs. Whether it's emails, folders, contacts, images, you name it, everything is accessible at once with tabs.
Postbox is paid but it's worth every penny. You can also get a free trial version.
2. Microsoft Outlook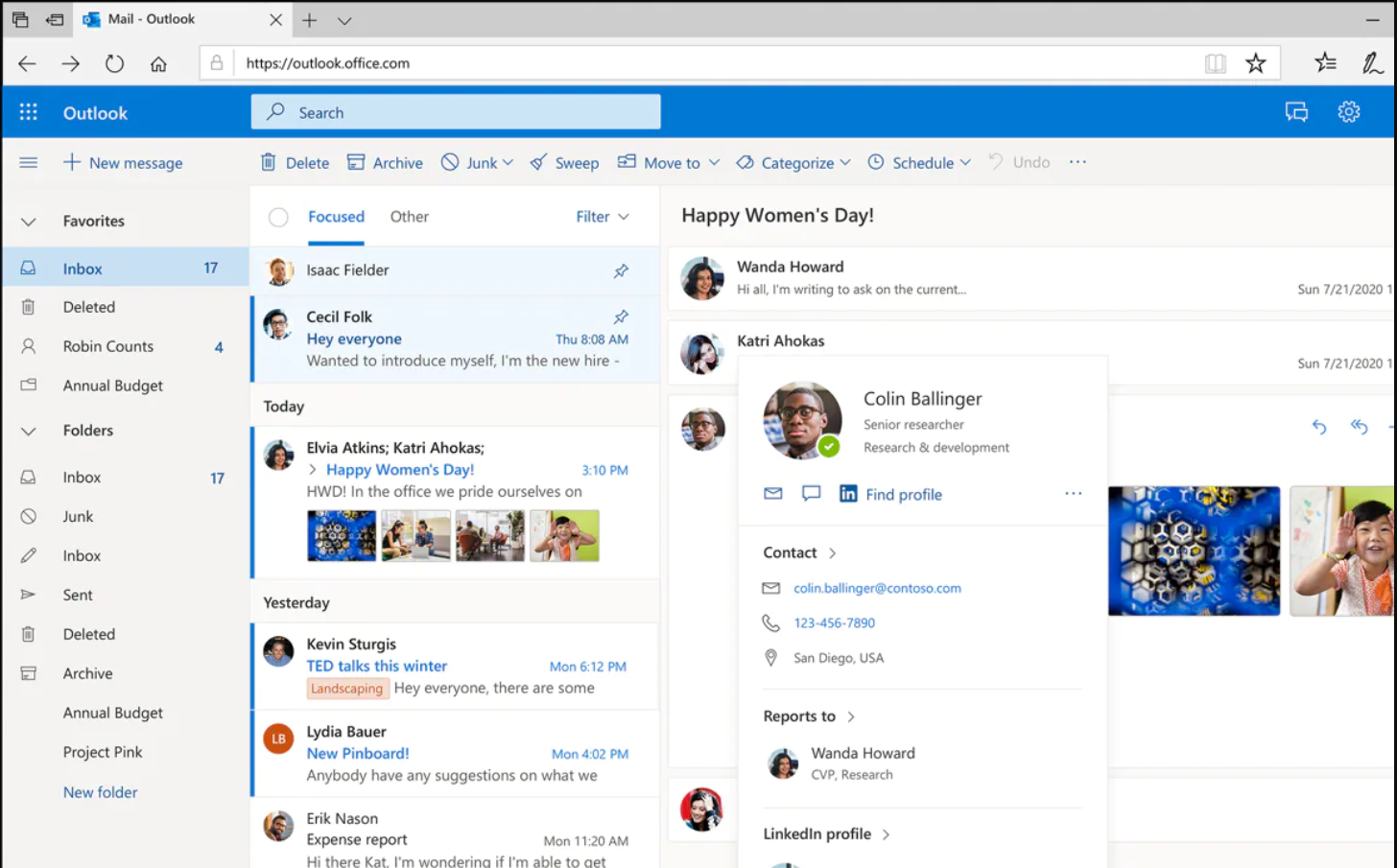 Outlook is the classic email client of Microsoft. It comes with an MS Office package and is among the most popular desktop email client for professionals.
The ability to customize it with the add-ins and frequent updates by Microsoft keeps it ahead in the email client race. It has an interface that makes it look like other MS apps that adds to its familiarity with users.
Outlook focuses more on Inbox management and its search bar finds anything and everything from the email account.
If you keep your emails on your local system and wish to move to Outlook, then read the article on exporting Thunderbird emails to PST.
3. eM Client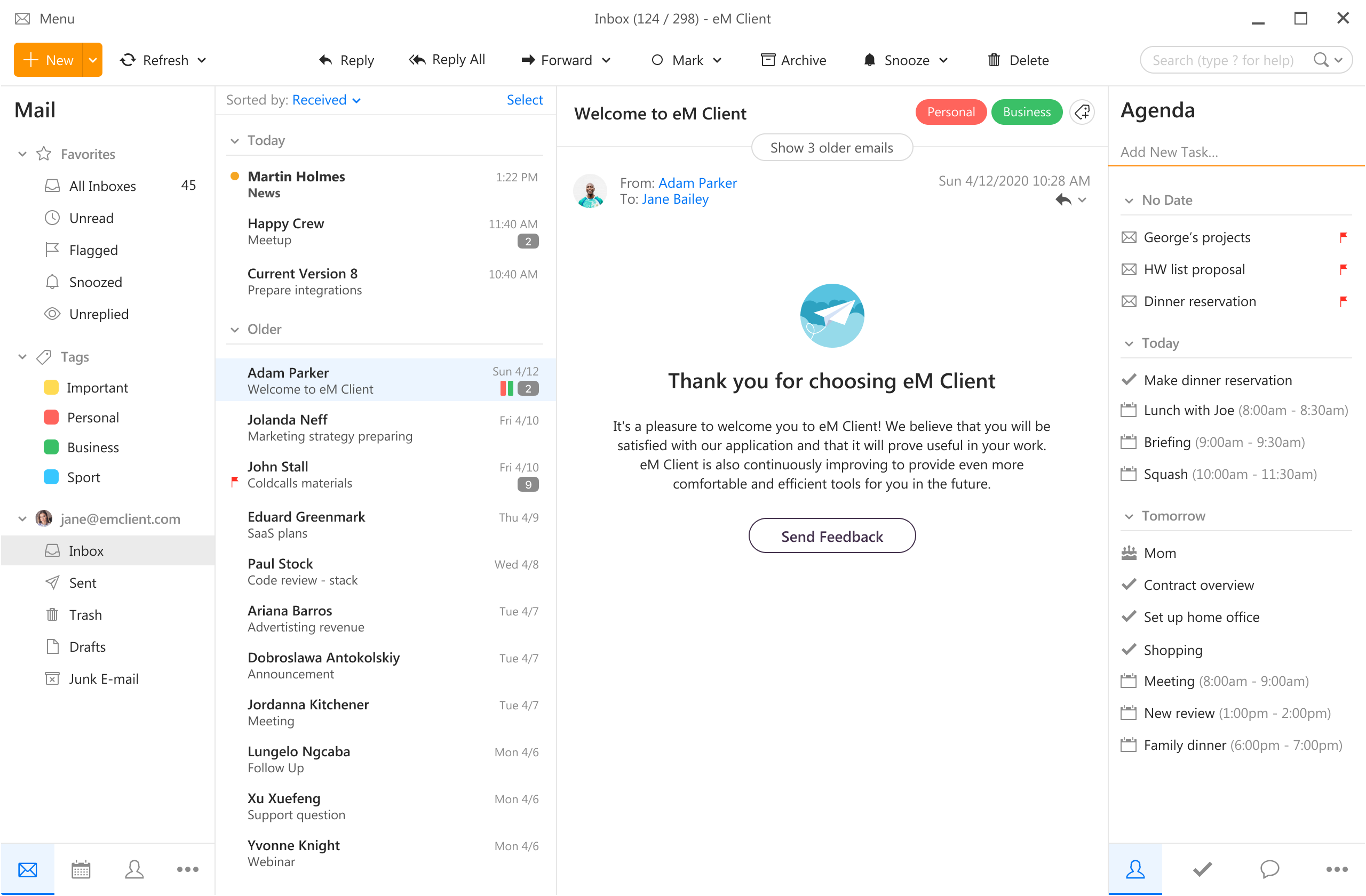 eM Client is a Thunderbird mail alternative that has been around for more than 10 years. Its interface takes hints from MS Outlook with separate sections for emails, contacts, and calendars.
This tool is available for both Mac & Windows and is actually available for free for non-commercial use. With features like message encryption, snoozing emails, watching for replies, translation, and more, it is one of the more popular user-friendly email clients for desktop.
Keep in mind that the free tool allows adding only two accounts. With a one-time license fee, more features are up for grab that includes unlimited accounts and VIP support.
4. Mailbird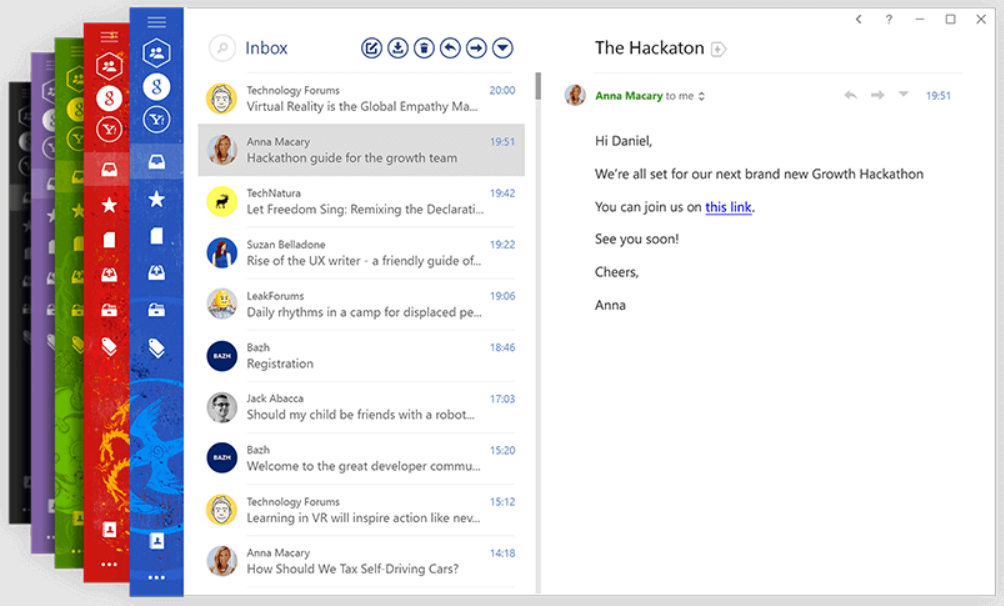 Mailbird has loads of built-in apps with customizable interfaces. The feature set that makes Mailbird stand out from the list of desktop email clients is its easy apps integration. From Whatsapp, Twitter to Google docs and calendars, this diverse range of apps keeps the workflow going.
Mailbird Personal is free, while Mailbird Business is available on a one-time license as well as subscription-based.
5. The Bat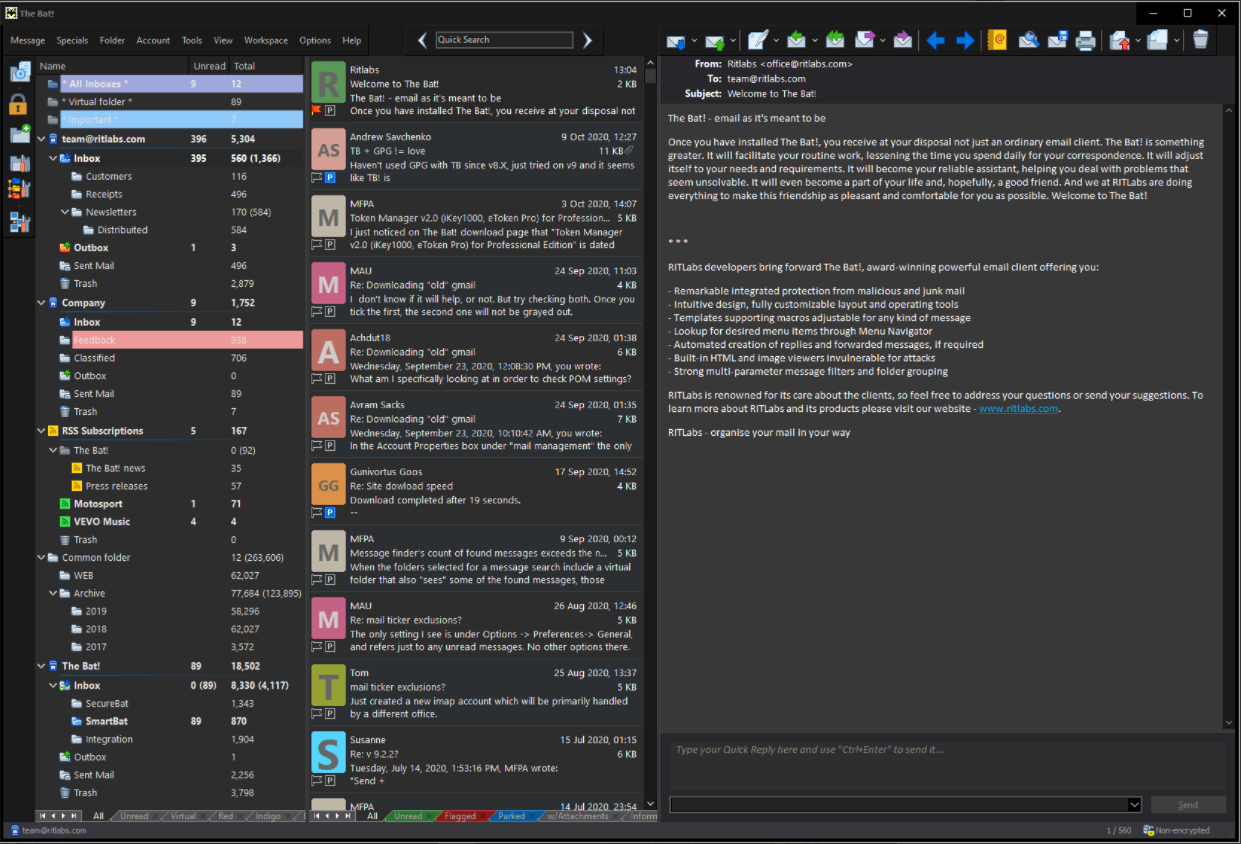 Beauty and ease are not the choices of everyone. Some people put emphasis on security. And The Bat email client stands out in this arena. With PGP, GnuPG, and S/MIME protocols, the tool protects your emails against security risks. So, for privacy-conscious people, this is a good Thunderbird alternative.
The Bat is a paid tool that is available on a free trial basis for 30 days.
6. Spike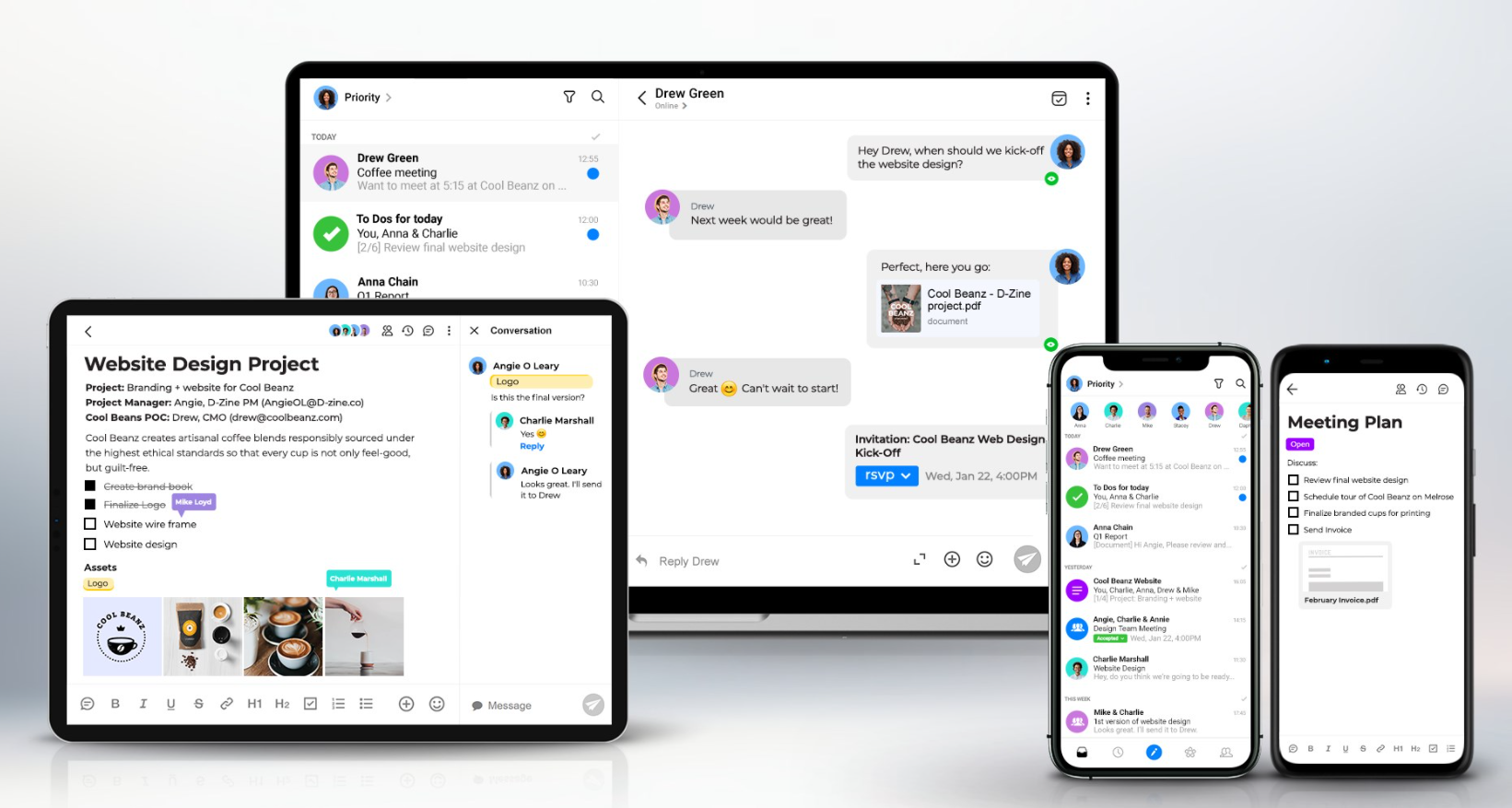 Spike is not just an email client. It's the blend of a messenger and an email app. In simple terms, it shows you emails as bubble chat conversions making it easier to collaborate and handle projects.
The tool is available for Windows, Mac, Android & iOS.
Spike is free for non-commercial use. The business users can pay per email account and get voice and video meetings support.
Have you Decided Yet?
Using Thunderbird is a great way to manage multiple email accounts with a single interface. Now, that you know about the best alternatives to Thunderbird, it will be easier for you to switch to it without affecting your workflow.