High-Performance Bare Metal Server For SAP Hosting
Get powerful infrastructure with Bare Metal Server that SAP services support for high performance at the best price.
SAP application is built for giants. It requires a strong infrastructure to operate in a smooth manner. And if you want to host such an application that holds business-critical data, you need a powerful hosting platform and server.
While we know deploying SAP ERP is very cumbersome, but choosing the right hosting server is an easy choice – Our Bare Metal Server Solution.
With a bare metal server, you only need to manage the software part, while we take care of all the hardware essentials. This includes everything from physical infra-storage, networking, power, cooling to a secure data center.
Top SAP Hosting with Bare Metal Server
We host SAP ERP applications on Asia's largest Tier-4 Data Center that facilitates 99.995% Uptime. You get to work remotely on the Bare metal infrastructure of your choosing from 6 high-performance plans. The power of our enterprise-grade physical server works towards boosting your business productivity at a low upfront cost.
While we manage the infrastructure, our customers have complete control over the Operating systems and all the associated applications with their SAP solution and workloads.
Benefits of Using Bare Metal Server for SAP Hosting:
Bare Metal is the best fit for massive SAP workloads. It gives the customers good options to modernize their challenging workloads. Some of the benefits of using Bare metal for SAP Hosting are as follows:
Low Upfront Cost
Enterprise standard hardware
High server performance with SSD
99.995% SLA Uptime
Root Access for complete control anytime, anywhere
SAP Infrastructure as a Service
Run on DDoS Protected Bare Metal Server
SSD Storage & Dedicated Resources
Highly secure Tier-4 Data Center
Backup Facility
Get Free Trial for 30 Days to explore the practical benefits that the dedicated bare metal infra offers.
Dedicated Bare Metal Infrastructure for Multiple SAP Applications
It does not matter whether you want to host
SAP HANA,
HANA S/4,
Or SAP Business One ,
We provide the best infrastructure for all these SAP Solutions with rock-solid security as well as 24/7 support. You are ultimately getting a high-performance Bare metal server for SAP hosting.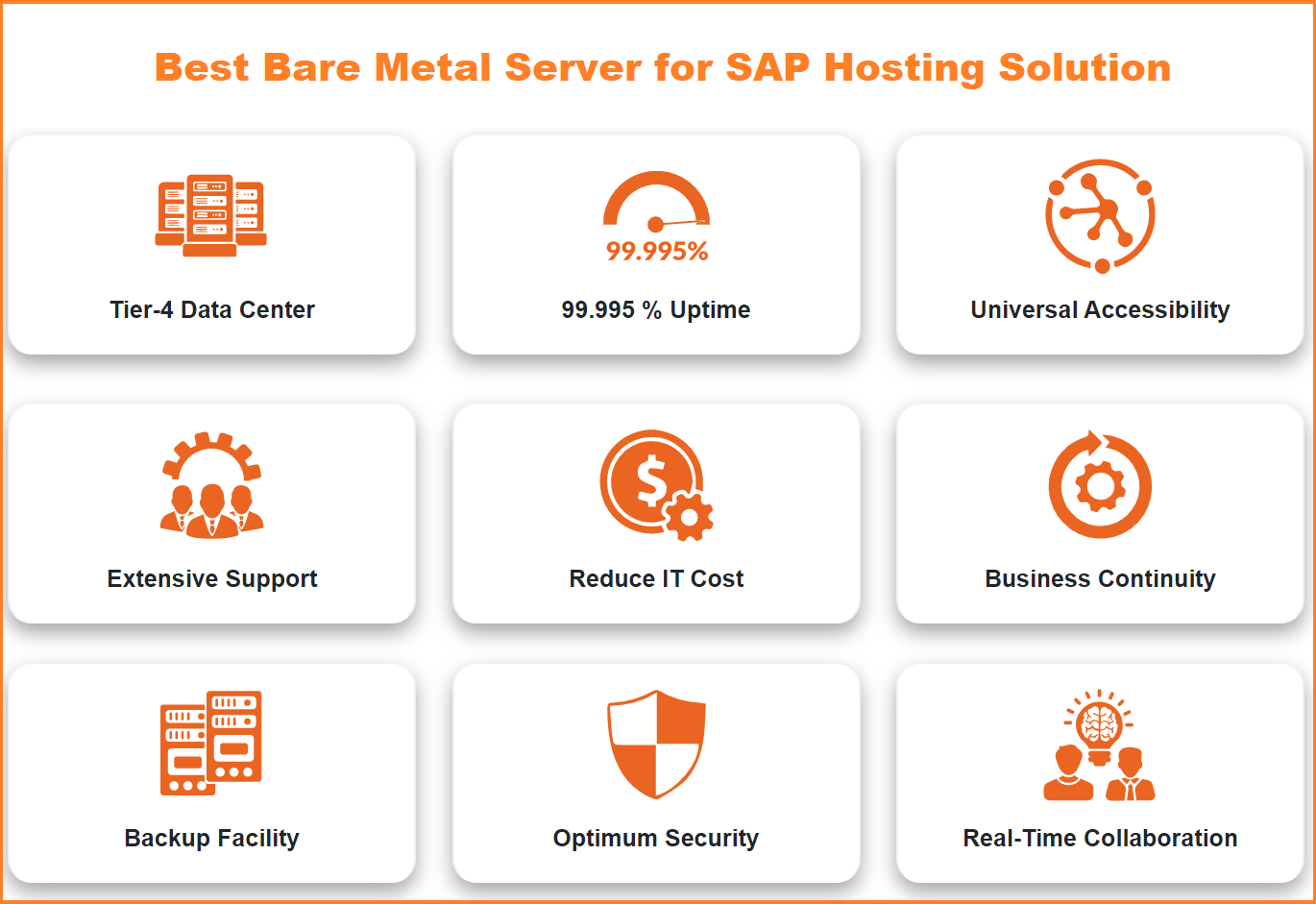 We ALSO have Multiple Cloud Hosting Options
There are multiple SAP cloud platform hosting options to choose, like, SAP on:
Azure Cloud
Alibaba Cloud
Google Cloud
AWS
IBM Cloud
NetForChoice Cloud
So, regardless of what you want, what your business needs, we have all the options covered whether it's Bare metal server for SAP Hosting or others.
Some FAQ's Regarding SAP Hosting
Q. Do you also provide SAP licensing?
No, our expertise lies in SAP infrastructure-as-a-service. Licensing can only be done by the end-user.
Q. What are the key offerings of your SAP Iaas Hosting?
You get:
High security standards
Fast scaling
Disaster recovery
Better stability and reliability
Flexible plans
Managed support
Geo-redundant data center
No severe downtime issues