Effortlessly Transfer Emails from Gmail to ProtonMail – Detailed Solution
In this technical guide, we'll cover how to transfer emails from Gmail to ProtonMail easily and quickly. Read the article till the end to know the tried and tested professional solution.
ProtonMail and Gmail are both well-known email services. However, if you compare them then in terms of privacy and security, ProtonMail remains above Gmail. Thus, most organizations prefer ProtonMail over Gmail for their day-to-day business operations. There are several other reasons why users choose ProtonMail. Let's have a look at those.
Why Users Migrate From Gmail to ProtonMail?
Apart from privacy and security, ProtonMail offers end-to-end encryption and it follows a strict data privacy policy. In addition to that, the user interface of ProtonMail is clean and user-friendly.  
Secondly, it doesn't scan emails for the purpose of Ad Targeting, as Google does with Gmail. Another interesting fact about ProtonMail is that it allows you to send self-destructing emails, which automatically disappear from the recipient's inbox after a specified time. This feature can be helpful for protecting confidential information.
Apart from the above advantages, it is an open-source platform. That means the code is transparent and can be audited for security. In contrast, Gmail doesn't provide this level of transparency. That's why most users prefer to transfer emails from Gmail to ProtonMail.
Above all, ProtonMail allows its users to use custom domains for businesses and individuals who want their email addresses to look professional.
Now, let's cover how you can migrate from Gmail to ProtonMail.
Different Methods to Transfer Emails from Gmail to ProtoMail
First of all, ProtoMail offers an in-house method through which you can import Gmail data to ProtonMail. Technically, it's based on the email forwarding concept. The steps are as follow:
Transfer Existing Emails
Go to your ProtonMail account. Then navigate to

Settings

>>

All Settings

>>

Import via Easy Switch

>> select

Google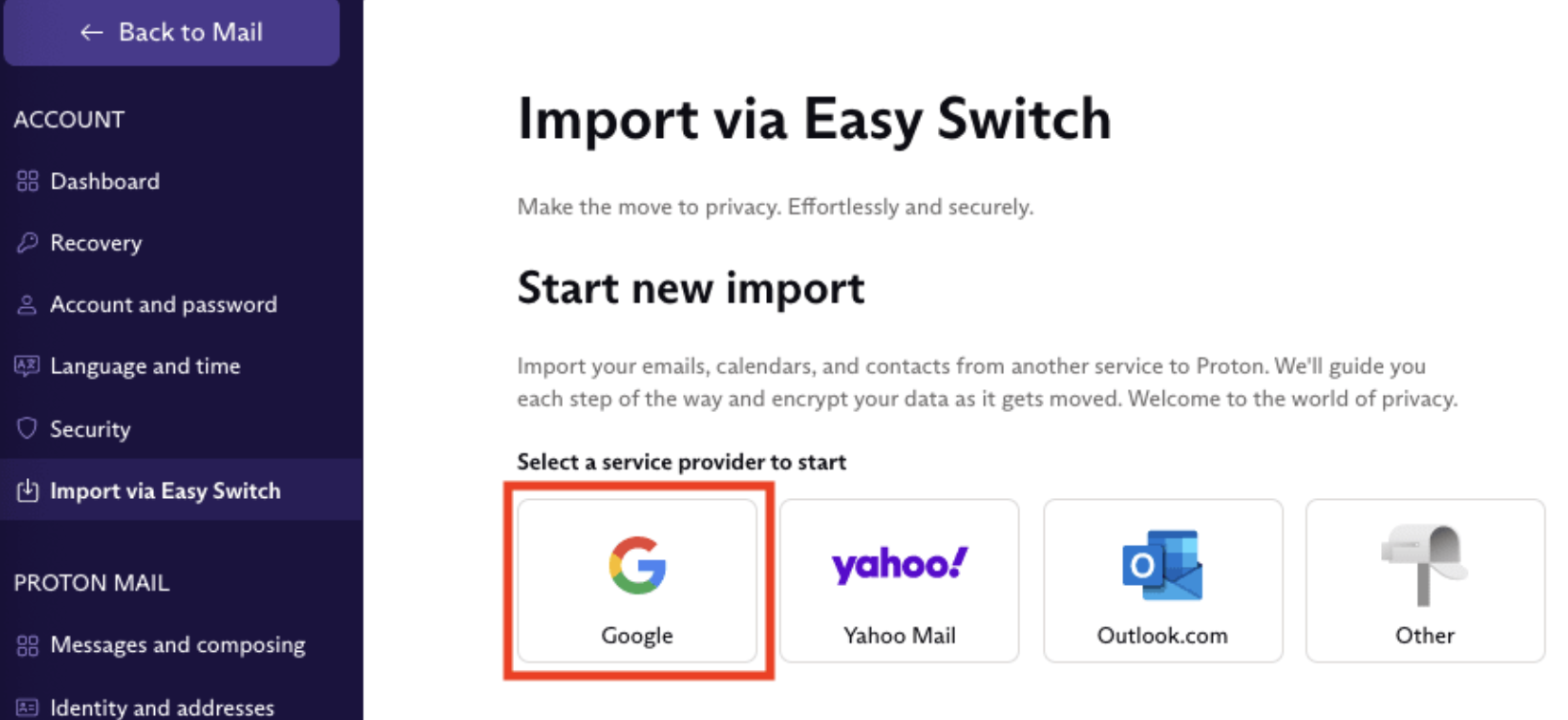 After that, choose the files (Email, Contacts, and Calendars) you want to import.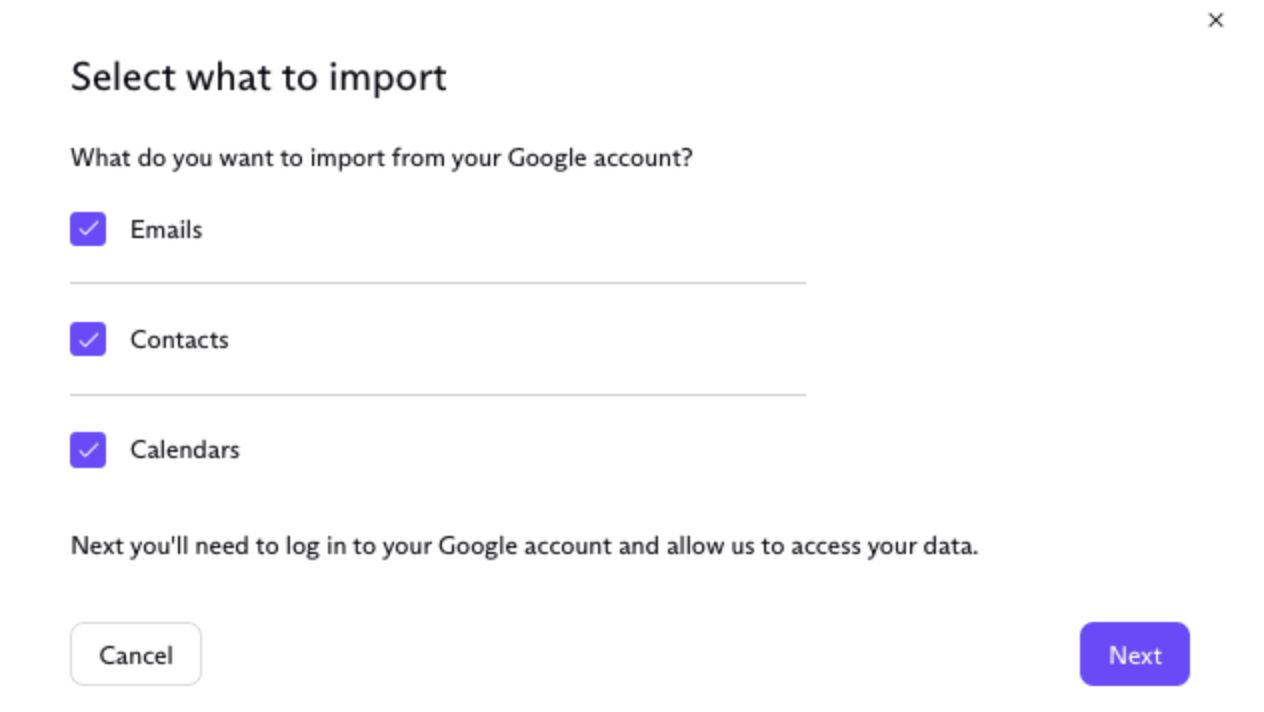 Next, you will see the below prompt screen. Click Continue.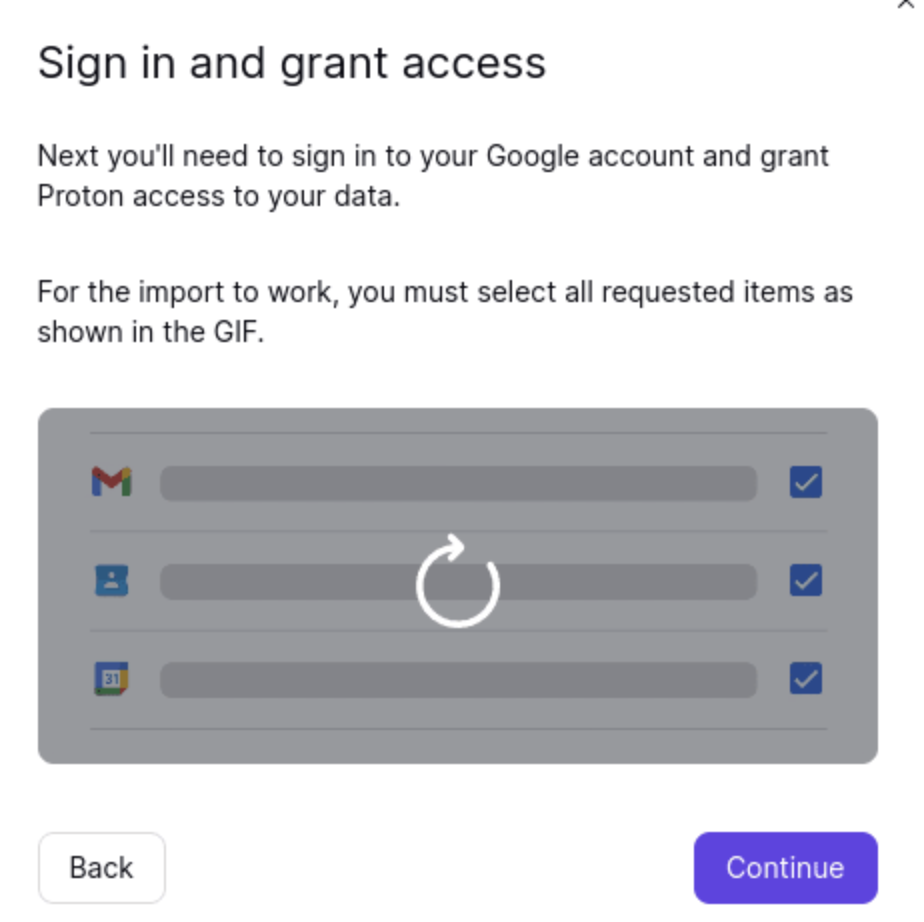 Then, Log on to your Google account to grant permissions and click Continue.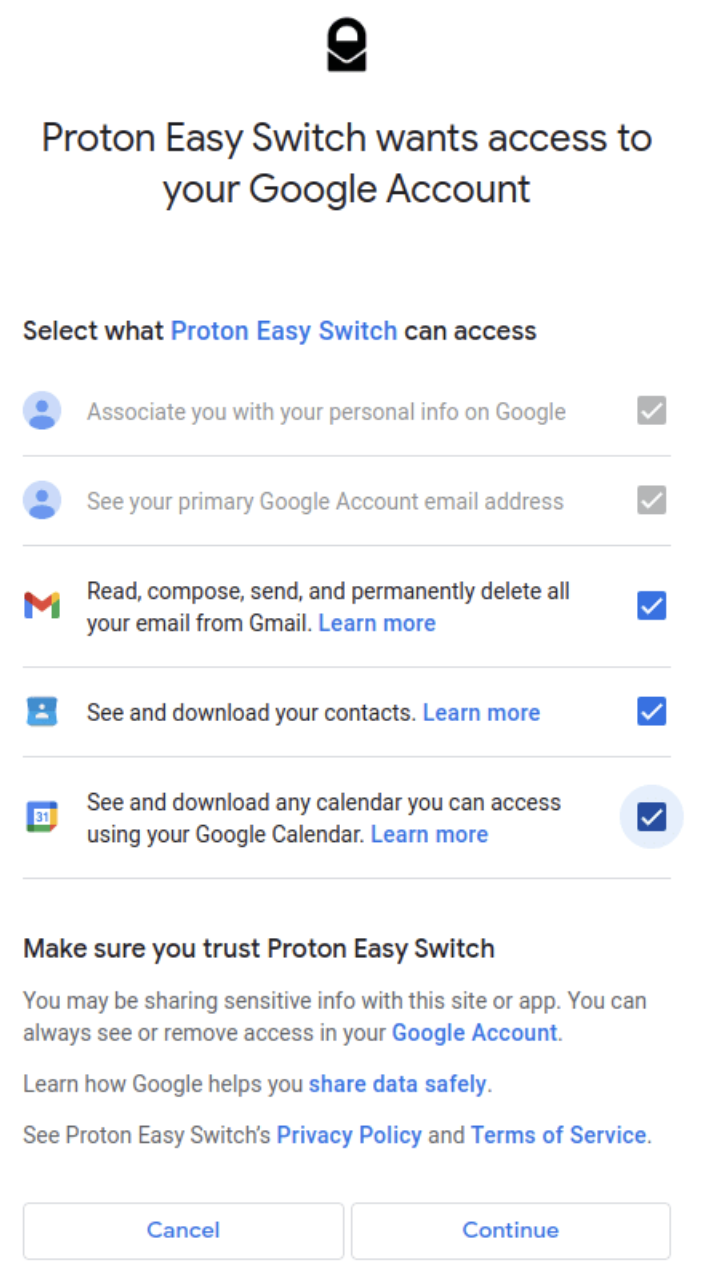 Setup Email Forwarding
This step ensures all the new messages received in your Gmail account also arrive in your ProtonMail account.
Open your Gmail account and click on the gear icon

Settings

.

Under the

Forwarding and POP/IMAP

section, click on

Add a Forwarding Address

.

After that, enter your ProtonMail email address and click

Next

.

Then, go to your ProtonMail account where you'll find a confirmation message from Google.

Now, click on the email verification link to confirm forwarding.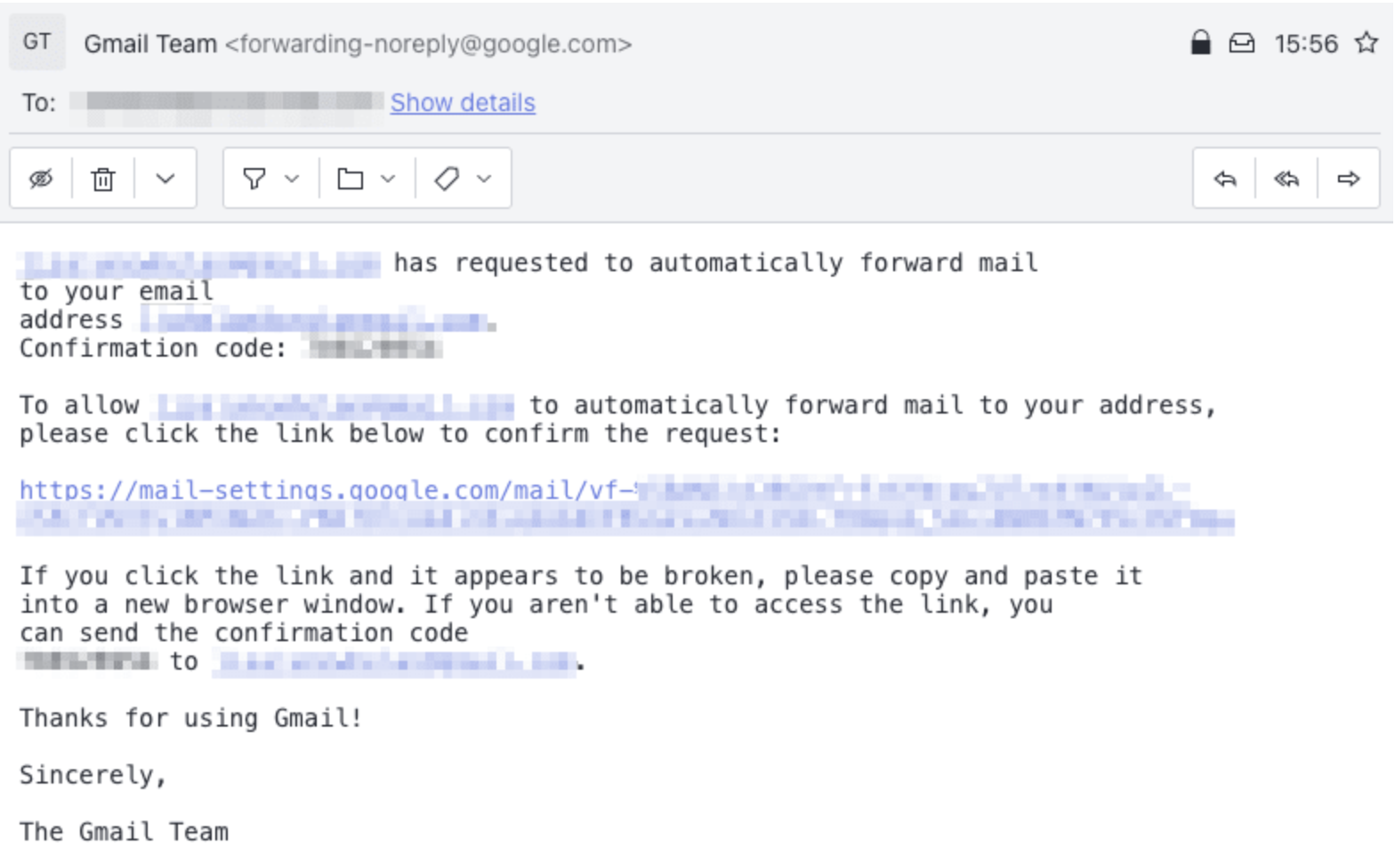 After that, Refresh your Gmail account page, and click on

Save Changes

.
Inform Your Contacts
You need to then communicate with your contacts about your new ProtonMail account. 
[P.S. ProtonMail imposes limits on the number of emails you can send at once to avoid phishing attempts.]
Update Online Accounts (This step is optional)
After following the above steps, you need to connect your online accounts to ProtonMail. If you want ProtonMail as a point of contact instead of Gmail, then after you transfer emails from Gmail to ProtonMail you can update the email address (as ProtonMail) in your different online accounts (such as bank, social media, online shopping, or entertainment accounts.)
Limitations of Manual Approach
It's a tedious process to begin with. Besides it may create confusion if you have to transfer emails from more than one Gmail account.

Messages that are forwarded will go through Google's server. That means there will not be any end-to-end encryption after you transfer emails from Gmail to ProtonMail.

If you wish to decommission your Gmail account then the new messages will not get delivered to ProtonMail.
Now, the question comes;
How to Transfer Emails from Gmail to ProtonMail Effectively?
Google Mail doesn't allow any manual procedure for email migration. However, it supports an email forwarding option through which you can forward Gmail emails to ProtonMail. But, it is not feasible from a technical point of view. Thus, the best option to transfer emails is to use the Professional IMAP Migration Tool. With the help of the software, you can automate the entire process. Using the tool, you can also migrate bulk emails with attachments without any technical glitches. There are various other benefits of using the tool which we'll discuss in the coming sections.
Meanwhile, let's know how to use the tool.
Step by Step Working Procedure of the Tool to Transfer Emails from Gmail to ProtonMail
The tool mentioned above is very simple and easy to use. Here are the steps you can use to transfer your emails.
Step 1. Download the tool from the given link on your system.
Step 2. Then, click on the Continue button to proceed with the Gmail to ProtonMail migration.
Step 3. Next, select the Source IMAP account as Gmail, enter the User Name & Password, and Validate the same.
Step 4. Similarly, select the Destination IMAP account as ProtonMail, enter the User Name & Password, and Validate the same.
Note – If you don't find the email service on the list, simply click on Others, provide the credentials, and validate the same.
Step 5. If you have more than one email account to transfer you can do the same by clicking on the Add option.
Note – In case, you added the wrong account by mistake, then you can remove the same by clicking on the Remove button.
Step 6. After that click on the Advanced Settings option to apply the Date Filter option to customize the process to transfer emails from Gmail to ProtonMail.
Step 7. Once all the necessary fields are done, as per your requirement, select the checkboxes called 'Attach Source Account Tree' and 'Delta Migration.'
Step 8. Finally, click on the Start Migration option to proceed further.
After successfully performing the above steps you'll find your Gmail emails on the ProtonMail account. Now, let's take a look at the reasons why you should opt for the tool.
Signature Features of the Tool
The above-mentioned software has numerous benefits. Here are a handful of advantages of using the tool.
The tool is specially designed for Mac users and supports all versions of Mac devices to transfer emails from Gmail to ProtonMail.

You can migrate from multiple accounts simultaneously.

For migration of newly arrived emails, the tool provides the Delta Migration option.

It can save the migration history for future reference.

For transferring emails from a specific time duration, it gives the provision of a Date Filter option.

Moreover, it maintains the Folder Structure at the destination after the migration.

Apart from Gmail and ProtonMail, it also supports other IMAP-based email platforms for transferring emails.

It also supports email transfer from specific folders. That means you can include or exclude email folders from All Mails, Sent Mails, and other folders.
Conclusion
For different reasons, users may prefer to switch emailing platforms. Whatever the reason may be, if you have decided to transfer emails from Gmail to ProtonMail then can now freely do the same using the method explained in the article. The procedure is simple and smooth. You can easily migrate from Gmail to ProtonMail without any technical interruptions.