Quickly Resolve Thunderbird Cannot Send Large Attachments Problem!
Table of Contents

Intro
General Information

User Queries
Methods to Quickly Solve Issue

Ist Approach
IInd Approach

Wrap Up
Mozilla Thunderbird is a free and open-source email client, which is one of the reason for the users to adapt this email application for sending and receiving emails. Sometimes users need to send quite a big file as email attachment. And that's where Thunderbird cannot send large attachments issue comes in. This could be due to configured sizes, which may vary with respect to the server settings. In this blog, we will discuss the most relevant methods on how to send large files through Thunderbird email attachment in a comprehensive way.
User Queries
"Recently I have installed Thunderbird application on my Windows system. Being an Event Manager, quite often I need to work from home. Few days back, I had to send a collection of photos having high resolution. Somehow, while trying to send it to the recipient I failed to send it as an attachment file. The pic collection is quite large in size and while searching on Internet I found out that generally Thunderbird cannot send large attachments. I am quite confused and several workarounds to troubleshoot this didn't help me. Please suggest some solution to fix this issue!!"
"I am a frequent user of Thunderbird and Outlook email clients with respect to my working comfortability. I have an urgent requirement to share some files regarding my on-going project from Thunderbird to my Outlook profile. But while trying to do the same, I could not send large attachment through Thunderbird. I am not sure what went wrong as I have never tried to send attachment of this size before. Could someone guide some simple and accurate steps to troubleshoot this problem?"
Top Methods to Resolve Thunderbird Cannot Send Large Attachments Issue
Thunderbird email application allows to send an attachment having the maximum size of 5MB. So, what if the user who needs to send data more than this? So as to send larger files as an attachment, follow the below steps to know how to send large files through Thunderbird application.
Approach #1: Increase the Configured Maximum File Size
To begin with, launch Thunderbird application on your PC
Go to Tools menu and select Options from the given list
From the Attachments tab, select Outgoing to fix Thunderbird cannot send large attachments issue
Then, mark the checkbox corresponding to Offer to share files larger than and set the required value in MB
After this, try to check whether you are able to send large attachments in the email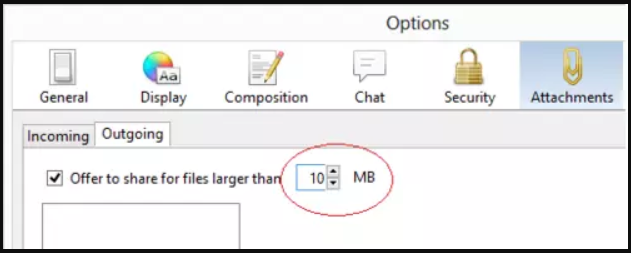 Approach #2: Link to Some Online Cloud Storage Service
In this workaround, a user needs to use an online cloud storage service to link your Thunderbird application. To process the same, follow the below-listed steps sequentially:
Launch Thunderbird and go to Tools >> Options to fix Thunderbird cannot send large attachments problem
Now, select the Attachments tab and click on Outgoing option
On the extreme lower part of the page, click on Add button to set up a filelink storage service
In the next window, select an online storage service from the given list of options and click on Set up Account button at the bottom of the page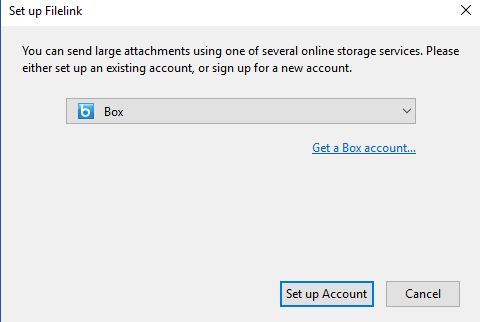 After this, a Set up dialog box will appear, now follow the simple instructions to set-up a cloud account. Just use one of the online storage services and forget about any issue when trying to send email attachments of big size in future.
Let's Wrap Up
Often Thunderbird users come up with queries like, Thunderbird cannot send large attachments. This issue can be brought down simply by following the aforesaid methods. As here, we have discussed the most simple and relevant methods in an understandable way. After following these methods, now Thunderbird users can easily send large attachments without facing any hassles.