Quick Fix to Save Outlook PST Files to PDF Format
Outlook PST file can store all your Outlook data items along with the attachments. But the problem with this file is, that it can be only opened with the help of Outlook. Now, if someone wants to share the Outlook data by maintaining its original metadata and formatting, they need to save PST to PDF with attachments.
PDF file is used worldwide due to their portability. Whether you are a Windows user or Mac, this file can be opened easily on PDF reader software without any trouble. This is the reason people prefer using PDF file for sharing purposes and when it comes to sharing Outlook data with attachments, there is no better option than to save Outlook data in PDF.
Similar Solution: Technique to Analyze Email Headers in Outlook
What is the Smart Solution to Save PST to PDF with Attachments?
The key factor in this query is attachment. Exporting attachments into PDF file is important. That is why one cannot take the help of manual methods as those techniques do not support exporting attachments. The smart choice, in this case, would be PST Converter Tool. This software can convert all Outlook emails into PDF file along with attachments. The file extension of the email attachment does not matter here. Here is what you need to do for implementing the smart approach to save PST to PDF with attachments.
Step 1: Download PST to PDF Converter, install it on the computer and then start it.
Step 2: Choose either Add File or Add Folder option. Add Folder will let you add a folder with multiple PST files simultaneously.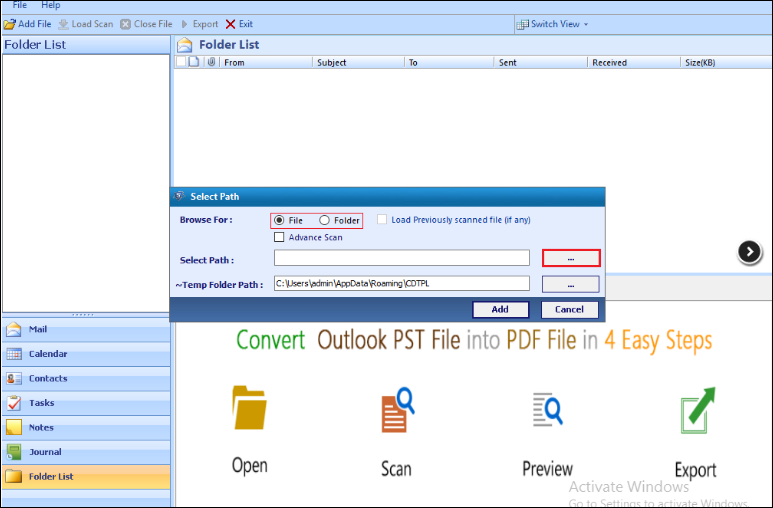 Step 3: After loading PST data, users can preview all the items including emails. Click on Export button to proceed.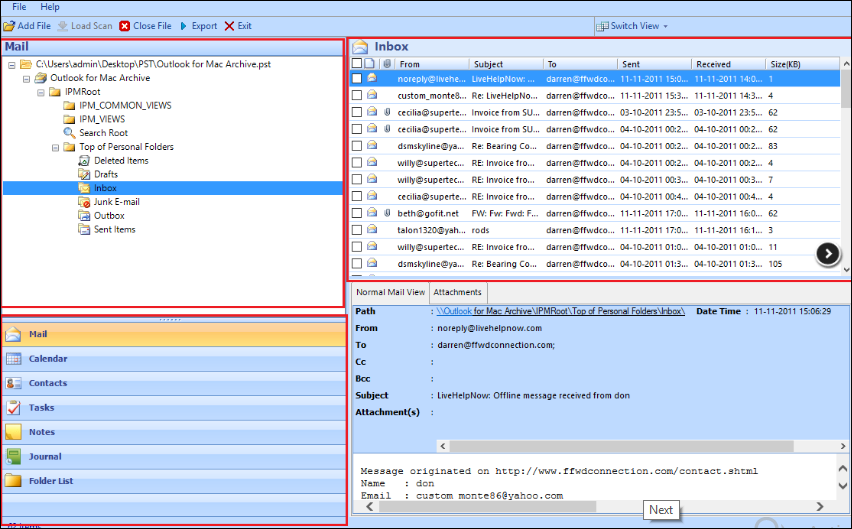 Step 4: Select PDF as the target file. Click on Advanced Settings for applying additional PDF file settings and other settings.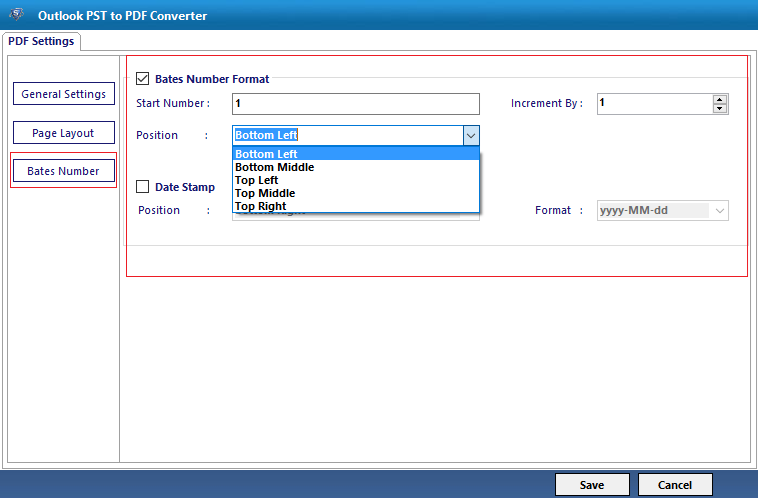 Step 5: Choose destination folder to save the files and click n Export button.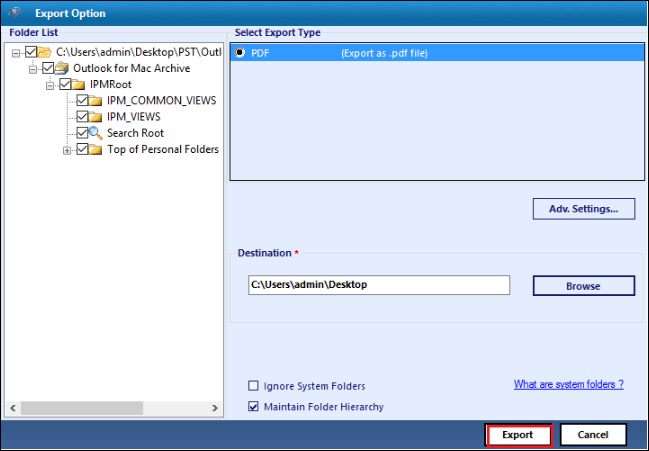 As you can see, this program lets you save PST to PDF with attachments in 5 simple and easy steps. So, what are you waiting for? Download the software NOW and start saving.
You May Also Read:
Supreme Features of PST to PDF Converter
The software comes with some amazing attributes that make the saving process smooth and sound.
Advanced PDF Settings: The tool offers advanced PDF file settings such as Bates number and Date stamping. These features are very useful to the PDF users. Moreover, users can choose the page margin, page size, page orientation (landscape or portrait), etc. from the software interface.
General Settings: The tool also offers general settings such as date filter and naming convention to save PST to PDF with attachments. The tool also lets users choose whether to keep "Internet Message Header" or not.
Bulk PST Export: If users want that can add multiple PST file into the application for export. Use Add Folder option for that, and you do not need to expert all the files one by one.
No Data Loss: There is no chance of data loss or data corruption involved in this software. One can use this tool without worrying about such issues.
Quick and Hassle Free: This tool involves minimum user assistance. Just apply the short steps and let your application do the rest for you.
Completely Secure: The tool is free from virus, malware, and spyware. So you can use this to save PST to PDF with attachments without worrying about your data security.
Maintain Folder Hierarchy: If users want they can keen the original folder hierarchy of the PST files after conversion. Check or uncheck the option with the same name as per your necessity.
Advanced Scan: If users have corrupted PST file, data can be extracted and converted from that file too. Check Advance Scan box while adding the file and the software will fix its corruption before exporting.
Conclusion
Both PST and PDF are popular file types and users need to save PST to PDF with attachments due to different reasons. This conversion allows users to open Outlook email data on any computer, even without Outlook installation. Follow the smart method mentioned here to save PST file into Portable Document File. This approach will let one export the attachments embedded in PDF file. Since there is no manual method, users need to take the help of the automated solution only.