Best Approaches to Print Zoho Emails Without Print Problem
Summary: This guide's step-by-step instructions will help you out greatly if you want to print Zoho Mail emails. We will go into detail about each way of downloading Zoho emails in this article. By employing the manual technique, which is a no-cost option, and the second, a tool-focused solution that is advised by experts.
As we all know, there are times when we must print emails for physical needs, as well as for work, school, or other reasons. If you're one of the people using Zoho Mail as their primary email client and want to print your Zoho emails. Then we will help you to complete this task.
After searching a lot on the internet finally. You then lend on the appropriate blog. You will learn the best method for quickly printing many Zoho Mail emails into the format of your choice in this post.
How to Print Zoho Mail Using the Safest and Secure Method
EmailDoctor Zoho Backup Tool helps you print out Zoho email file content into standard formats. The software ensures all the key attributes remain intact throughout the process of conversion and delivers precise results without losing any data files.
In addition, the utility works with various advanced algorithms that enable users to print Zoho emails as "PDF", or users can also select any other file type to print Zoho Mail emails messages into hardcopy using an external printer.
Other helpful choices are also provided by the application, such as "Advance Filters," which enables users to choose the folder containing the emails that may be included for backup creation. The second filter is the email filter, which also has a data filter with restrictions for the from and to addresses that specify the start and end dates, respectively.
Detailed Guide to Print Zoho Emails File With Attachments Also
Install and launch the tool on your Windows OS, and carry forward the steps as listed below.
1. After installation is done, enter the Zoho account details to log in.

2. Then in the Select E-Mail Format section choose the desired file type that you want to print the Zoho email. And click on the Browse button to locate the destination location.
3. Hit Apply Filter option to set dates in Date-filter for critical data export.

4. Finally, select the Start button to start printing the Zoho email.
Manual Method to Print Zoho Emails – Step by Step Guide
Use the below-mentioned manual approach to print the Zoho mail emails manual for free.
1. Printing emails is available under More Options when you are reading an email. When you are reading an email, select Print from the dropdown menu.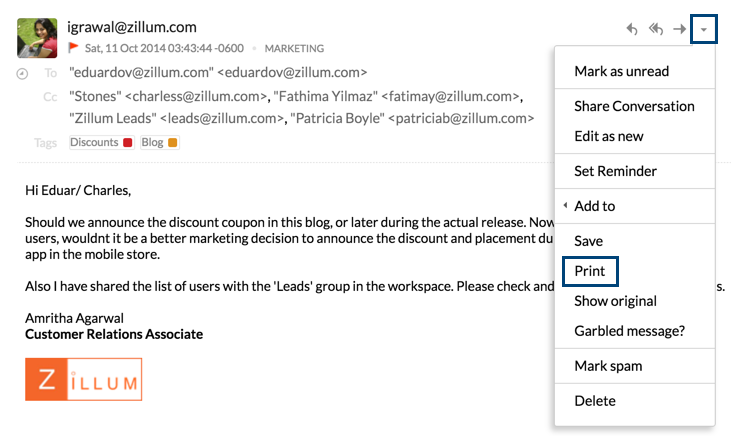 2. A new window will open with the Printable format of the email. Select the Print button again to print the Zoho email.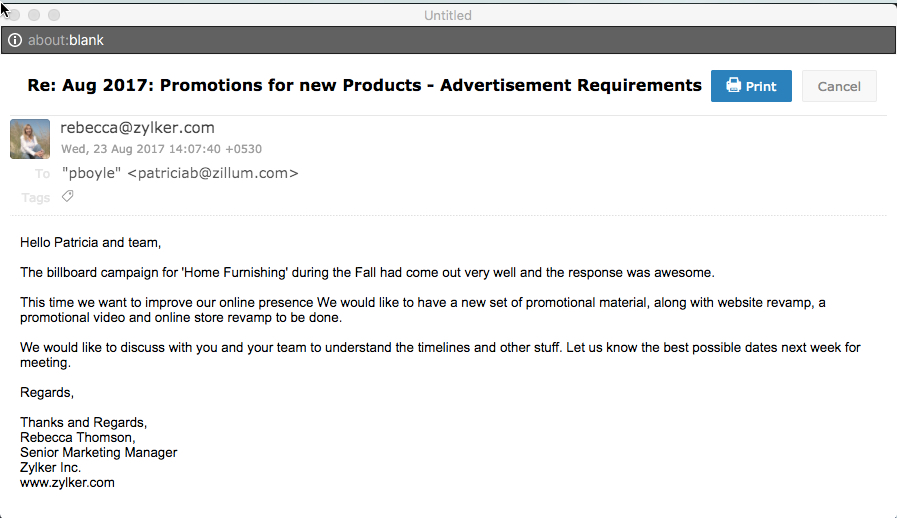 You're finished! The entire and simple method for printing using Zoho Mail's Print option is provided here. However, you may only print one email at a time from a Zoho mail account. That implies that you must repeat the previous procedures to print every email.
Disadvantages of Using Manual Method to Print Zoho Emails
Users frequently have issues while printing emails from Zoho mail via the Print option. Below are some of the typical issues people encounter, along with screenshots.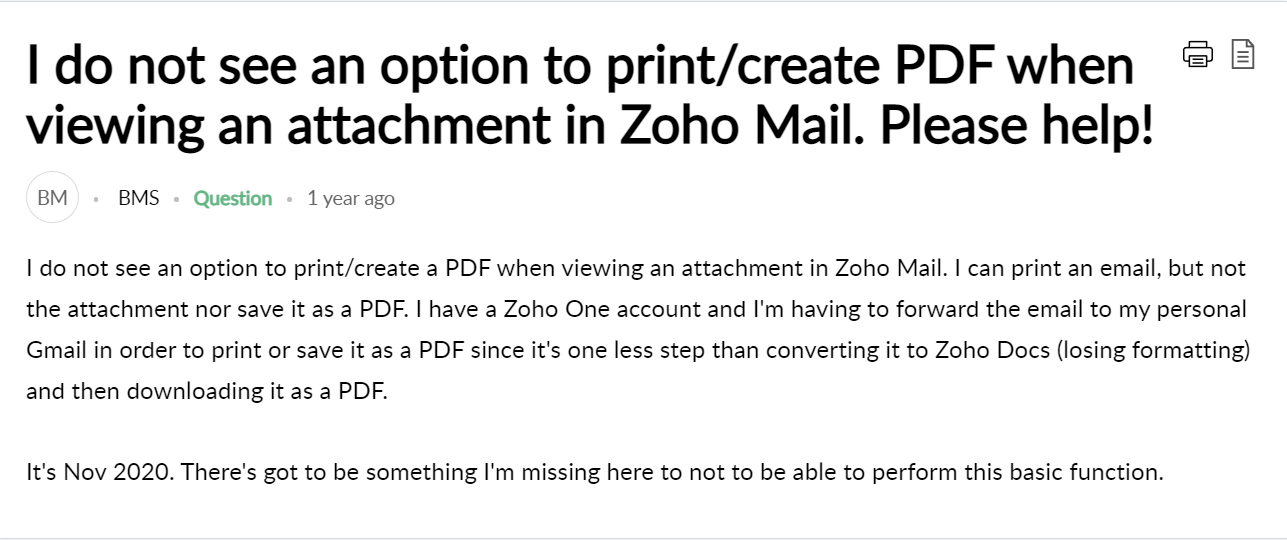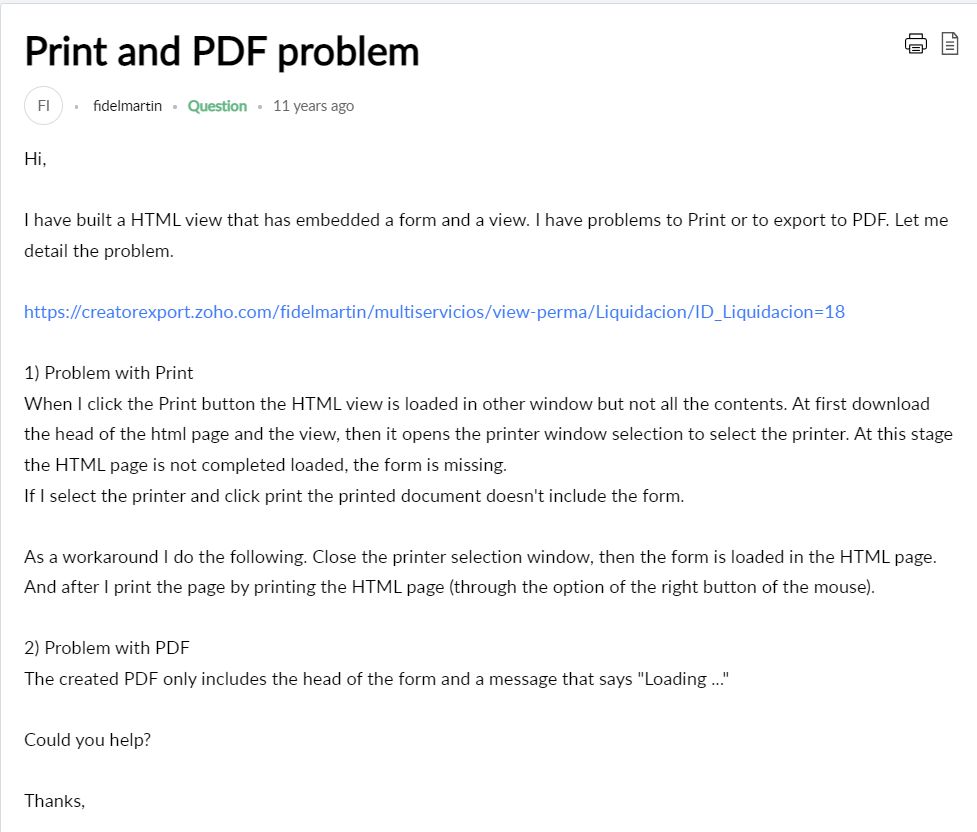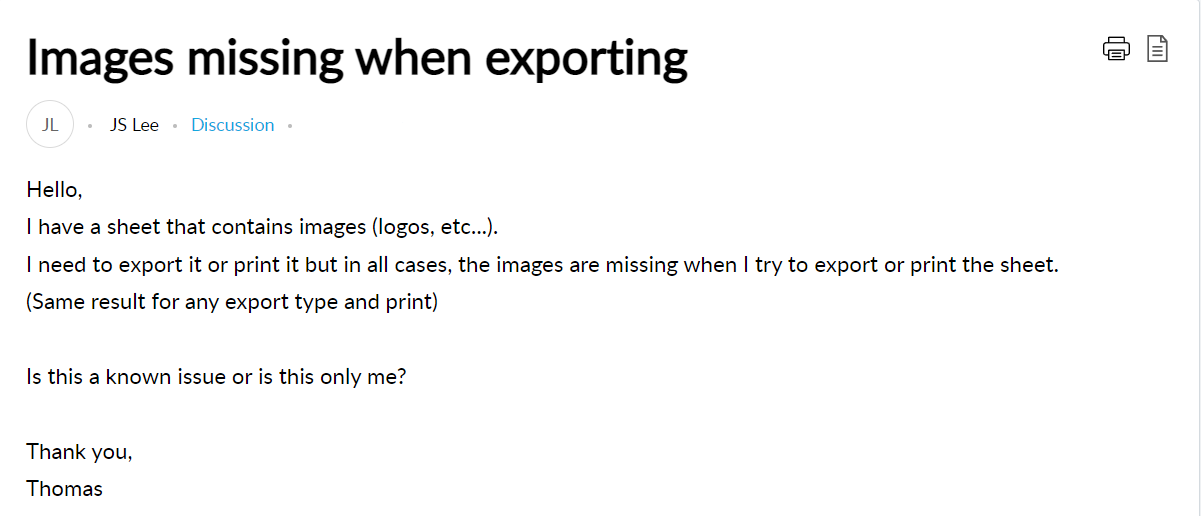 The Zoho server has gone down many times, and customers have reported a variety of problems, including missing Zoho Print functionality in Windows 10 and worry-free Zoho Print button behavior. You don't need to worry, though, as the answer to this issue is already elaborated here.
Instant Solution to Fix Zoho Unable to Print Emails and Save as PDF
To solve the above-mentioned user query problems you can, you can take the help of the best Zoho Email backup Tool to take a complete backup of your Zoho email into PDF File format without facing any problems.
This utility is 100% safe and secure, moreover, it can easily be accessible for beginners without having any in-depth knowledge of the technical field. The best thing about this toolkit, it can easily be accessible in your system, and can easily be used in an offline mode without any worry.
Why Choose this Expert Zoho Email Backup Utility to Print Emails?
As you can see from the blog post above, people want to print out email files for a variety of reasons. and how to print emails from Zoho manually using the print option. However, users are still having issues with the Zoho print option.
We are here to provide you with the most reliable EmailDoctor Zoho Backup Tool to address all of these user questions. Read the important elements of this toolkit that are listed below as well.
Print multiple or bulk Zoho emails in a single attempt.
No file size restrictions for storing and printing Zoho mail emails.
Easily Print Zoho emails with all email attachments.
Simple to use tool for a daily used computer person without facing any problem.
Easy and Straightforward Graphical interface
Compatible with all Windows Operating systems
Conclusion
Every user must do an important operation called printing an email from Zoho. We described how to print emails from Zoho using the Print feature here on the blog mentioned above.
However, a lot of customers run into the issue that this Print option in Zoho does not allow printing of emails. Because of this, we also offered the alternate remedy of using the Zoho email account backup software, which enables you to store emails as PDFs for simple printing.