Know How to Solve Outlook PST Showing 0 KB Error – Expert Guide
If you're one of those people whose Outlook PST unexpectedly displays 0 KB. If so, this post is for you since we'll go into great depth about why your Outlook PST suddenly shows 0 kb, how to fix the Outlook PST showing 0 kb problem, and other user-related questions.
Let's first analyze a few user questions that we snapshot from various forum websites before we begin the article.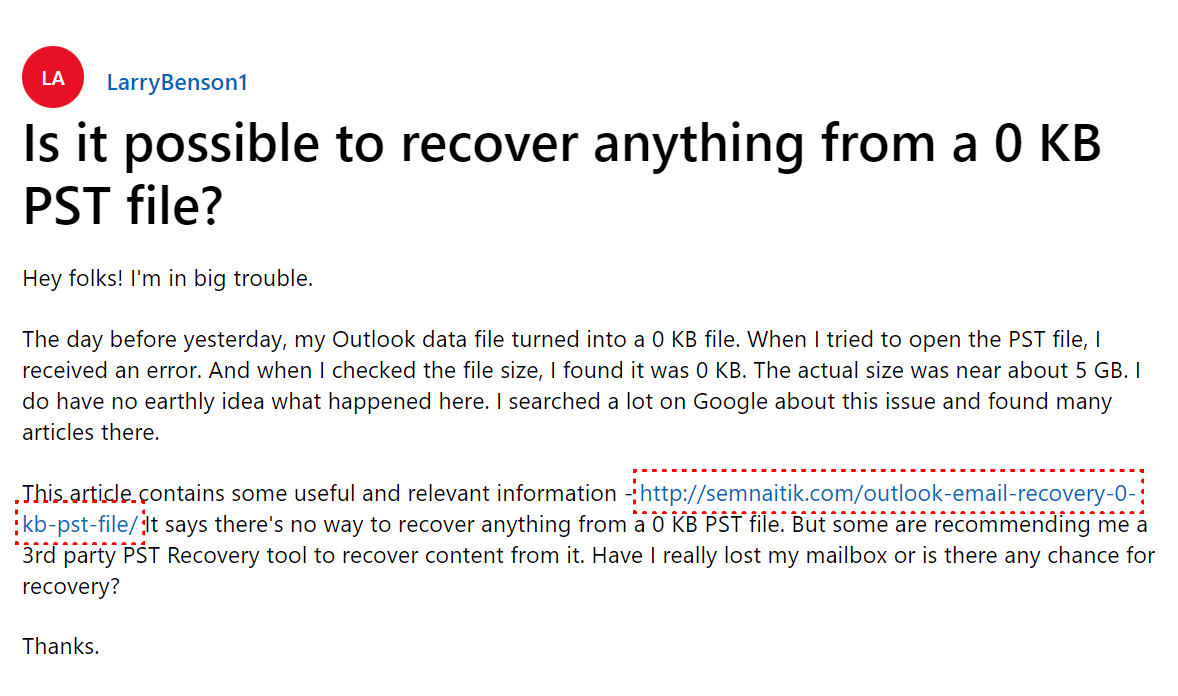 As you can see, the user is concerned that Outlook PST showing 0 kb error. There is, however, no cause for concern. We all live in a technological age in which everything is made possible by technology.
Therefore, you may stop worrying about the this error. To learn how to deal with this issue, read the below paragraph to get the safest and most secure solution to solve this size showing error.
How to Recover Outlook PST 0 KB File by Using the Modern Approach
With Outlook Data Recovery Tool, you can restore a backup file if you have one. It is almost impossible to recover Outlook data without a backup. If you already tried all the possible manual methods to recover data from a 0 KB PST file. Then there is only one solution left which is non-other than EmailDoctor Outlook Recovery Software to solve the Outlook PST Showing 0 KB problem.
This tool can easily repair corrupt PST File and restores all the mailbox content such as journals, tasks, rules, contacts, emails, and attachments. The advanced algorithm of this tool scans the damaged PST files, and recover & open corrupted PST file using this software. Also, you can also fix the Outlook .pst could not be found error.
Silent Features of this PST Recovery Expert Software 
Know some of the Key Silent Features of this EmailDoctor PST Recovery Tool:
Capable enough to Repair corrupted PST file emails without any error
Easily recover Permanently deleted emails from your Outlook files & folders
It also previews the complete display of PST files with attributes
Repair MS Outlook ANSI/ UNICODE data file variants directly.
Benefit to smoothly remove SMIME & OpenPGP encryption.
A fast and efficient way to repair a password-protected PST file
Compatible with all Windows 11, 10, 8.1, 8, and below versions.
Works well with all MS Outlook 2000, 2003, and other editions.
MS Outlook installation is necessary to Repair PST Files.
Follow the Below Steps to Solve Outlook PST Showing 0 KB error
1. Install Outlook PST Repair Tool on your system and click on the Add File option.
2. Then Upload the PST File from the Add File option instantly by selecting the Select File or Search File options. And then you can enable the Decrypt Emails option to remove Encryption from the PST files. Moreover, You can scan the files.
3. Now, you can choose the necessary data that you want to export to your system.
4. After that, select the PST File option, and then click on the Export option to begin the repairing procedure.
Important Note: A PST file can be repaired by the software, and the data can be restored if it still resides in the file. It is possible to check and repair the file by downloading and running the free demo version of the software.
Is there Such a Thing as a 0 KB Outlook PST File?
A 0-byte PST error occurs when normal Outlook PST files that have a specific file size suddenly report being 0-bytes in size. However, sometimes Windows search can find its items within the PST file, but the content is no longer accessible. The Outlook PST file issue is one of the most perplexing.
What Cause an Outlook PST 0 KB Showing Error?
The error is caused by multiple reasons. This can be due to hardware failure, such as if your Outlook PST file size is tool large, Corruption in PST files, Operating System breakdown, Manual error, Outlook PST File not Loading, and so on. All these can also happen after Windows Update.
What to Do After Outlook Showing 0 KB File?
When you receive the 0 KB file error, you cannot use the PST file as you normally would. It is currently displaying Outlook PST 0 KB error when trying to access data stored in PST files. Therefore, you must repair the file and recover the data as well.
Here we mentioned some of the available manual methods to recover PST 0 KB data:
Outlook PST backup recovery
Using archived PST files to recover data
Furthermore, the expert Outlook PST repair tool mentioned above can also be used to repair the PST file.
Manual Approaches to Solve Outlook PST Showing 0 KB Error
Now that you know why PST files can become 0KB in Microsoft Outlook 2019, 2016, 2013, 2010, 2007 etc., here are some common techniques for getting backup data.
Approach One: Use Manual Backup
I have your daily backup data of Outlook files then the initial approach is to retrieve data from the taken backup files. After that, you can create a new PST file in your Outlook profile and then import the backup file content into it. Moreover, you can also use the backups as Launch default data files.
Follow the below-mentioned steps to Import Content from the Old Backup File:
1. Launch the MS Outlook on your system and click on the File button.
2. You can open Outlook data files by clicking on the Open & Export option. Data can be recovered from backups this way.
Approach Two: Auto-Archived Way
There is another way to recover data from the 0 KB Outlook PST file. This feature contains the use of an auto-archived feature in PST File. If it has already been activated by Microsoft clients. The following steps should be followed for locating the file:
1. Open the MS Outlook application on your PC, and click the File option > Options > and Advanced
2. When you are in the Auto Archive file, click on the Auto Archive Settings button
3. Using the Browse button in this pop-up will open a dialog box. To save your source file, you must open the target folder.
Conclusion
This guide is best suited for recovering data from a 0 KB Outlook PST file. Listed above are all the possible techniques for the error of Outlook PST showing 0 KB file. Check out the guide and solve your Outlook data recovery problem by using the best approach.