How to Increase Message Size Limit in Exchange ?
Raj
| Modified: September 17, 2021 |
Email Tips
| 3 Minutes Reading
Increase Message Size Limit in Exchange : A mail server developed by Microsoft that works up MS Windows Server product is known as Microsoft Exchange Server. Initially it was released on 11 April 1993 as Microsoft's internal server. With change in requirements, different versions were released providing users with additional and advanced features.
One of such versions is Microsoft Exchange Server 2010, which was released in May 2009. The version comprises of many additional features like Client access server, database availability groups, administration delegation, recovering items, personal archiving, etc. The version provides end users the access to Outlook on web.
Query: How to Increase Message Size Limit in Exchange 
Solution: Well increasing message size limit in Exchange 2010 is not a complex problem. It is feasible with the help of just a few simple steps. The procedure for performing changes is given below:
Open Exchange Management Console screen
On the Left hand side of your screen, you will find a Microsoft Exchange On-Premises option. Click on + for expanding the option.
After expanding the option you will find an Organization Configuration option, expand this option to continue.
Click on Hub Transport. 
After clicking on hub transport, go to Global Settings and double-click on Transport Settings.
After double clicking, a Transport Settings Properties page will be displayed.
Click on General tab for changing the message size limit. Following fields appear on the page which relates to solving our query:

Maximum receive size (KB): The field mentions the maximum size received in the organization. The value is entered in unit of kilo bytes (KB).By default, the value is 10240 KB. There is a valid input range in this box i.e. 0 to 2097151 KB.
Maximum send size (KB): Mentions the maximum message size to be send as sender by the organization. It also has a default value and a valid input range same as in Maximum receive size field.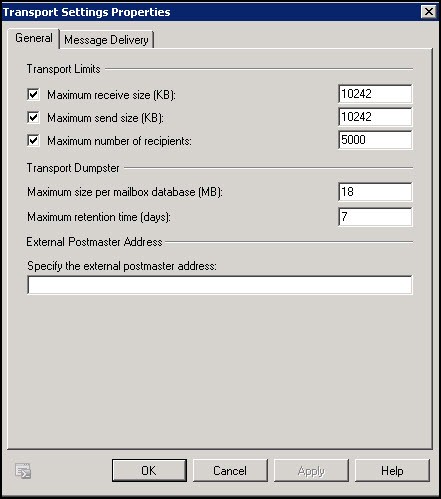 You can now increase the value (in KB) of both the above-mentioned field, as per you require and the click on Apply >> OK.
Conclusion
For knowing about how to increase message size limit in Exchange 2010, we do not require any additional software to be installed that updates the size limit of sending and receiving the message. Well we do have to make a little bit of modifications in the settings of transport properties of Exchange and hence we can manipulate the size. The extension of message size gives users a huge freedom of sending bigger and heavier messages without a delay or failure encountered.