Export Option Greyed Out In Outlook Mac: Efficient Way to Solve
Microsoft regularly releases new updates and versions of Outlook for Windows and Mac platforms. Microsoft has recently introduced a new Outlook for Mac, offering new features for Mac users. But many Mac users using the new version of Outlook complain of an issue – the Export Option greyed out in Outlook for Mac. We can understand it further through this user query:
"I have recently begun using the new Outlook for Mac, and already I'm facing one major issue – the export option appears greyed out. Due to this issue, I am unable to export a backup copy of my mailbox data locally. I wish for an easy solution to fix this issue and would appreciate any help offered!"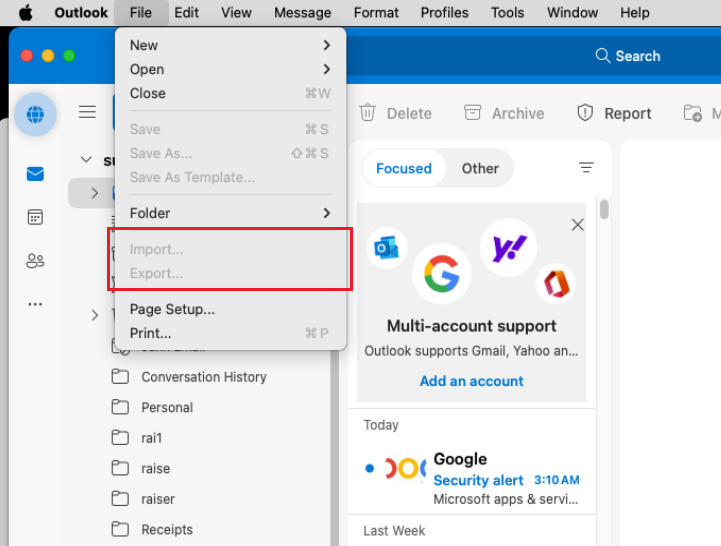 If you are looking for solutions to fix this issue, this blog is the perfect place!
But before that, let us first know the reasons why the export option is disabled in Mac Outlook.
Whenever Microsoft comes up with new editions / updates in an application, there are a few sets of features that are kept in the Coming Soon section. The same is the case with the Import / Export functionality where a user cannot import or export data into new Outlook for Mac.
In such cases, you can either Revert to legacy Outlook and enable this functionality. This might be a cumbersome process and can hamper your workflow. Hence, we won't recommend you go to Legacy Outlook. Although the Export option is greyed out in the new Outlook for Mac, you can still export your data using the below-mentioned utility.
Easiest Way to Export Data Even if the Export Option in Greyed Out in Mac Outlook
Since there isn't any quick and easy manual method to solve the issue, an automated tool becomes the perfect choice to solve the Outlook Mac export option greyed out issue.
The application that you can use to export your data from new Outlook for Mac is Outlook Mac Recovery Software. This utility is capable enough to automatically locate Mac Outlook 365, Outlook 2019, and 2016 profiles as well as Outlook 2011 identities. Thus, you only need to install this application and this will automatically detect your Mac Outlook data and let you export your data in various export options.
Features of the Software
This software is effective in helping you solve the export option greyed out in Outlook Mac issue. The following points describe the features of this tool:
The tool recovers data from OLK14, OLK 15 and OLM file(s) while ensuring data integrity.
Ability to restore all emails, contacts and other data from your Outlook profile.
The tool offers multiple options to export data from the new Outlook for Mac: PST, EML, MBOX, PDF, etc.
Split the resultant PST file by using the Split PST option.
Export selective data in any format using the Date Filter option.
Option to merge all recovered emails in one PDF file with Create Single PDF file option.
Steps to Solve the Export Option Greyed Out in Outlook Mac Issue
1. Download the software on your Mac system and run it.
2. The tool has four options for adding the database file:
Auto-Locate Mac Outlook 2019/2016/Office 365 – Automatically add your Outlook 2019/2016 or Office 365 profile for Mac from the default folder on your Mac computer.
Auto-Locate Mac Outlook 2011 Identities – The tool will automatically add files from the default Outlook folder if you use the Mac Outlook 2011 version.
Browse Mac Outlook Profile/Identity folder(s) or OLK File(s) – Add OLK file(s) or identity/profile folder(s) in Mac Outlook 2019/16/11/Office 365 from the desired folder.
Browse Mac Outlook Archive (.olm) File(s) – Add archived Mac Outlook (.olm) file(s) from any desired location.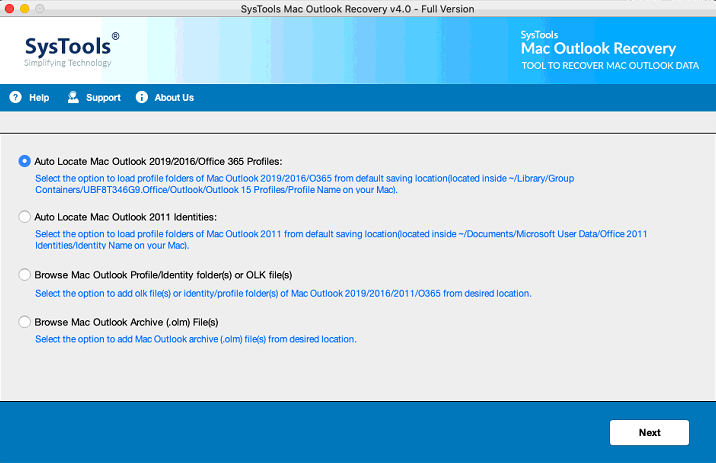 3. Select your preferred option, and click Next to add the file(s) and Scan to begin the scanning procedure.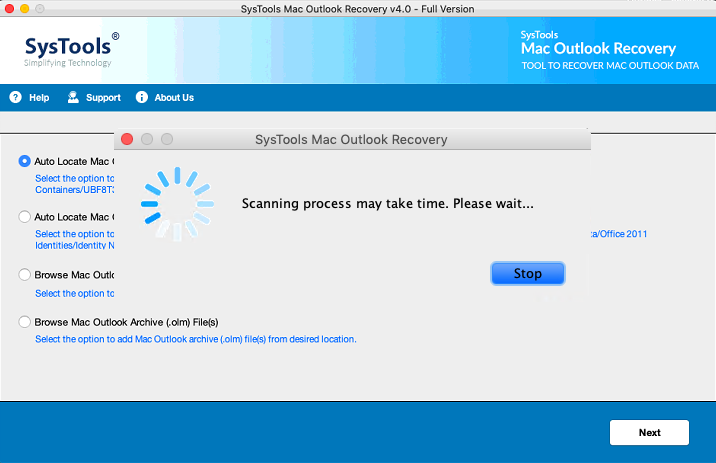 4. Select PST as the export format to import the resultant file to older Mac Outlook. Don't forget to check the Maintain Folder Hierarchy option to maintain the folder and data integrity of the Outlook database.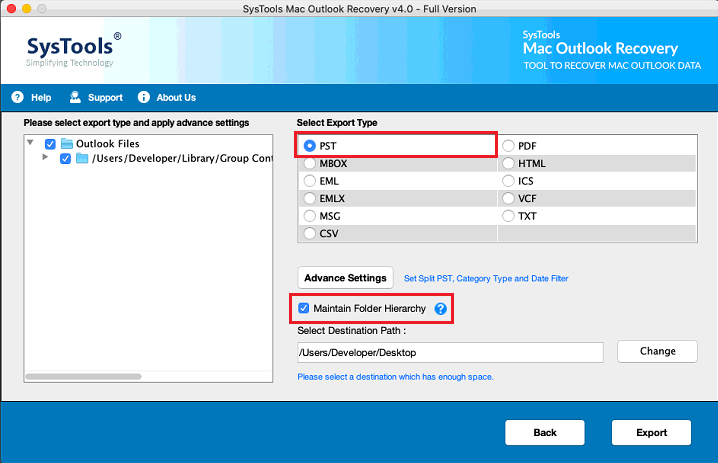 5. Click Advanced Settings and apply the settings for exporting Outlook data in PST format: PST Settings, Categories, and Date Filter.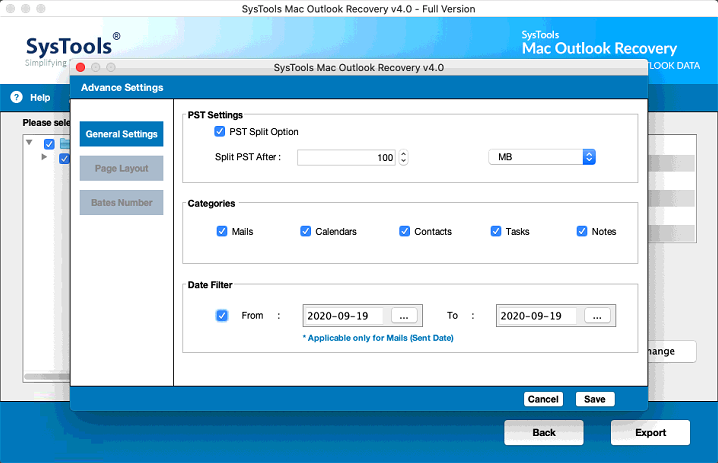 6. Click Change under Select Destination Path to select the location for saving the resultant PST file(s). Select Export and begin the database export process in PST format.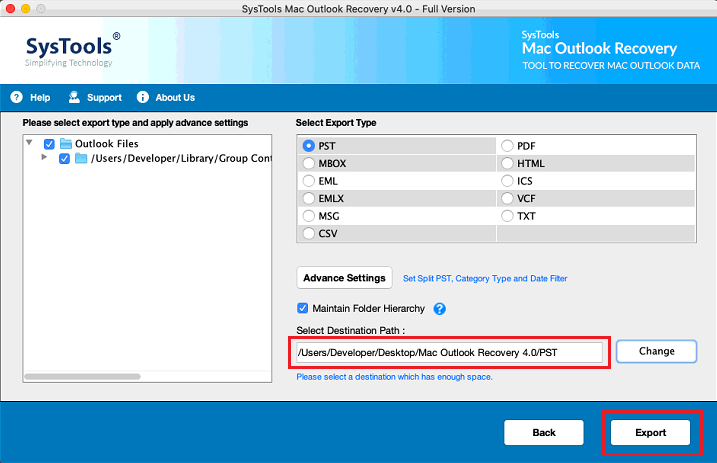 7. Revert to the old version to import the PST file to your Outlook profile.
Conclusion
Microsoft has launched a brand-new Outlook for Mac with features that will help you work more productively and collaborate comfortably with your colleagues. But, this version faces the export option greyed out in Outlook Mac, which hampers users' work, leaving them with no option except for using an automated tool to export their Outlook data into a desirable format.
This blog discussed the best method to solve this issue for the new Outlook for Mac. The software mentioned here has many features that are capable of helping you export your data in your preferred file format. Also, you can import the exported file to the older version of Mac Outlook or access it on a Windows system.