Copy Files from OneDrive to Google Drive By Following Step By Step Procedure
Migrating files from OneDrive to Google Drive is a necessary task, especially when you're switching cloud storage providers or consolidating your data. Since Microsoft OneDrive and Google G Drive are used worldwide by various organizations for file storage. Hence, data migration can be seen between these platforms frequently, for reasons such as business mergers, acquisitions, and overall cost optimization led users to copy files from OneDrive to Google Drive. Let's discuss it in detail in the coming section.
Reasons Behind the Transfer of OneDrive to Google Drive
Google Drive provides 15 GB of storage for free users and that much space is enough for personal use for a person. In spite of that OneDrive offers 5 GB of storage for free users. This turns out to be one of the reasons why people are copying their files to Google storage.
But when we talk about OneDrive for Business and Google Drive suite, more people use G Drive than OneDrive. The reason is Google Drive has 800 million active users and OneDrive has more than 250 million users. The facts and figures given here clearly state which one is better to use.
Nevertheless, the pricing factor also plays an important role to transfer files from OneDrive to Google Drive. G Drive provides 100GB for $1.99/month and OneDrive offers 50GB of storage for $2/month.
Organization's major concern nowadays is the security of data that cloud storage providers give. G Drive encrypts data using TLS and 256-bit AES encryption algorithms and it's hard for a supercomputer to decrypt it. Google also provides 2-factor authentication to keep data secure. On the other hand, OneDrive offers security is a major issue because it provides less security as compared to Google.
The maximum file size limit that OneDrive provides is 10 GB for sync or upload. Apart from this Google Drive offers to move 5 TB file size of data. That's why these companies copy their files from OneDrive to Google Drive because a larger file size can be easily transferred.
This is one of the key differences between OneDrive to G Drive that allows the user to transfer data.
These factors and reasons are enough to tell why a person is copying files. There are certain approaches that help you to send data. Let's discuss the simplest one first.
5 Simple Steps to Copy Files from OneDrive to Google Drive

Step 1.

Download, install, and run the tool on a PC.

Step 2.

Pick Office 365 and G Suite as migration platforms.

Step 3.

Click on the Documents and apply the Date Filter.

Step 4.

Use Admin credentials to Log in and validate. 

Step 5.

Create Mapping, select Users, and hit the Start button.
Different Approaches to Migrate Files from OneDrive to Google Drive
There are several approaches you can take to migrate files from OneDrive to Google Drive, depending on your needs and technical expertise. Here are some common approaches:
Manual Download and Upload:
Download files from OneDrive to your local computer.

Upload those files to Google Drive manually.
This method is suitable for small amounts of data or if you only need to transfer a few specific files.
Professional Migration Tools: 
Use secure and reliable tools and services designed specifically for cloud storage migrations.

These tools often provide more control and speed than manual methods.
When choosing an approach, consider factors such as the amount of data, your technical expertise, the desired level of automation, and any specific requirements or constraints you may have. It's also essential to plan your migration carefully to avoid data loss and ensure a smooth transition. Let's discuss each of the methods one by one.
Also Read: Transfer & Migrate Mailbox from Exchange 2019 to Office 365
Solution 1: Transfer OneDrive Files to Google Drive Using the Manual Method
Step 1. Visit https://OneDrive.live.com/about/en-us/signin/ and Sign in with your OneDrive account.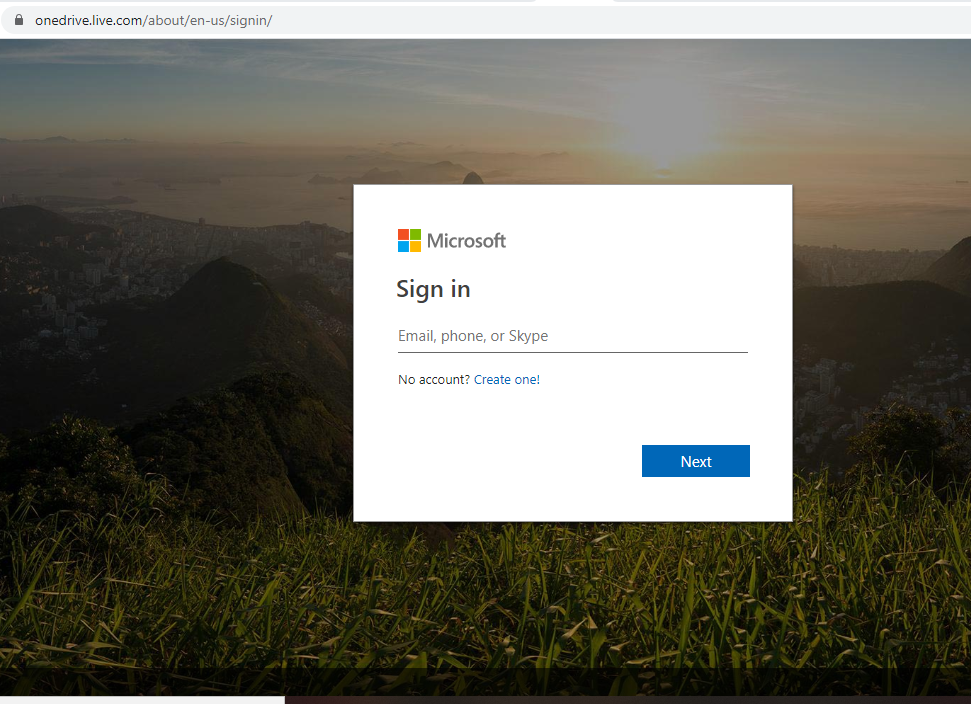 Step 2. Select the files that you want a transfer from OneDrive to Google Drive and click on download.
Step 3. Then, visit https://www.google.com/drive/ and click on Go to Google Drive.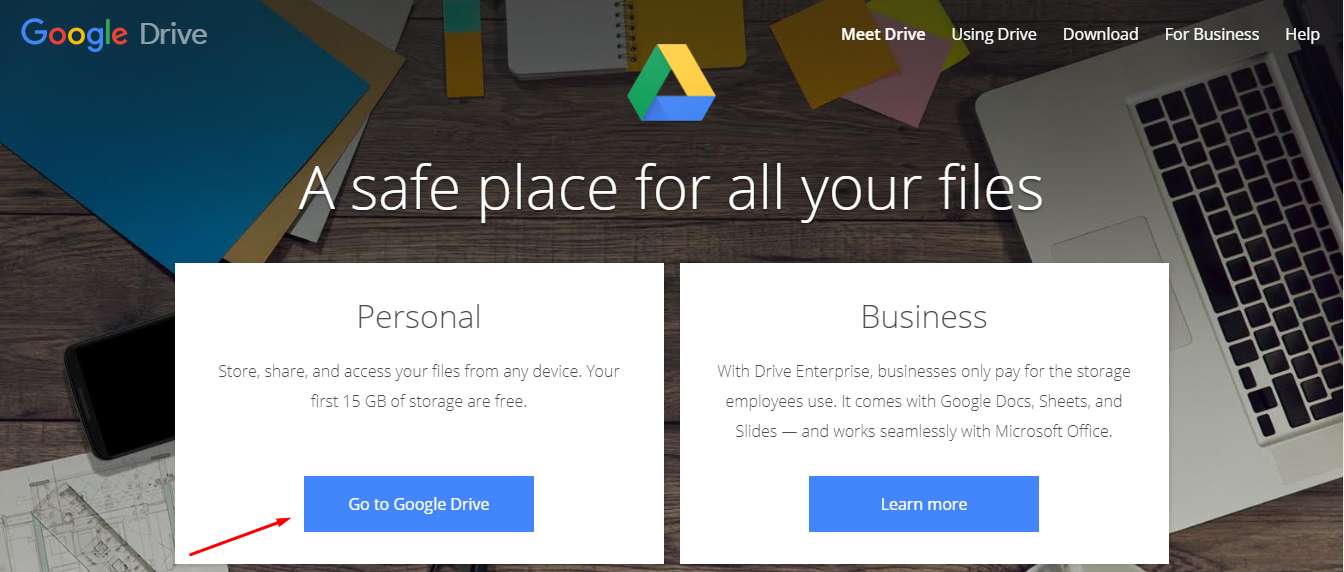 Step 4. Sign in with your Google Drive account. Step 5. Click on My Drive and select Upload Files.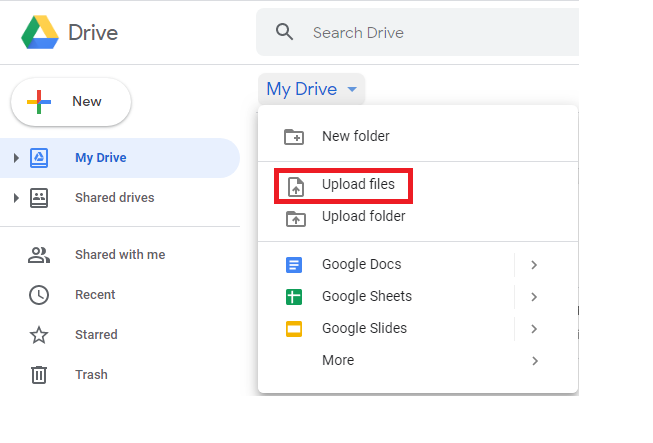 Step 6. Then a window will appear, choose the data that you want to send to G Drive. Click on Open.
Step 8. Finally, your copy files from OneDrive to Google Drive process is complete.

Limitation Of Manual Method in Copying Files from OneDrive to Google Drive
After performing so many steps of manual solution to upload files is a very tedious job to do. To send files from OneDrive to Google Drive you need to have automated software or a stable internet connection.
If you transfer or copy a large amount of data to G Drive you will face so many problems.
In case of power failure, there are chances that your data/files might get corrupted.
It doesn't provide an Incremental Migration facility.
The user cannot set priority because it does not have a priority option.
You cannot copy multiple user data from OneDrive to Google Drive.
The manual method does not send specific date data to G Drive.
It cannot provide a summary report of the migration of files.
Users don't have the option to migrate data in multiple ways.
So, that's the reason why so many people go for the automatic method to transfer data from OneDrive to G Drive. Migrator for OneDrive to G Drive is used to automatically send files.
Check out the steps for Exchange 2010 to Office 365 Migration
Solution 2: Migrate OneDrive to Google Drive By using the Automated Method
This tool helps you to copy files/data from OneDrive to Google Drive. This software can transfer photos, audio, video, PDF, files, etc. to the G Drive account. It has several features and it can perform many operations such as:
Effortlessly migrate data from OneDrive to Google Drive.

Preserve folder hierarchies and file structures during migration.

Support for large-scale data transfers, ensuring no data loss.

Incremental migration options for ongoing synchronization.

User-friendly interface with simple setup and intuitive controls.

Robust security measures to protect your data during migration.

Comprehensive reporting and logs for tracking migration progress.

Compatibility with various OneDrive and Google Drive configurations.

Dedicated customer support for a smooth migration experience.
Follow the Software Steps to Transfer Files from OneDrive to Google Drive
Step 1. Begin by downloading and installing the software mentioned above on your personal Windows computer.
Download Now Free Purchase Now
Step 2. On the main screen, opt for Office 365 & G Suite as your source and destination migration platforms respectively.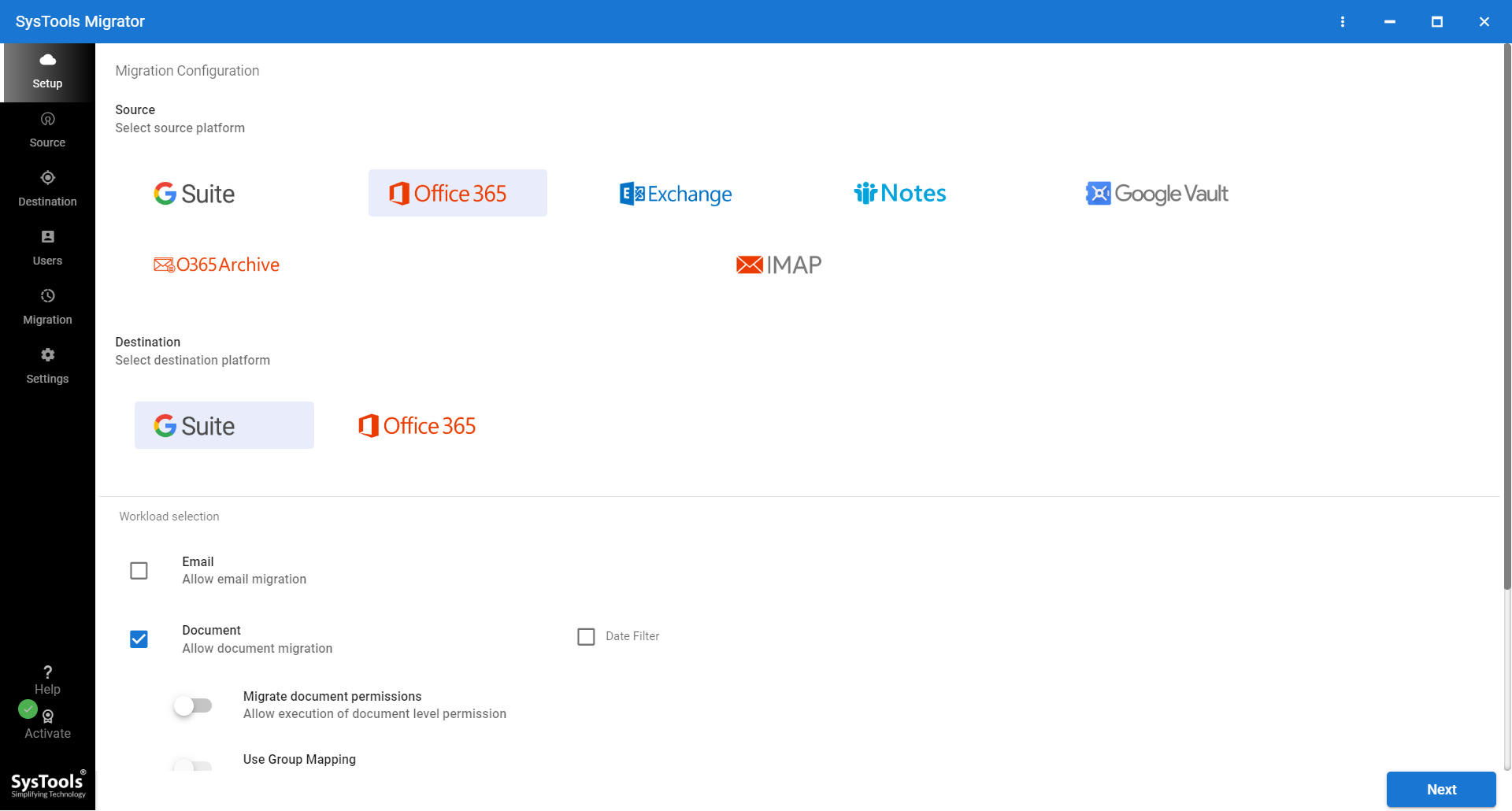 Step 3. To initiate the transfer of files from OneDrive to Google Drive, select "Documents" as the Category and then set a Date filter if required.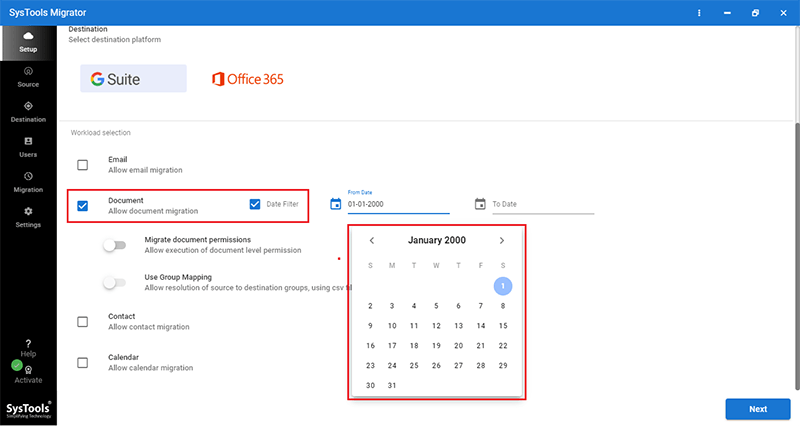 Step 4. Log in using your source Office 365 Admin account credentials. Ensure that the necessary permissions are validated, and then proceed by clicking "Next."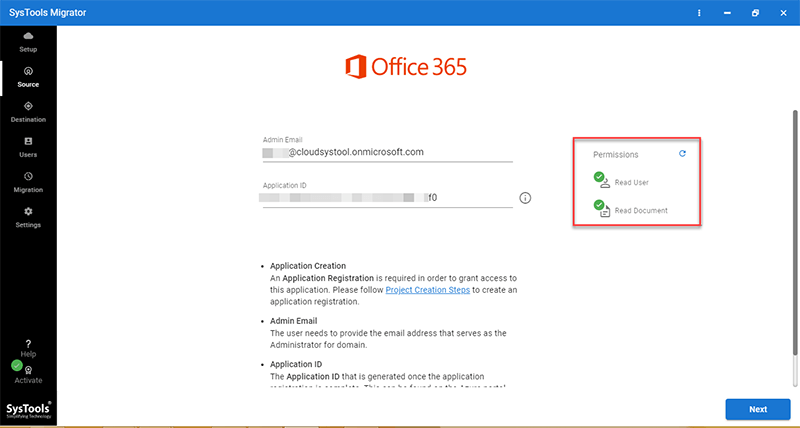 Step 5. Use the credentials of your destination G Suite Admin account to log in. Confirm the required permissions by clicking on the Validate button, and clicking on "Next."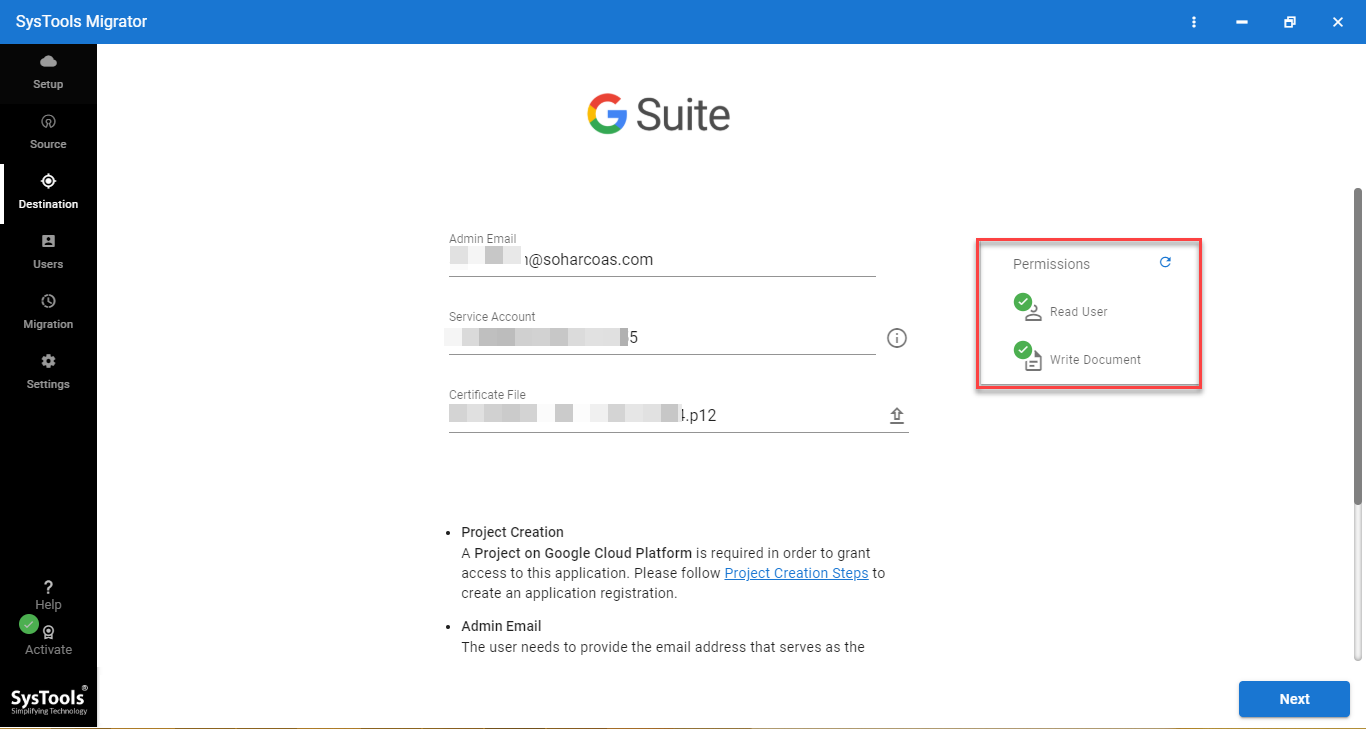 Step 6. Next, establish user mappings for both the source and destination. You have three options to choose from: Fetch users, Import users, and Download template.
Step 7. Choose the necessary User Accounts and initiate the validation process by clicking the "Validate" button.
Step 8. Finally, conclude the process by clicking the "Start" button to transfer files from OneDrive to Google Drive.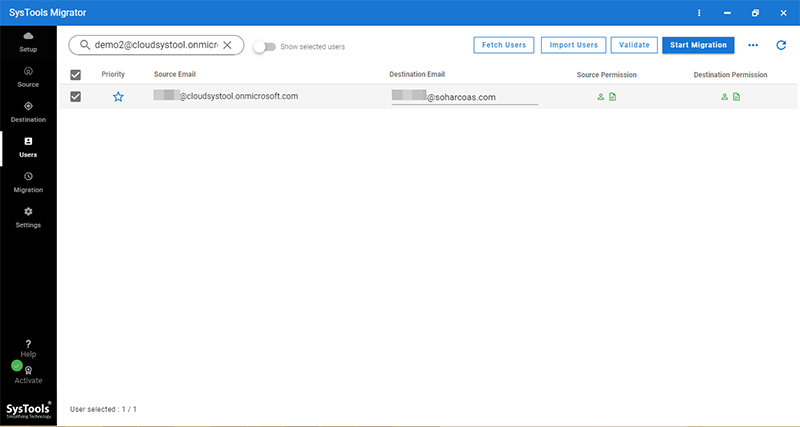 Conclusion
This write-up covers all aspects of this operation like – reasons, approaches, limitations, features, and steps to transfer files from Microsoft OneDrive to G Drive. Moreover, it also provides the most reliable and comprehensive solution to migrate OneDrive files to Google Drive accounts.
Now users have detailed information on how to copy files from OneDrive to Google Drive. The automated software overcomes all the limitations and drawbacks that occur in the manual solution. Additionally, it offers some special features that help you to solve all your queries.