There are large number of users searching an eminent solution to remove MDB password. So, we considered this issue and come up with the best solution to open encrypted MS Access database. It is a third-party application named Access Password Remover Tool to easily decrypt any type of password within a few clicks. However, it consists some more amazing features which makes it unique as compared to other utilities available over the internet. Read the complete blog to understand how to remove forgotten password using one of the effective technique.
Enhanced Features of Access Database Password Remover
Supports MS Access 2007, 2003, 2002 & below versions
Easily recover different type of Access file password
Option to recover complex Access Database passwords
MS Access is required to remove password for MDB file
Unique Features of Access Database Password Remover
A lot of users faced an issue such as they lost or forgot password of their protected database. In this situation, automated technique proves helpful as it makes simple for the users to remove password from Access database file
1. Remove Access File Password – Access password remover software makes a password protected MDB file accessible. With the help of this amazing tool, you can remove password from Access database 2007, 2003, 2002, 2000, 97 and below. The software helps to recover lost or forgotten access password.
2. Instantly Decrypt MS Access Password – This tool programmed by the advanced algorithm which helps to decrypt tough password of Access database file.
3. Open Password Protected MDB File – Using this effective technique, you can quickly unlock the password protected Access database file without any hassle. If in this situation forgotten password was created of alphanumeric characters, then this software is capable to remove the database files.
4. User-Friendly Interface – This Access Password Remover Tool makes the recovery procedure easier for any user, and not tough to use. By only few clicks user can instantly remove password from Access database 2007, 2003, 2002, 2000, 97.
5. Unlock MS Access Backup Database Password – As we know, MS Access provides an option to create backup MDB file. However, users also make those backup files password protected. In case, you lost backup MDB file password, then the utility becomes an effective option to remove forgotten password.
6. Support Multiple Access Versions – MS Access password remover software is a Windows-based tool. It extensively supports Microsoft Access 2007, 2003, 2002, 2002, 97 and below versions to remove password from Access database. Also, the tool can remove or reset password of your MS Access database.
How to Remove Password from MDB File Efficiently
This software can quickly remove the password and open password-protected database. Simply, follow the below-listed steps to perform password recovery procedure:
Step 1: Install and Run Access Database Password Remover Tool.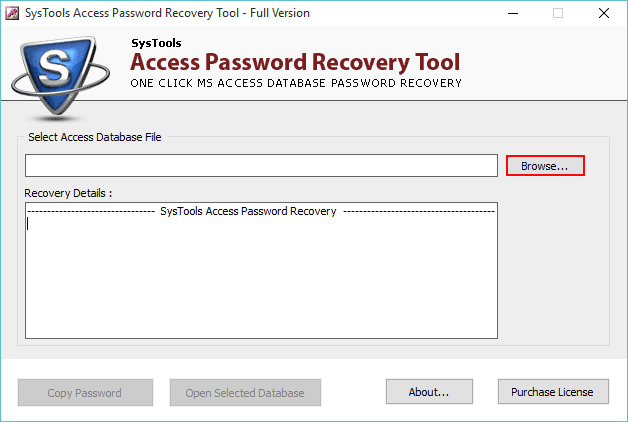 Step 2: Click on "Browse" to add Password Protected Database File.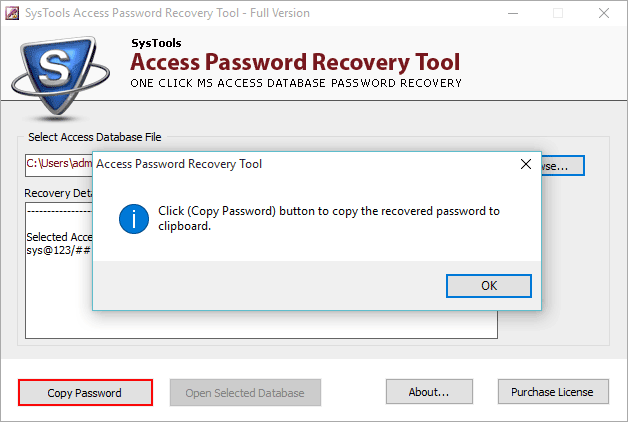 Step 3: Hit on "Copy a Password" option to copy recovered Database password.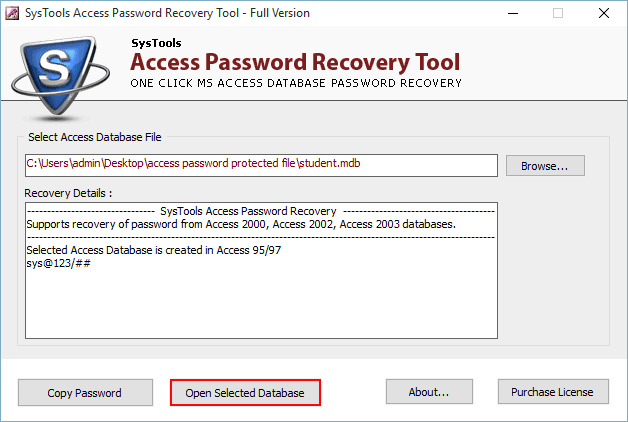 Step 4: At last, "Paste" and Remove Password protection from MS Access Database.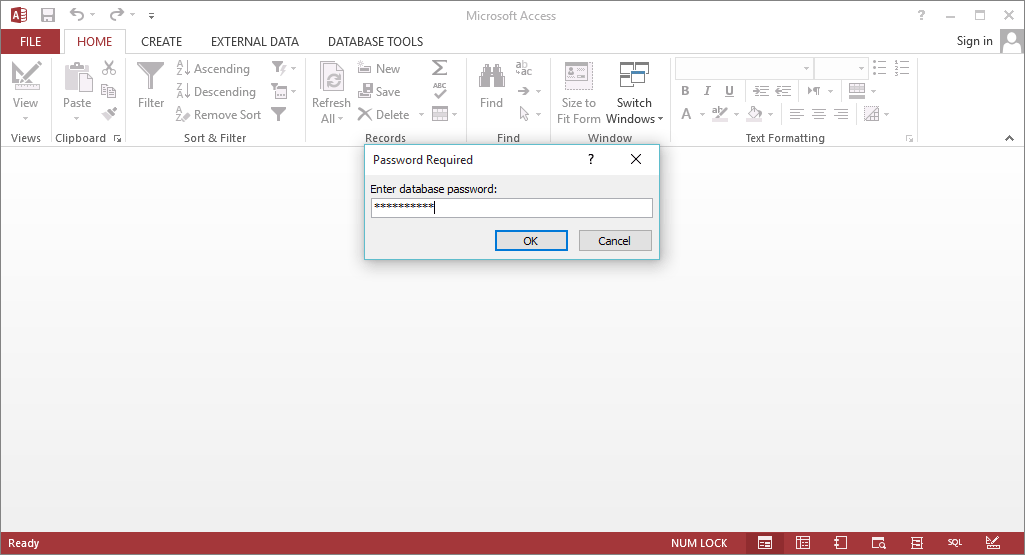 Demo limitation – Free demo version of MDB Password Remover tool only recovers the first 2 characters in password.
Frequently Asked Questions
1. Is the Access Password remover tool helps to retrieve any type of MDB passwords?
Answer – Yes, the MDB password remover software is programmed with the algorithms which facilitates quick recovery of any type of password of MDB file.
2. Does this Access password remover is effective to recover corrupted .mdb database password?
Answer – No, this tool only helps to remove or reset healthy MDB file password.
3. Does the Access Database installation is compulsory to open password protected MDB file?
Answer– Yes, the Access password remover software required the installation of MS Access Database.
4. If I remove mdb password using this tool, are there chances for data loss?
Answer – No, this Access password remover tool recovers lost MS Access password without any data loss.
5. Can I use MS Access .mdb file password remover tool in Windows Vista?
Answer – Yes, you can use this MS Access database password remover utility in Windows Vista. The tool supports all versions of Windows OS such as Windows XP, 7, 8, 10, etc.
Conclusion
A lot of users stuck in this kind of issues and searching for an instant solution to remove forgotten password from protected MDB file. After reading this article, surely user can resolve their issue by using effective technique named Access database password remover. The tool consists the best set of amazing features which makes the entire procedure extremely efficient.