Top Tricks For How Split Large Outlook PST Files Effectively
"How to split large PST files?" is a common query among Outlook users. Microsoft Outlook users often need to split large PST file for managing data properly. But, the issue face by them, i.e., they are not aware of the techniques through which they can split large Outlook PST files. So, to help them, this write-up compiles some effective and efficient methods to break up large PST file without Outlook. If you need to learn from the same, continue reading this blog.
How to Split Large Outlook PST Files Manually?
There are multiple free methods to split oversized PST files of MS Outlook. In this section, we will mention top 2 ways to divide PST file into smaller files. In order to splitting Outlook PST files with Outlook, you just have to follow any one of them adequately. Let's begin:
Way 1: Use Archive Feature Functionality
1. First, you have to run the MS Outlook application and navigate to the File option.
2. Then, click on the Info option and select Tools. After that, select clean up old items option.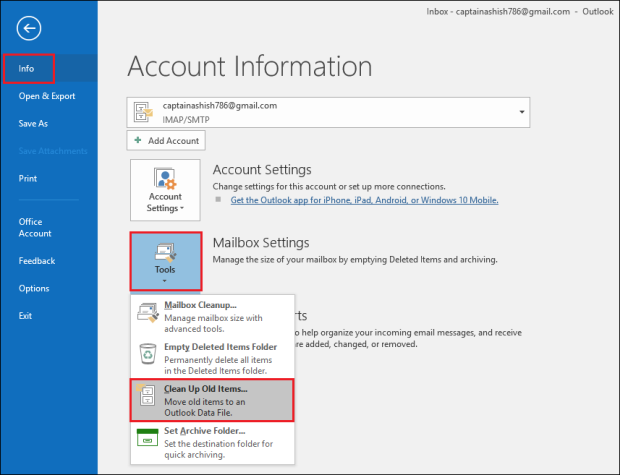 3. Opt a folder to archive and choose a date in Archive items older than a box. Then, hit on Browse to save the previously archived files.
4. At last, hit on the OK button to finish up the procedure to split large Outlook PST files.
Way 2: Using Import/Export Wizard Utility
1. Navigate to File menu>>Account Settings and again click on Account Settings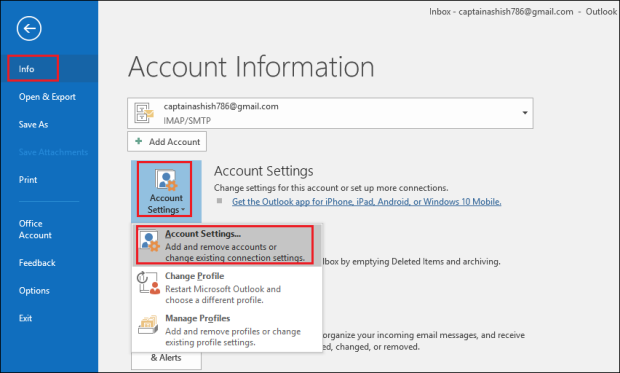 2. Then, select the Add option in the Account settings wizard
3. Add the file name which is having a PST file format and click on OK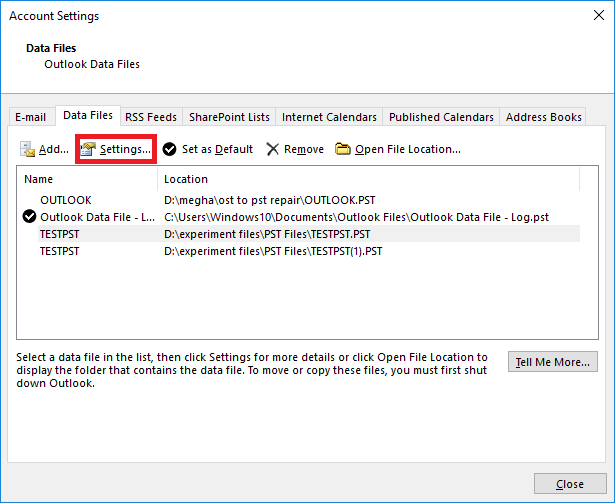 4. Here, a new PST file generated, you can check newly created PST file for data files option
5. Hit on the File option and choose Open & Export option>>Import/Export.
6. Select the Export to a file option in the Import/Export and click on the Next button.
7. Opt the currently created PST file in Export to a file field.
8. Subsequently, you have to choose the desired folders and Also view the include subfolders option.
9. Click on the Browse option and select the preferred location to save exported Outlook data file.
10. Lastly, click on the Do not export duplicates items option to remove duplicate elements. Then, click on the Finish button.
What If Manual to Break Up Large PST File Fails?
The above-stated manual solutions work only when MS Outlook applications installed on the local system. Even, it contains various limitations which affect your crucial data. But, no need to worry! You can choose an alternative method to  divide large Outlook data file. Free download the utility to split oversized Outlook data file.
A Proficient Way to Split Large Outlook PST Files
Whenever there is a requirement to split Outlook PST into multiple files without Outlook installation, choosing a third-party software proves helpful. But, a query raised when the user searching for the best. So, opt MS Outlook PST Splitter tool to split oversized PST file without any limitation.
The application has amazing features which make it one of the perfect utility to divide PST file into multiple smaller pieces. The tool supports all editions of MS Outlook. Therefore, one can easily use the utility on any Windows OS without any compatibility issues.
Steps for Splitting Outlook PST Files into Smaller Parts
Simply follow the below-outlined instructions to split large Outlook PST files without installing the MS Outlook application.
Step 1: Download and run an eminent utility in your system.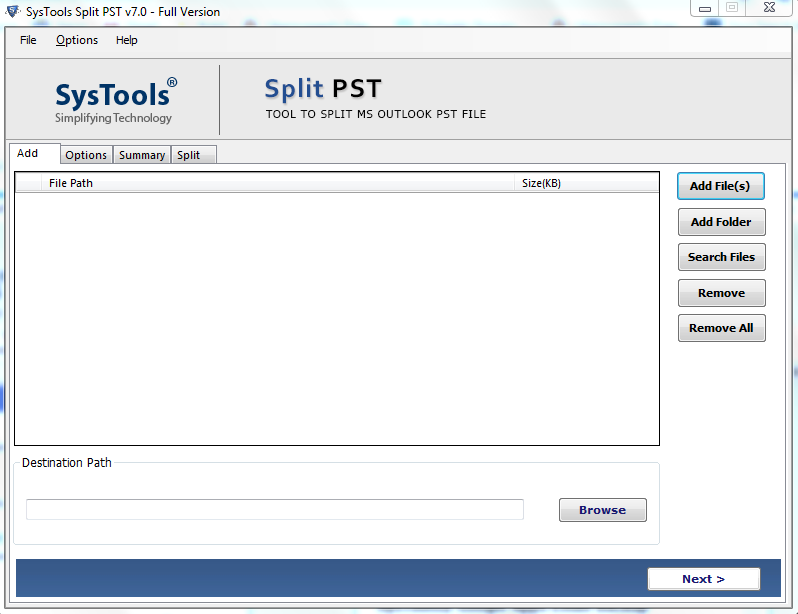 Step 2: Add PST file/folder(s) and browse destination path.
Step 3: Then, choose any splitting option from the following: Split by date, Split by year, Split by folder, Split by size, Split by email id and Split by category.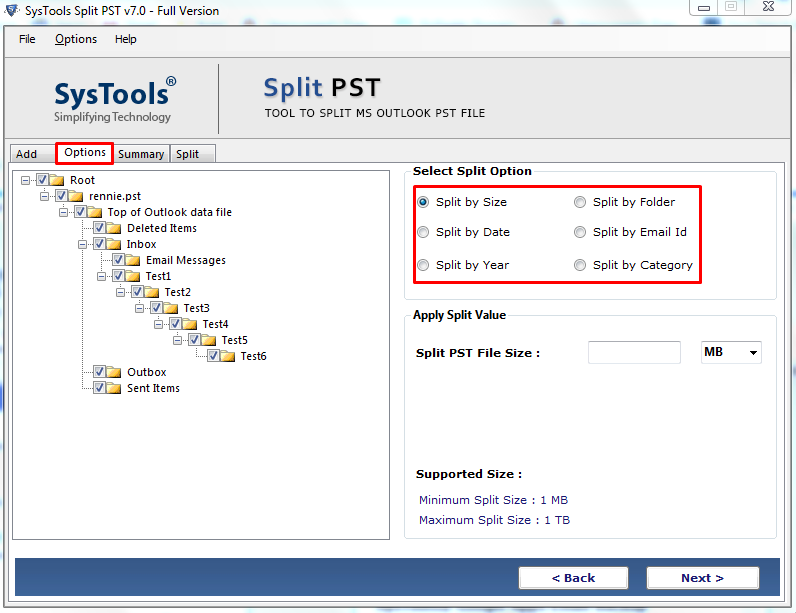 Step 4: Now, check summary of the Split Information and click Next to proceed.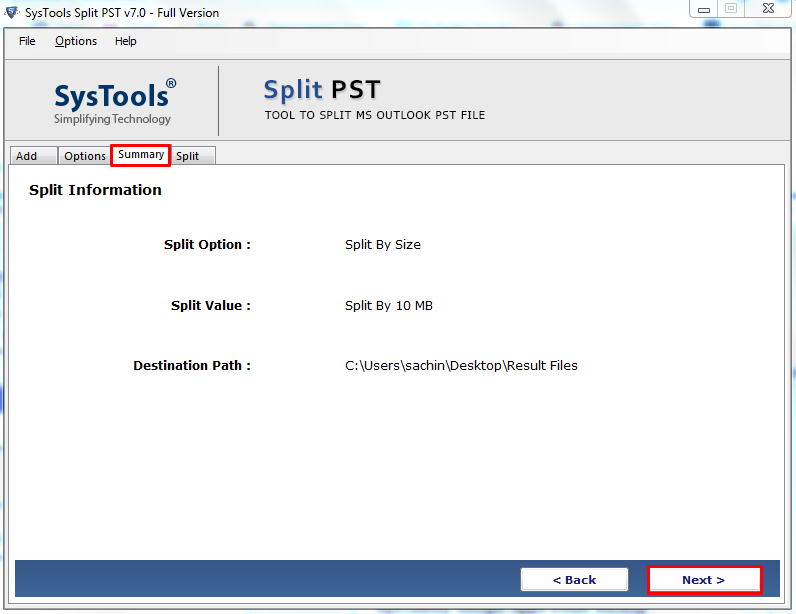 Step 5: Finally, the process to split PST is completed.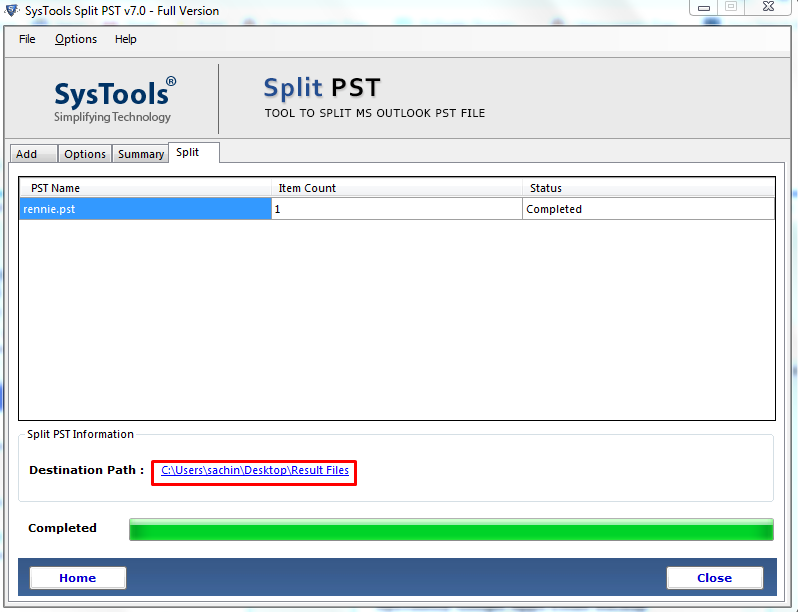 Final Thoughts
This write-up consists of a comprehensive discussion on how to split large Outlook PST files without Outlook. By performing the given methods, users can split oversized PST files into smaller parts. But, the free method to break up large PST file having some negative aspects which affect the complete splitting Outlook PST files procedure. Thus, it is better to go with the above-suggested third-party approach to divide PST file without data loss.