Know-How to Merge PDF Files Offline
Are you in constant search of how to merge PDF files offline? Then this is your destination point. In this article, we will take you to the tutorial showcasing two prominent software to fulfill the task for PDF split and merge in various ways. Keep reading to learn more.
PDF aka Portable Document Format is a file format that is used to capture and show documents in electronic form. Furthermore, PDF files are standalone formats from software, hardware, and operating system on which they are viewed by the users. PDF files are commonly used file format because they can have a single or several pages and can be conveniently copied, navigated, print, shared, or viewed. However, in some scenarios, a person might need to remove pages from PDF files or add some pages to already available PDF files.
To meet unique requirements like these, users need to have access to the authentic and reliable solution i.e. PDF split and merge software.
User Query

"One of our larger divisions has asked if we know of any assured and reliable PDF merger and split software which they can buy and install for them.
I am not familiar with these kinds of applications because I haven't used any of them yet. Please give recommendations on software that can meet my organization's needs and I can look into it.
Thank you so much!"
We know that every user and firm needs different software and solutions according to their requirements. We have mentioned two free solutions in this post that you can use to split and merge PDF files. The main advantage of these solutions is that both of them are reliable and safe to use. You can rely on them for your PDF files without worrying about the safety and privacy of your PDF docs.
Merge PDF Files Offline via Adobe Acrobat Pro
Acrobat offers time-saving tools for merging and splitting PDF docs in order to deliver information to teammates and clients in dependable form. The batch processing option allows users to not only arrange and organize company PDF confidential files in the way the PDF owner wants.
However, this software is highly expensive as it is loaded with numerous that a particular user might not need them. Don't worry we have the best and safe alternative for you!
How to Merge PDF Files Offline Using Affordable But Robust Tool
For Windows OS Users 
Free Download Now Buy Now 100% Secure
For Mac OS Users
Free Download Now Buy Now 100% Secure
1. You have to download and install the Free Demo version of the PDF Split and Merge solution.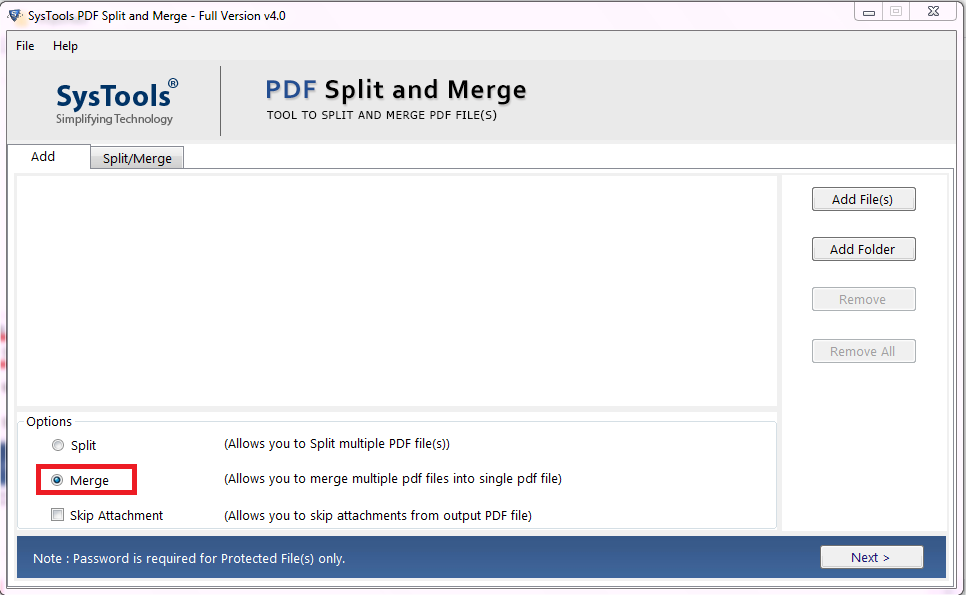 2. Now, after opening the software click on Add files/ Add folder option to navigate to the PDF files you want to either split or merge accordingly.
3. Choose the suitable merging options accordingly. Provide the location to save the resultant files in a user-specified location.
4. Once you are satisfied with the selection, click on the Merge option to proceed.
4. When the completion of the splitting or merging is done, you will get a confirmation message.
Notable features of the best free PDF split and merge software
– Split and merge PDF files in a batch in offline mode.
– Various advanced options to customize the splitting and merging accordingly.
– Option to split PDF by size in MB
– Offers to merge PDF by page range option
– Keep formatting intact and keep attachments in resultant PDF files.
– Available for both Windows and Mac OS all versions.
– Compatible with all PDF files regardless of their origin.
This single utility is much more budget-friendly and easy to execute. It completes the splitting and merging within a matter of minutes. Before going for Adobe Acrobat expensive version try the demo version of the best free PDF and merge software.
Conclusion
In this blog, we have searched and showcased how to merge PDF files offline using two software. Though both come with the free trial, so you get the free benefit of using the solution to experience the functionality of the solution. If you are concerned about the cost of the software but want the same benefit of splitting and merging from the solution then go with the second solution mentioned in the article. It would be completely safe, affordable and will keep the data integrity in check after splitting and merging PDF files.