Top 2 Ways to Divide PST File by Year Without Any Hindrance
Are you an Outlook user and fed up with the oversized PST file problem? Looking for a way to divide the PST file by year? If your answer is yes, then you are on the correct blog. Here, we will reveal the best techniques to divide PST file by year in Outlook 2016, 2013, 2010, 2007, 2003, and all later versions.
We will discuss the best and most eminent solution to truncate Outlook PST file without fail. So keep reading!
Why do Users Divide PST File by Year in MS Outlook?
There can be many reasons to divide large PST files by year. Here are some common reasons. Have a look:
1. Avoid data corruption problems due to large Outlook data files.
2. To improve the performance and speed of the MS Outlook Application.
3. To easily access and send/receive emails.
4. Oversized PST file is the prime cause of data corruption. To prevent this, Break Outlook PST files into smaller parts is the best option.
Free Solution to Divide PST File
No, there is no direct solution obtainable to divide Outlook data files But, by performing the steps mentioned below, you can reduce PST file size by year.
1. First, click on the File>>Info, and select Cleanup Tools>>Archive.
2. Then, check Archive this folder and all subfolders option in the Archive dialog box.
3. Here, choose one account or an entire folder you require to archive in the list box.
4. Choose 1/1/year, if you need to archive data early than 2019, you can opt for 1/1/2019. You should also check the Include items with the Do not AutoArchive option.
5. Lastly, hit on the OK button. And a PST file that consists of data early than 2019 has been generated, just rename it as 2018.
What's Next?
Users can archive PST files per year in Outlook, but it doesn't work to divide PST file by year. To instantly reduce PST file size by year, one can use the most efficient approach named "MS Outlook PST Splitter" software.
This will offer four options to divide Outlook PST files: divide PST by size, date, folder, year, and email id. This application works very well to divide corrupt PST files without showing any errors.
With this tool, you can also divide Outlook contacts and calendars by date according to your needs. Supports PST files from all versions of Outlook like Outlook 2019, 2016, 2013, 2010, 2007, 2003, and all below versions. This tool does not require any technical expertise to divide Outlook data files.
Steps by Step Procedure to Divide PST File
Here, in this segment, we are going to disclose step-by-step procedures to divide Outlook PST file within a few clicks. You just have to follow all the instructions sequentially to implement the process properly. Let's begin:
1. Download and run the proficient utility on your system.
Download Now Free Purchase Now 100% Secure
2. Then, hit click on the Split button to begin the procedure.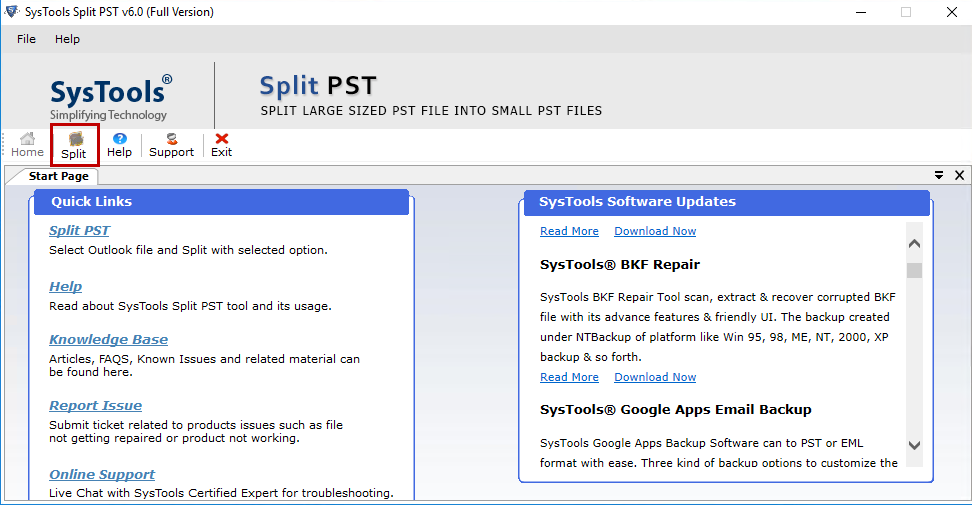 3. Now, you have to choose the Version of the PST file from the Next menu. After that, you can choose the filter according to the PST file to be divided.
4. Click on the Browse button to add the desired PST file.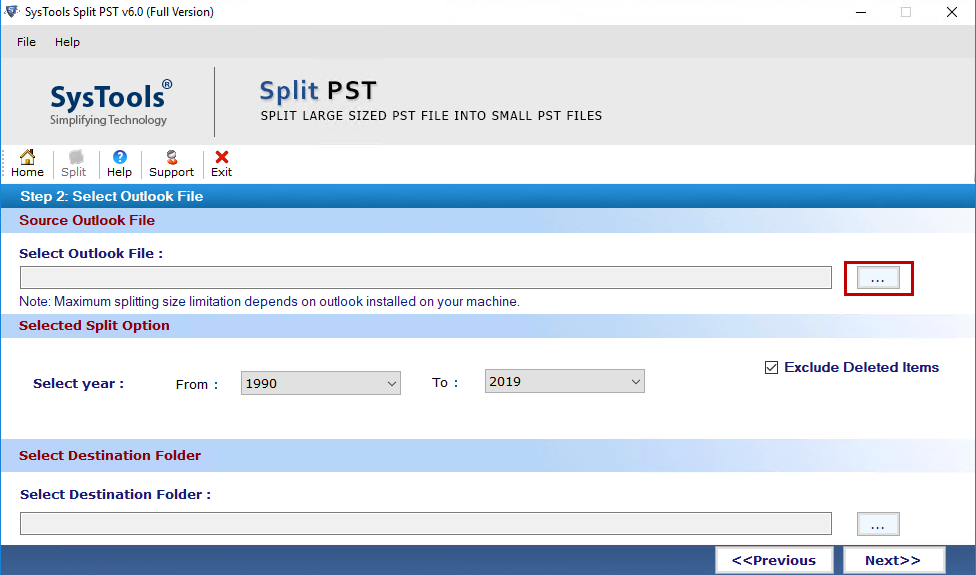 5. Afterward, the path of the opted file will be displayed on your screen. Also, specify the range of Years in which the PST will be divided.

6. Subsequently, you should specify the range for dates of the Outlook data files. Then, choose the preferred destination folder by selecting the Browse button.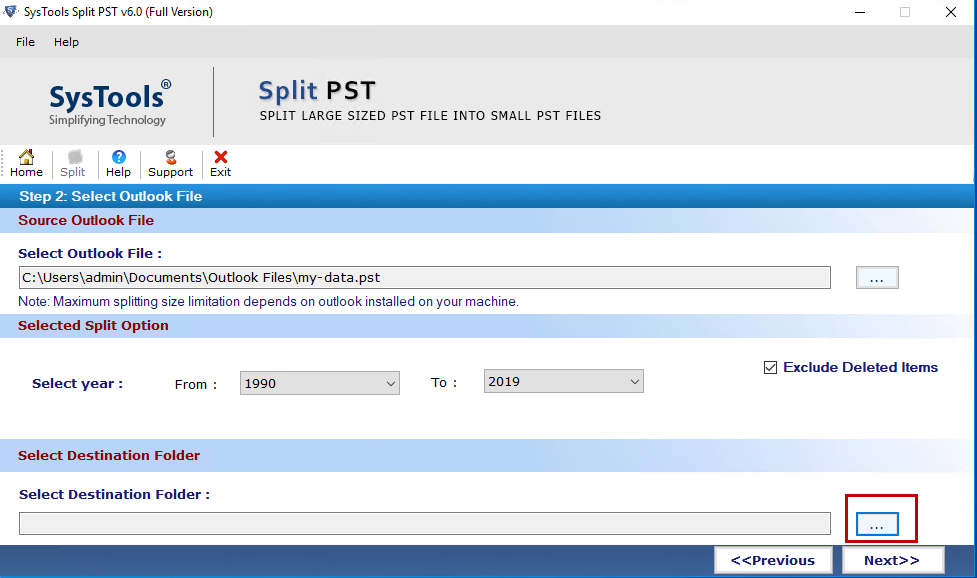 7. After that, you have to add the destination location.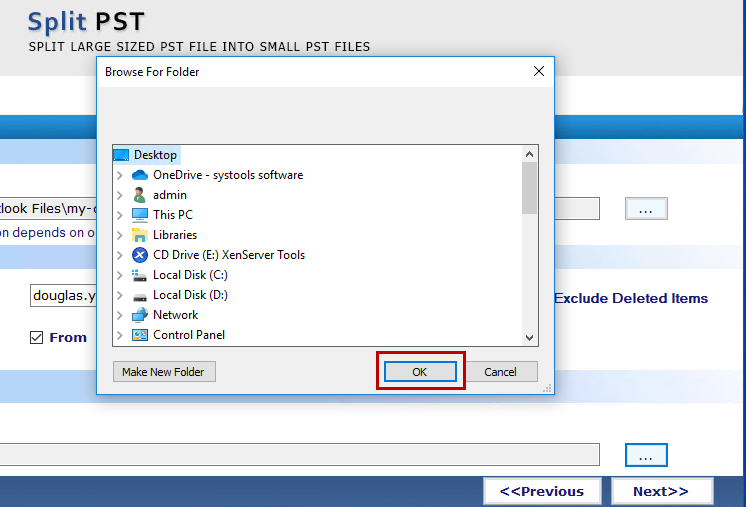 8. Hit on the Next button.
9. Here, on this wizard, the summary of an entire procedure will be displayed. Click on the Split button.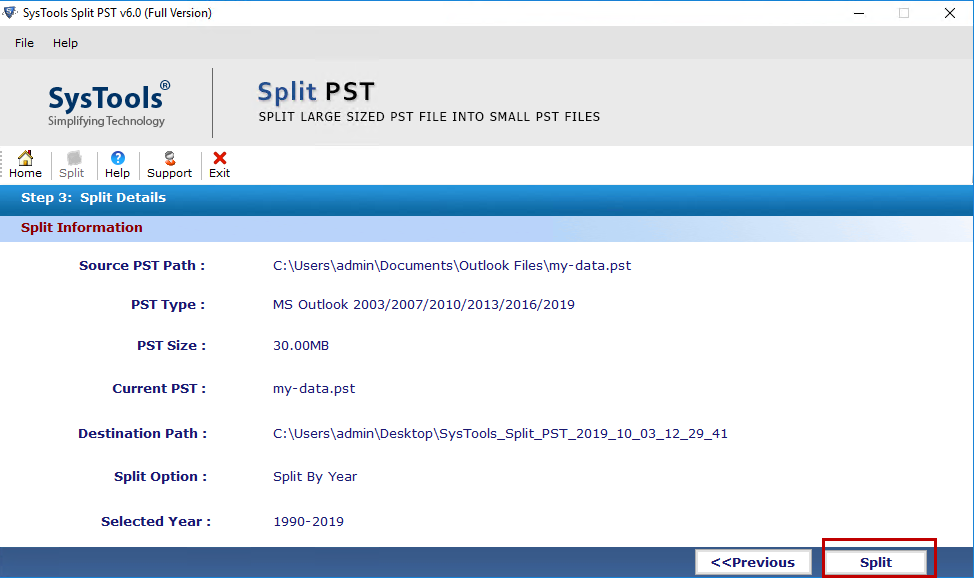 10. At last, the procedure is completed successfully. You can click on the OK button to save the output report in CSV file format.

Time to Wind Up
In this post, we have discussed the best and most efficient methods to divide PST file by year using the above-suggested tool. As we also stated a free solution but, the manual method does not provide any surety to give you the expected outcome.
In this situation, the third-party program proves helpful to split large PST file sizes into several parts So, try this application and resolve all your problems in one place.
Here are some Similar queries that will resolve after reading this blog.
Q1. How can I reduce PST file size in Outlook?
Q2. How to troubleshoot oversized Outlook data files?
Q3. Can we divide the corrupted PST files?
Q4. How do I divide PST file by year?