Quick PDF Unlock and Merge Solution for Windows OS Users
Summary: Do you have some PDF documents that need to be unlocked and merged? If yes? Then, read the blog and know the best solution for PDF unlock and merge solution.
PDF files are the most commonly used file format among users. This file format is not only extensively used in the legal, medical, or in real-estate industries. But, also have been used in schools, colleges, small businesses, or even at home. However, for the better handling & management of these documents people want to merge them. But, restrictions on these files does not allow users to carry out this process in a smooth manner. Hence, they look for a solution that can unlock PDF and merge them into a single file.
So, in this blog, we have illustrated the solution that efficiently performs the PDF Unlock and Merge process. However, it is a two-step process first we will unlock secured PDF files & after that, we will merge them.
Step 1: Unlock PDF Files With Automated Software
PDF Unlocker Tool allows users to remove security from PDF documents in bulk. It provides the Add Files / Add Folder option to insert multiple PDF documents for unlocking. It supports to remove both 128 / 256-bit encryption from PDF documents. Users don't have to worry about the data loss or security issues because this software unlock secured PDF without any loss.
It provides the functionality to remove owner level security and known user-level security from PDF documents. If the user wants to keep the source PDF password in the resultant PDF documents then they can select the option "Keep source PDF password in output PDF".
Download Now Free Purchase Now 100% Secure
Steps to Unlock Multiple PDF Files
1- Launch and run the software of Windows
2- Click on Add Files / Add Folder option to add PDF files

3- Select the desired option "Save" or "Print"
4- Click on the Change button for selecting the destination location

5- Hit the Unlock button and initiate the process

6- Finally, the process completion message will be displayed.
As we said, the PDF Unlock and Merge procedure is a two-step process, so in the above section, we have covered Step1. Now, let us move towards step2 i.e. PDF Merge.
Step 2: Merge PDF Files With Professional Tool
PDF Merge Tool allows users to combine multiple PDF files into one PDF file. This tool provides the Add Files / Add Folder option to insert multiple files for unlocking purposes. If the user is having password-protected PDF document then they need to provide the password in the beginning. Otherwise, if they want to merge protected PDF documents then first they need to unlock PDF and merge them.
Steps to Merge PDF Files into Single Document
1- Launch and run the PDF Merge Tool
2- Click either on Add Files / Add Folder option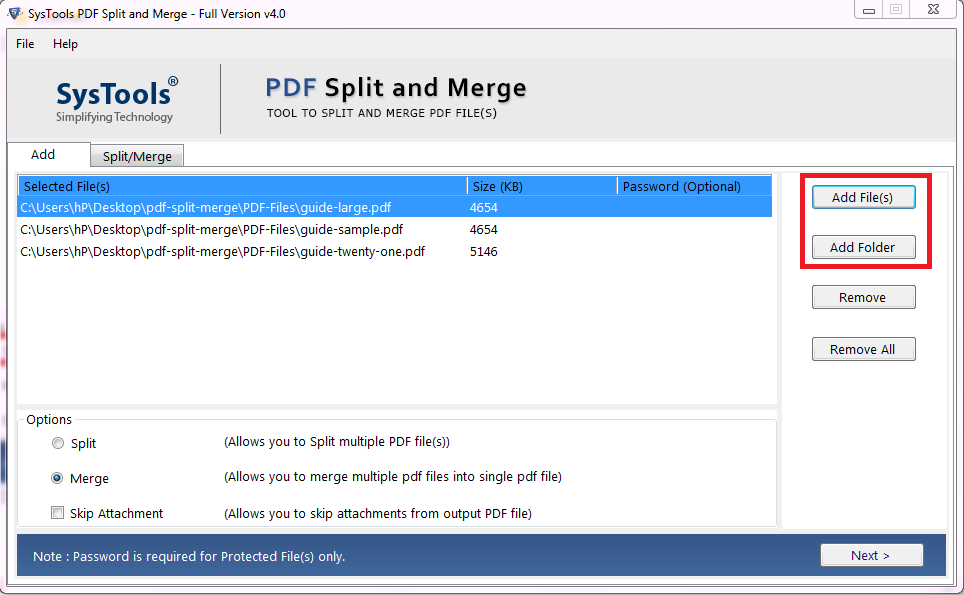 3- Choose Merge option from the given options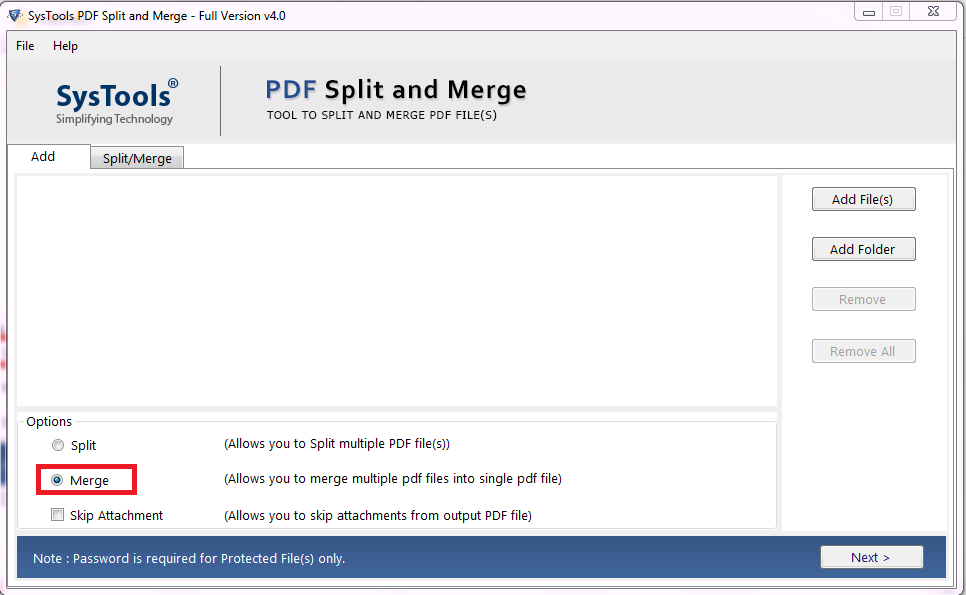 4- Click on the Next button to proceed further
5- Select the Merge option "Split Merged PDF by Size" or "Merge PDF Page Range"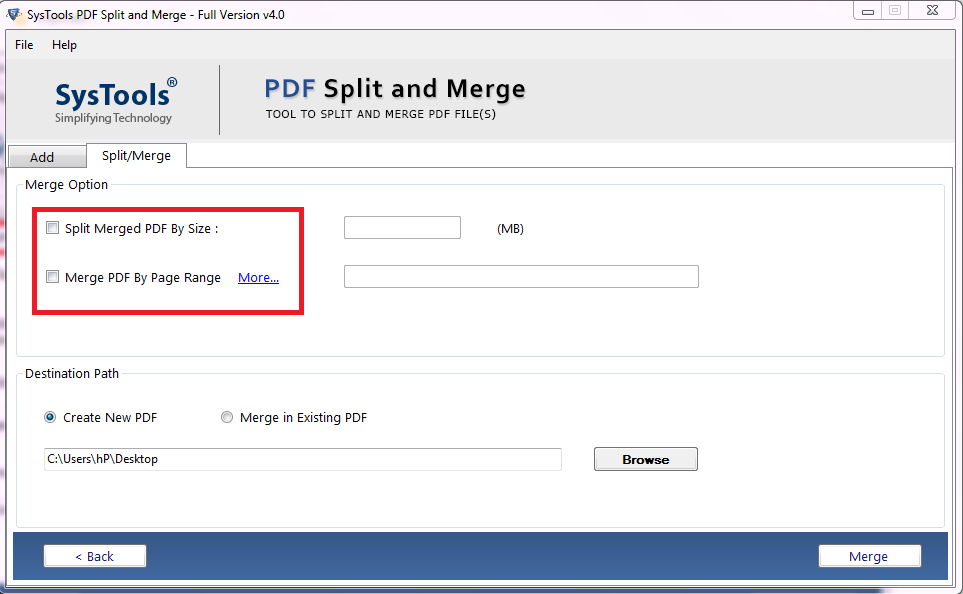 6- Choose any of the options "Create a New PDF" or "Merge into existing PDF"
7- Then. Click on the Merge option to begin the process
8- The PDF Files have been merged successfully message gets displayed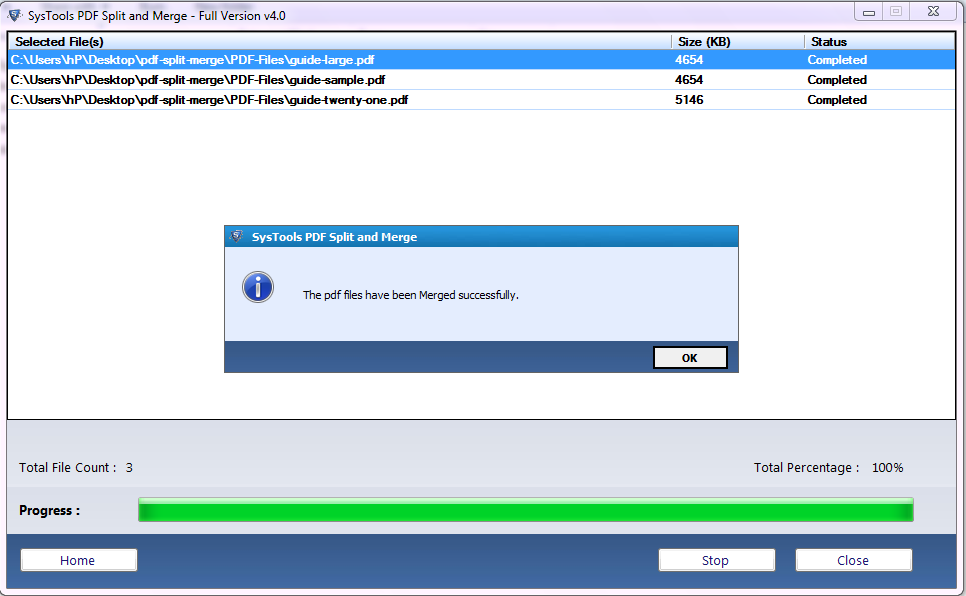 By following the step by step process mentioned in step 1 & step 2 users can easily perform PDF unlock and merge.
Important Note: Both of these utilities are also packed in a toolkit. This PDF Toolkit consists of 6 tools each having its own advantageous feature. The tools in the toolkit allow to recover PDF files, form filling, PDF watermarking, PDF compressing, conversion of PDF to PDF/A, etc. This toolkit is available at an affordable price i.e. $49.
Conclusion
For the PDF Unlock and Merge process the user needs to follow two steps. Using the step 1 one can unlock PDF files easily. While with step 2 they can merge multiple PDF documents into a single PDF file. A single & complete step by step process has been described here to carry out this process to unlock PDF and merge.