Reasons Why to take Backup of Office 365 Mailbox & How Can You Do It
Microsoft Office 365 helps you to increase the productivity and collaboration of your work at very low costs, and authorize you to work from anywhere, anytime, why because it is a cloud-based application. We all know that Office 365 is Secure and remotely manageable from any major devices.
User Query


But did you know that Office 365 cloud data backup is not enough capable to provide protection to enterprises of every size? So, taking backup of Office 365 mailbox locally is a good decision. You never know what happens next. Although, Office 365 has lots of Outage issues. Particularly on date 20th November 2019 a tremendous outage happens globally that affects many organizations in multiple countries.
Therefore, keeping a backup of all the data of Office 365 is a good decision.
Reasons to take Backup of Office 365 Data
We have some more reasons why we need to export Office 365 mailbox to PST.
Intentionally or unintentionally if you're Office 365 data is deleted from the cloud. Once the deleted data cannot be recovered in a given time then it will be unrecoverable. Did you know Office 365 is unable to make a difference between accidental deletion, genuine deletion, and malicious deletion it treats all same. The only way that can save you from these is to take a backup of Office 365 data in your hard-drive.
Using Cloud-based application increase the risk of a cyber attack. In an organization, if somebody clicks on any malicious link or they hacked easily if they don't have the proper information about cyber hacks. In that case, having a backup of Office 365 data helps a lot.
Saving an offline copy of your data also reduces the risk of the retention policy. You may aware of the retention policy of Office 365.
It will also help you to increase your cloud storage. By taking backup of Office 365 data locally then you can delete the downloaded data from the server and free some space for upcoming data.
Methods to Take Backup of Office 365 Mailbox
Office 365 can permit to backup mailboxes using the free manual solution of the eDiscovery method and also grants third-party tools to do so. If you wanted to do it manually then it requires much knowledge of Office 365 Exchange Admin center. But, In case you simply want to create the backup of Office 365 data without doing much then the second method is for you to choose accordingly. In this article, we are going to cover both the methods one by one.
Automated Method to Backup Office 365 Data
Using the Office 365 Mailbox Backup Tool anyone can easily create the backup of Office 365 data into 2 different file formats and some additional features of this tool are given below.
Features of the Tool
Permits to save Office 365 emails to desktop in multiple formats
Provide Data filter option for downloading selected data
Naming Convention to manage large no of backup files easily
Incremental Backup to create a backup of only newly arrived data
Allow to Pause and Resume the backup process accordingly
The tool can be installed on any Virtual or Physical Machine
Covers all most subscription plan of Office 365
Working of the Tool to Take Backup of Office 365 Mailbox
Enter the credentials of the Office 365 account and hit the login button.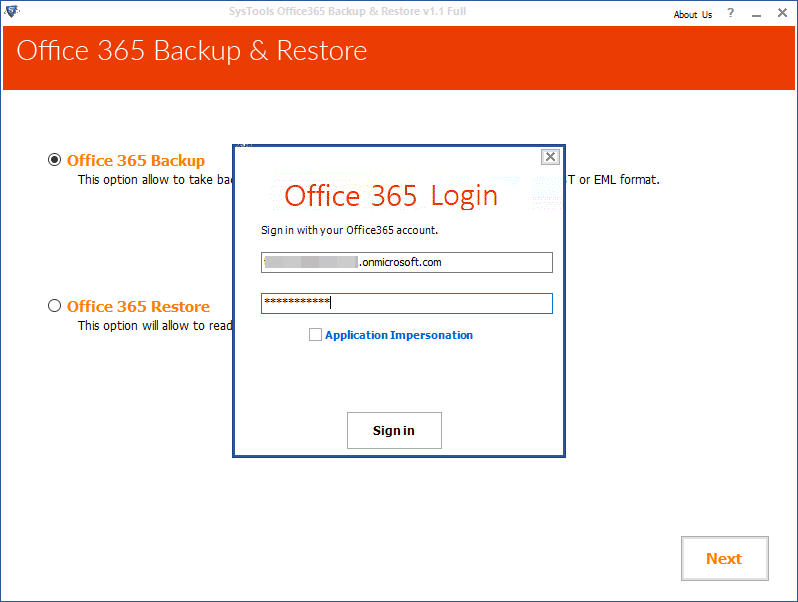 Select the folder that you want to take the backup.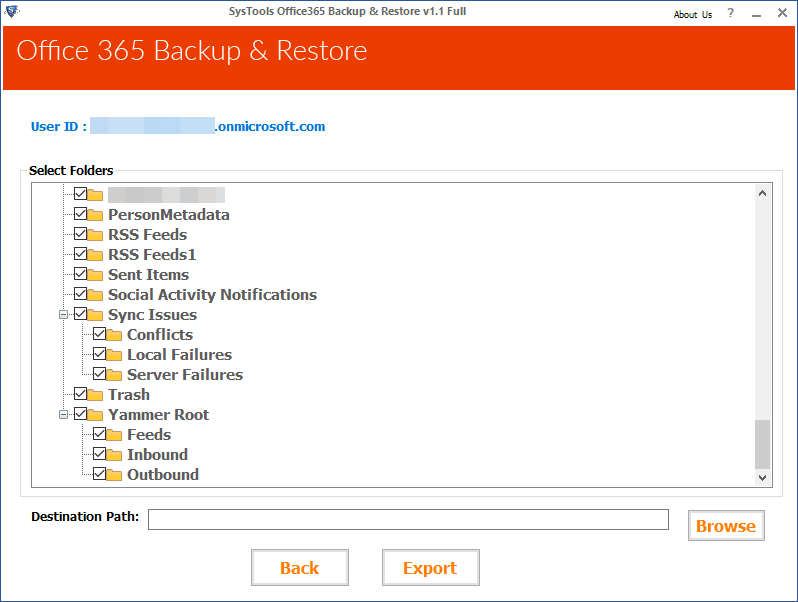 Browse the destination folder to save the resultant file.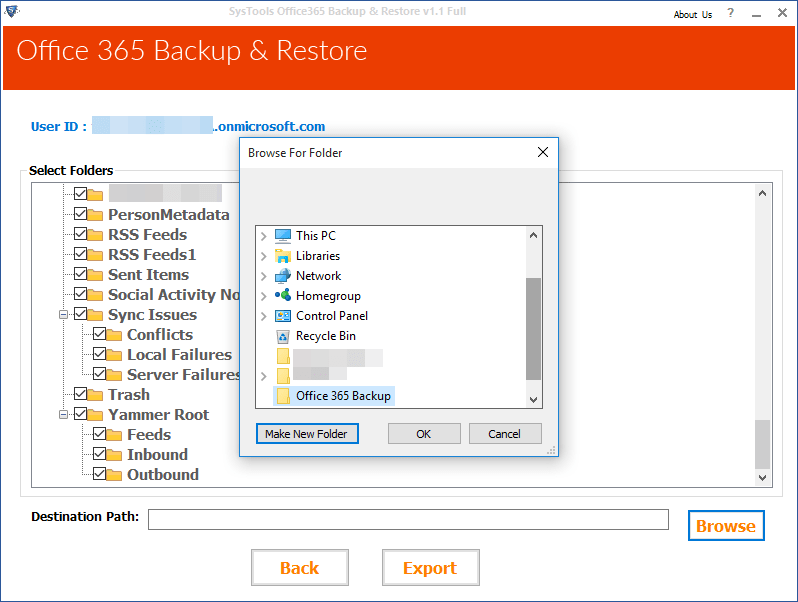 Now, select the file format accordingly.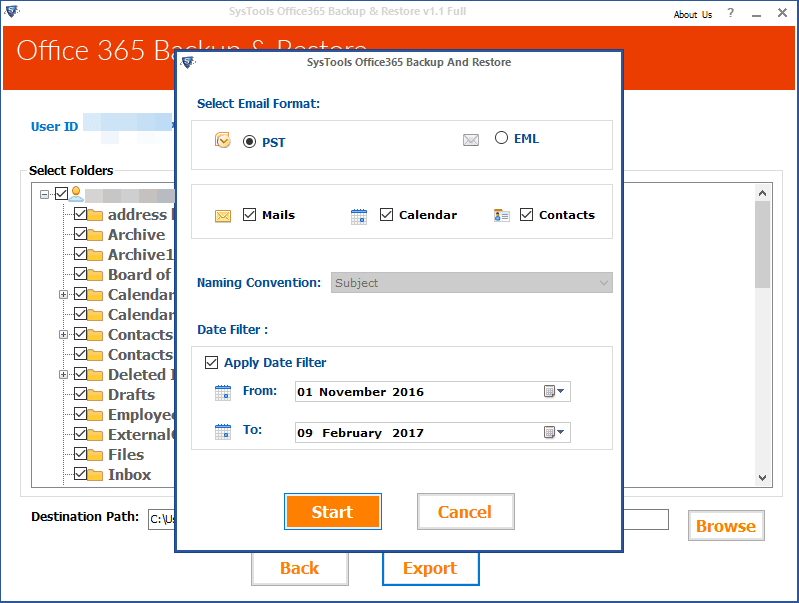 Click on the Start button to initiate the process.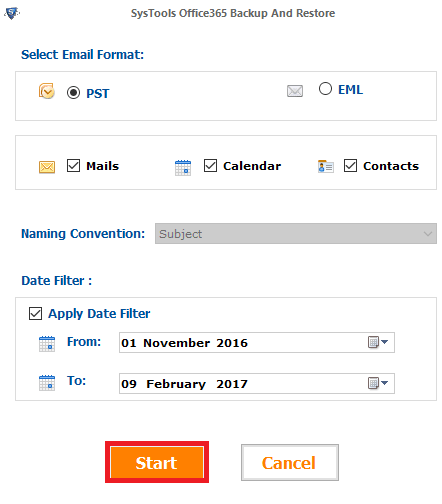 Afterward, navigate to the destination folder to access the resultant file.
Manual Method to Take Backup of Office 365 data
Login to Office 365 Account with your Admin portal
Select Exchange admin center then go to the permissions
In admin roles section, double- click on Discovery Management
Assign the roles in Roles Section the hit the Ok button
Now, in eDiscovery section chose Mailboxes option
Click on the finish button to start the backup into PST format
Note: It is important that the mailboxes you are searching for must-have Exchange Online Plan 2 or E3.
Summering Up
In today's world data is very important for us and we all the value of it. By taking backup of Office 365 mailbox crucial data using an automated tool that also deals with contact and calendars. This proficient tool will save your time and reduce effort too you just need to follow some simple instruction and your data is backed up.